Iran Tours for US citizens; Tips and Packages
Iran tours for US citizens: As an Iranian tour operator, we are committed to providing you with a full guide on tours to Iran from USA, and nuances from Iran visa for US citizens, the question of ''Is Iran safe for US citizens?'' to cultural notes and offering the versatile Iran tours for US citizens and Iran tour packages from USA around the year for every taste. As you scroll down this page, you will find answers to most of your primary questions. You can review our Iran tours for US citizens, via the link below:
This post includes:
Preface
What makes us different?
Iran Visa for US citizens
Is Iran Safe for US citizens?
Dress Code in Iran
Do US citizens need a constant guide in Iran?
Best Time to Travel to Iran
Modes of Communication in Iran
Currency Exchange
Accommodation and Culinary Choices
Persian Handicrafts and Souvenirs
Sample Itinerary
#1 What Iranians truly think of US citizens
What Iranians truly think of US citizens: True we, Iranian and Americans, may not share so long a history of relations. Yet, we have stunningly brought our different cultures together, despite all the negativity of tangled politics.  We Iranians, best known for our hospitality, have found your fellow US citizens  to be among the friendliest tourists to Iran! Yes … plain truth and no Iranian ''taarof''.
So, as an Iranian tour operator, we aim to transcend barriers, and bring cultural exchange to the foreground. We are here to offer you  unforgettable tours to Iran for US citizens, and a chance to explore our mystical land brimming with winding history, cultural diversity, architectural awe and culinary delight.
Finally, so says the great Persian poet, Rumi:
'' When setting out on a journey, do not seek advice from those who have never left home.''

Rumi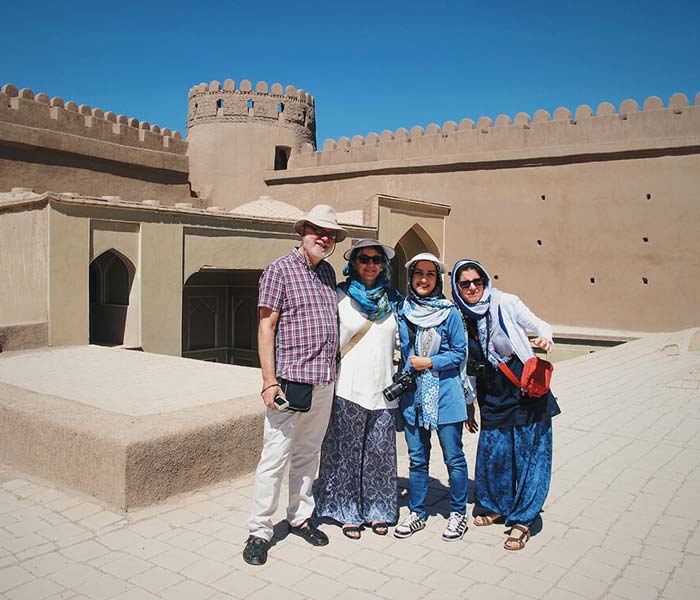 #2 What Makes Us Different for Iran Tours for US Citizens?
What Makes Us Different at Iran Tours for US Citizens? We, Iran Tourismer team, are an Iran-based Tour Operator. We have found our love for Iran and your zest to have chosen Iran as a possible destination to be the key to success. We aspire to give you an authentic experience of Iranian culture and heritage on our Iran Tours for US citizens by offering you:
Workshops of Carpet Weaving and Pottery: Visual appreciation of artworks is delightful. Yet, how about standing witness or even engaging in the creation of the lauded Persian Carpet or the ancient Persian Pottery? Visiting traditional workshops is also a unique chance to comprehend the genuine Iranian culture.
Interesting people at their interesting jobs: On our tours to Iran for US citizens, we invite you to meet intriguing personalities at their professions, whether it be an old Tehrani man at his petite teahouse in the Bazaar , or an skilled craftsman at his workshop in Shiraz, etc.. You can have an authentic experience of Iranian culture on the street!
Customized Iran Tours for US citizens: You are the one to decide which aspect of Iran you wish to experience and we design your tour package for your personality, preferences and interests. So we offer you our recommendations as loyal natives of this country, not as business people.
We urge you to cooperate with Iranian tour operators, because:
Direct, time-effective and transparent communication with no third party involved
Lower package price offers when third party commission is hence omitted
Native experts are fully dominant over the current situation in Iran, hence, they offer realistic and pragmatic Iran tour packages and solutions in urgent cases.
Direct business contributes to the tourism industry, economic growth of the hosting country.
If not yet convinced, please take your time on : Why an Iranian Tour Operator?
#2 Iran Visa for US citizens
 Iran Visa for US citizens can understandably be time-consuming. Hence, American citizens are recommended to start planning their Iran tours for US citizens to Iran 10 weeks prior to their tour schedule.
Obtaining the Iran Visa for US citizens has 2 steps:
1. Obtain the ''Visa Authorization Code'' via a tour operator (approx. 4-6 weeks) :
Contact an Iranian Tour operator.
Secure an Iran tour package with full tour itinerary (US citizens must travel to Iran on escorted tours)
Submit scan of your passport (valid for at least 6 months) and requested documents to the tour operator to apply for the code from the Iranian Ministry of Foreign Affairs.
2. Submit the code along with your passport, passport photo, application form and the visa processing fee in person or by mail to The Iranian Interests Section of the Embassy of Pakistan in Washington DC, or an Iranian Diplomatic Mission in a third country. Depending on mode of delivery, you will receive your passport and visa in a few days up to 2-3 weeks.
What is Visa Authorization Code? How to get Iran Visa?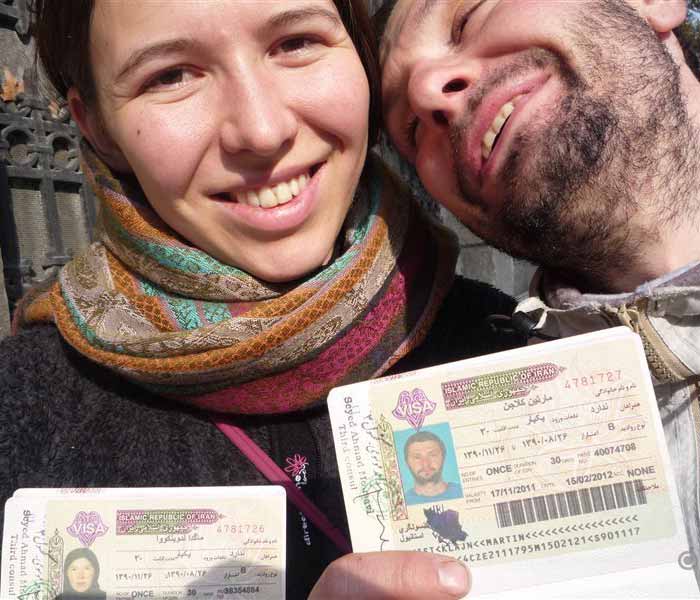 #3 Is Iran safe for US citizens?
Is Iran safe for US citizens? As a tourist you are entitled to be concerned for your safety in a strange land. However, according to the 2019 Travel Risk Map , Iran is rated as safe as majority of European countries to travel to. Moreover, comments of tourists, especially Americans, will address your concerns if Iran is safe for US citizens:
Although initially a little anxious about safety, we quickly relaxed into total comfort as we walked the streets of Shiraz, Isfahan, Kashan, Tehran and, later, Yazd. Frankly, we felt as safe in Iran as in any other country we have visited.


Kit and Luke Argilla
… filled with sadness to be leaving this astonishing country, We were buzzing but equally exhausted. But behind it all there was a knowing beam on our faces – we had now experienced this "misunderstood" country – should you go to Iran? YES! You must go!

Antonia Morris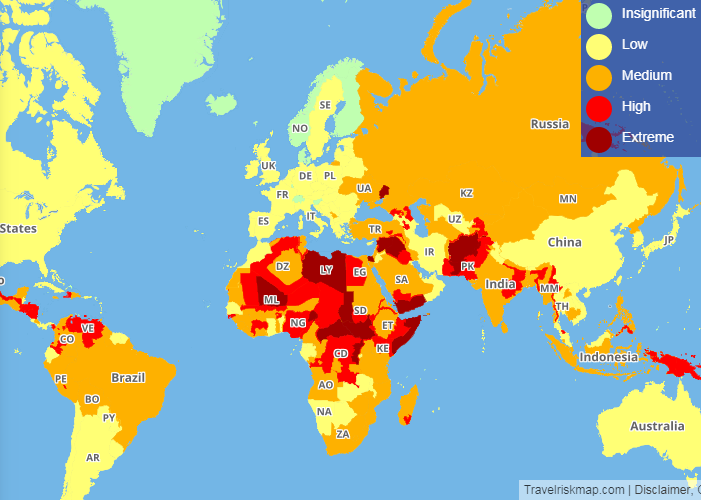 #4 Dress Code on Iran Tours for US citizens
Dress Code on Iran Tours for US citizens: According to the Iranian state law, all adults need to dress modestly and women wear a hijab (a headscarf covering the hair and neck area) in public.
Female Dress Code: Ladies are required to wear a headscarf and cover full body with e.g. loose long-sleeved tops, pant and long skirts. Loose headscarf and exposing part of hair is not frowned upon.
Male Dress Code: Adult male tourists are advised to NOT wear shorts or tank tops in public. 
And against the widespread misconception, tourists are free to wear any color or pattern they wish to, from neutral to bright, as long as they conform to the above dress code.
Read more on: Dress Code of Iran For Tourists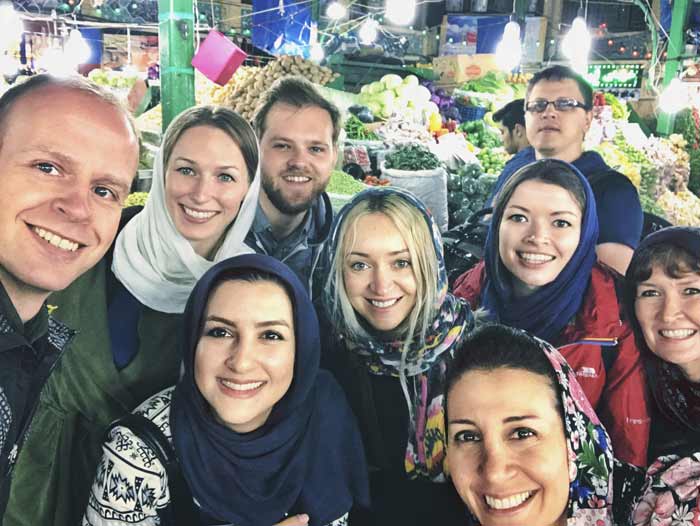 #5 Do US citizens need a constant guide?
Do US citizens need a constant guide in Iran? YES. According to Iran's regulations, American tourists are obligated to travel to Iran only on organized Iran tours for US citizens and be accompanied by a tour guide for their entire stay in Iran. Independent traveling or backpacking in Iran is not possible for US citizens.
We advise you to choose an Iran-based Tour Operator for:
higher chance of getting the Iran Visa due to their expertise and credibility
their authentic expertise on Iran's tourism
realistic tour options tailor-made for your taste
prompt solutions, in case of setbacks during the tour
For more flexible tour itinerary, small group or individual guided tours are available for Iran tours for US citizens. Moreover, you can always count on your tour guide's expertise, as only highly experienced tour guides are authorized to accompany US citizens on their tours to Iran.
#6 The Best Time to Visit Iran
The Best Time to Visit Iran: Similar to the USA, Iran enjoys a wide variety of climates: from chilling cold and mountainous on the margins to hot and desertic in the center, to humid on the coastlines throughout the year. So, tours of Iran for US citizens are available throughout the year:
#1 High Season (Spring/Fall) for Iran Tours for US Citizens
Typical tours to Iran are scheduled during spring and fall, for the mild weather across the country. As a local Iranian tour operator, we can offer eclectic escorted  Iran tours for US citizens to enjoy Iran's natural and cultural climate:
#2 Low Season (Summer/Winter) for Iran Tours for US Citizens
The beauty of Iran in summer and winter, while breathtaking, has been taken for granted and outshined by the high season Iran tours for US citizens. So here it is, a brief introduction of Iran in low seasons:
During summer, the lesser-visited western and northwestern cities of Iran enjoy a cool weather. Hence, we offer you tailor-made tours to Iran for US citizens to savour the mesmerizing natural landscapes, and 5 UNESCO World Heritage sites: such as The Armenian Monastic Ensembles and Tabriz Historic Bazar Complex.
During winter, one can delight in winter sports in the slopes of Alborz mountain, north of Tehran, or the cool Persian Gulf coastline and islands, which are home to the aboriginal community, exotic wildlife, mysterious wilderness and Iran's first National Geo Park.
We are here to offer you tailor-made winter Iran tours for US citizens.
#7 Modes of Communication in Iran
Modes of Communication in Iran on Iran Tours for US Citizens is as any other country, with a few differences:
Wifi available in the hotel, and many public centers like cafes and shopping centers.
Access to social media and applications like Instagram, WhatsApp, Viber, etc. except that Facebook and Telegram are filtered and accessible through VPN.
Tourists can purchase cell phone plans by Iranian carriers, like MTN Irancell or MCI at the airport or in the city for constant internet access and phone calls during their stay. For more info, Click Here.
#8 Currency Exchange in Iran
Currency Exchange: As international Credit Cards like Visa Card are not usable in Iran. On Tours to Iran for US Citizens, tourists need to:
1) bring cash bank notes for their entire stay in Iran:
2) Get prepaid traveler debit card, Mah Card, in order to avoid carrying around stacks of money. For more info click here.
Exchange houses are found at International Airports, in the hotel (not recommended) or in downtown.
US Dollar or Euro are easiest to change.
Iranian Rial is the official currency (as printed on bank notes) and Toman (equals 10 Rials) is the popular currency of trade in Iran.
Daily changes in exchange rate of Iran's currency is probable.
Also read: Full Guide on Currency Exchange in Iran
#9 Accommodation and Culinary Choices
Accommodation and culinary choices are abundant on Iran Tours for US citizens:
Modern hotels from 2-star to 5-star are available.
Boutique hotels: historical guest houses of different ages, equipped with modern amenities, are growing more popular, manifesting Iran's culture and architecture: From lux options such as Abbasi Hotel in Isfahan (+300 years old) or Saraye Ameriha in Kashan, to affordable ones
Iranian gastronomy is distinctly different from the western one. Not offering bizarre choices of food, Iranian cuisine is a combination of  large-portioned meals of rice, traditional bread, stews and kebabs, served with green vegetables and traditional yoghurt. Iranian cuisine can be peculiar to western tourists for their large portion,  lacking variety of raw vegetables or vegetarian meal choices.
Please note: Consumption of pork and alcohol are against the religious laws, hence strongly forbidden.
Also Read more details on Iranian Food
#10 Top Persian Handicrafts and Souvenirs
Top Persian Handicrafts and Souvenirs: Having more than 7000 years of recorded civilization, Iranian handicrafts are rich with cultural and technical authenticity. Here is a strenuous attempt to briefly list Iran's most acclaimed tangible heritage:
#1 Persian weave and textile crafts
Persian Rug and Carpet : Persian Carpet is the most expensive handicraft of Iran and is crafted in all regions, each representing their own cultural individuality. 
Termeh : An intricate fabric, originally hand-woven (now machine woven) of silk or wool.  Yazd and Kerman are famous for their high quality Termeh.
Qalamkar (Persian Calico) : A relatively low-priced Persian printing technique on canvas.  Isfahan is the leading center of Qalamkar production in Iran.
#2 Persian Woodwork
Khatam : very delicate form of Persian marquetry. Shiraz and Isfahan are the top centers.
Moarragh : delicate ancient Persian Wood Inlay or Mosaic
Monabat: ancient Persian Wood Carving.  Tabriz, Oroumieh, Shiraz, Isfahan, Kerman and Hamedan are the traditional centers for Moarragh and Monabat handicrafts.
#3 Persian Ceramics and Pottery
Yazd, Meybod, Hamedan, Isfahan, Kashan, Shiraz are among the top Pottery centers of Iran.
#4 Persian Metalwork and Turquoise
Mina : Persian enamel on metal vessels. Isfahan is the prominent center for Mina crafts.
Ghalamzani : Ancient Persian metal Engraving; like the famous Achaemenid Lion Rhyton! Tabriz, Isfahan and Shiraz are the famed centers of this craft.
Turquoise Inlay : A Persian technique of inlaying turquoise on metal vessels. Originally in Neishabur (Khorasan Province), the craft can be found in most handicraft markets. 
#5 Edible Souvenirs of Iran
Saffron : luxe among other spices, is one of Iran's top exports. Highly rich in taste, aroma and color, it is sold in 4.6 gr units.
Nuts and dried fruits
Traditional Sweets and Pastry:
Herbal Syrups
For a complete list of Iranian Souvenirs : Persian Souvenirs
#11 Sample Itinerary of Iran Tours for US Citizens
Sample Itinerary of Iran Tours for US Citizens:  "Essence of Iran" is an 08-Day package to visit the most popular cities of mainland Iran within a short time frame. The package is suitable for individual to small groups, and covers 8 cities. Transportation includes 1 domestic flight.
Day 1 : Tehran
A full day visit of the capital of Iran: Starting at The National Museum of Iran, you continue to one of the few royal palaces of Iran, Golestan Palace. Next is the Carpet Museum of Iran, to have a collective view of different types Iranian carpets. Finally, Milad Tower awaits you with its panoramic view of the vast city. 
Day 2 : Tehran – Shiraz
You will take the morning flight to the blissful Shiraz. After a short rest, your visit starts with the old town: Vakil complex of Bazaar, bath and mosque. You finish your day with the old Karim Khan Citadel. 
Day 3 : Shiraz
No better way to kick off the day than an early morning visit to the dazzling Nasir al-Mulk Mosque (Pink Mosque)! You will continue to 2 beautiful Persian Gardens, Narenjestan Garden and Eram Garden. Finally you will visit tombs of two prominent Iranian poets: Hafez and Saadi. 
Day 4 : Shiraz – Yazd
Departing for Yazd, you will visit the grand Persepolis, its Necropolis: Naqsh-e Rustam, and continue to tomb of Cyrus the great in Pasargadae. On the road, you will stop by one of the world's oldest trees, Cypress of Abarkuh. Overnight in Yazd. 
Day 5 : Yazd
Your full day tour of Yazd starts with the Zoroastrian Fire Temple and Towers of Silence. Continuing to the  Jameh Mosque of Yazd, you will have a delightful intermission at Garden of Dowlat Abad, with its tallest wind-catcher of the world. You resume the tour by visiting the main square of the city, Amir Chakhmaq Complex and a show of Pahlevani (ancient heroic sports) rituals at an Iranian Zourkhaneh.
Day 6 : Yazd – Meybod – Ardakan – Isfahan
Departing Yazd, your next stop is Meybod. Starting with Abbasi Caravanserai, ancient Iranian roadside inn for passing travelers, you will visit the Ziloo museum and workshop. If interested, you can visit a pottery workshop, and even giving this craft a try.
Continuing to Ardakan, you can have the experience of walking through the UNESCO inscribed Persian innovation, Qanats. 
You will continue the journey to stay the night in Isfahan .
Day 7 : Isfahan
Starting your full day in Isfahan early morning, Naqsh-e Jahan Square, and monuments on its four sides awaits you: Sheikh Lotfollah Mosque and Abbasi Jameh Mosque, Ali Qapu Royal Palace and the Grand Bazaar. And you have seen Persian art at all layers.
You will continue to the Armenian neighborhood, Jolfa, to visit Vank Cathedral,  manifesting christian beliefs by Persian Armenian artisans. Finish your day by visiting the 2 beautiful bridges: Siosepol and Khaju Bridge.
Day 8 :  Isfahan – Kashan – Tehran
Heading towards Tehran, you will first stop by the desert. If interested, you can try camel riding, sand hikes and Safari as well. You will head to the city of Kashan after a traditional lunch at a desert eco-camp.  An exquisite example of traditional desert house and the renowned Fin Garden are your last stops on this tour.
Heading towards Tehran, you will get ready for your flight back home.
To explore more of our Iran Tour packages, please visit: Iran Tour Packages