Escorted tours Iran: Iran Escorted Tours Packages and Full FAQ for Escorted Tours of Iran
Escorted tours Iran [Iran Escorted Tours]: To witness the glory of ancient civilizations, to access to your share of the earth's architectural treasure, and to rethink the definition of hospitality one must travel to the country of Iran with Iran escorted tours (Escorted tours Iran).
Embarking on an enigmatic journey to find your audacious self is what happens to you if you travel to Iran; so to experience it to the fullest you should know about quite a few things which are all accessible in this post about Iran tour packages specially in Escorted Tours of Iran.
>> Iran Tours 2020 & 2021 (Click Here)
In this post:
Getting an Iran visa
Safety in Iran escorted tours
The best time to travel?
The special dress code
Iran's souvenirs
Iran's entertainments
Transportation to/out/inside the country
Accommodation in escorted tours Iran
The tour guides
Expenses and the prices
Itineraries of Iran escorted tours
About us; "Iran Tourismer" – Iran Escorted tours Operator
Responsible travelling is the foundation for Iran Tourismer's tour designing; and that is pursuing the principles of sustainable tourism in Iran escorted tours.
Creating the opportunity where tourists and handicraft makers can get acquainted and interact is only one of our specialties. Moreover, in our escorted tours Iran we provide you with the situation to participate in workshops of carpet weaving and pottery. Experiencing the nomadic life of the Iranian ancestors is also an option that can be included in your itinerary.
FAQ and Details:
#1 Getting an Iran Visa for Escorted Tours of Iran
The complete information of the easy process of applying for visa of Iran is included in the given link at the bottom of this section. Check out this example of that information regarding where you are from:
Many countries like Georgia, Bolivia, and Malaysia do not require a visa for travelling to Iran.
As for the Canadian, American, and British passport holders, they need to travel to Iran by booking a tour with a certified tour operator.
* The laws are strict for the citizens, passport holders, or passports with stamp of Israel which their details is in the link below:
Escorted tours Iran : Getting an Iran Visa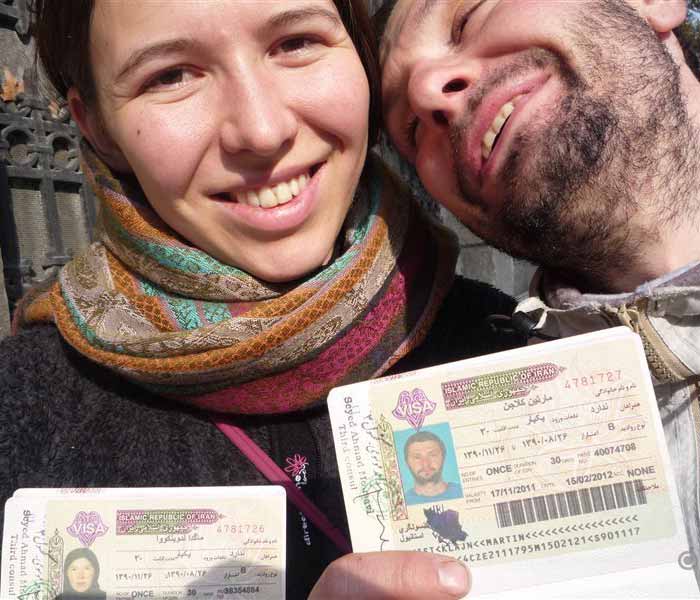 #2 Safety in Escorted Tours of Iran
Iran is as safe as any other country for any tourist. Many tourists have ignored the negative vibes that the media sends toward Iran and they are glad that they did travel to Iran. According to Lonely Planet travel guide, Iran could be the friendliest country of the planet earth. Moreover, according to International SOS 2019 Travel Risk Map , Iran has been rated as safe as majority of European countries!

For the travelers on Iran escorted tours the word hospitality changes its definition to a purer sense. While on a typical day, walking down a street, it is highly possible to be invited for a cup of tea and to chat by a local.
There is more to the matter of safety in escorted tours of Iran; check out here:
Escorted tours Iran: matter of safety in Iran? [Updated]
#3 The Best Time to Travel to Iran
Each traveler has his/her own best time of the year to travel.
For the interested ones in high season:
Mid-March to mid-April; spring time
October to November; autumn time
* If you decide to travel in these two time periods, you will explore Iran in a pleasurable and fantastic weather. However, the expenses are expected to be higher than the rest of the year.
Escorted tours Iran:  weather in different seasons of Iran
For the interested ones in low season:
The other months of the year categorize as low season due to the lower and higher temperature of the winter and summer relatively. However, the western cities of Iran have spring weather during summer; and southern cities have relaxing weather during winter.
* Be aware of the holy month of Ramadan which changes from year to year. The only reason for this percussion is because of the restaurants that are only allowed to give services after evening time.
#4 The Special Dress Code
According to the laws of the Islamic republic of Iran:
Men, in public, cannot wear shorts and sleeveless shirts
Women, in public, are obligated to wear headscarves covering the hair and neck area, an cover full body, wearing long sleeved upper wear and long pants or skirts.
For more details on the dress code please go to the link below:
Escorted tours Iran: What clothes can travelers wear in Iran?
#5 Iran's Souvenirs
Every travel needs a memento and souvenir; especially if the travel is in Iran. With more than thousands of years of culture, history and civilization backing up Iran, souvenirs of handicrafts and cuisine are the most survived ones during the passage of time.
It might be overwhelming to choose the most suitable souvenir; but you have nothing to worry about if you travel with our Iran escorted tours because we will help and guide you to find your perfect souvenir.
All the details for souvenirs are in this link:
Escorted tours Iran: A Full List of best Iranian Handicrafts
But let's have a quick peek at Iran souvenirs:
Iran is most famous for its:
Carpet
Saffron & Pistachio
Termeh, from Yazd a delicate handmade cloth
From Esfahan Mina Kari or the Enamel Works
As for the other important handicrafts:
From west of Iran: Giveh which is a traditional shoe
Gelim or Kilim that is a unique rug with survived ancient methods of weaving
#6 Iran's Entertainments
Any kind of entertainment that you are interested in can be found in Iran. You just have to tell us to include it in your Iran escorted tours.
Here is a sneak peek:
For the interested ones in adventures of the desert: we can provide camel riding, safari, and gazing into the starry night of the desert with the high quality equipment
For the interested ones in adventures of the mountain: climbing and skiing are popular. For ski seekers, Iran has international resorts namely Dizin and Shemshak
For the interested ones in adventures in the cities: for example, we take our tourists to the Zurkhaneh where an ancient kind of wrestling is still practiced honouring unity and chivalrousness.
By clicking the link below you will have access to the information of other entertainments of Iran:
Escorted tours Iran: Iran Best Entertainments
#7 Transportation to/out/inside the Country in Iran tour packages
You can choose the type of transportation to be included in your itinerary. It is up to you to choose between traditional or modern ways of moving around. We can assist you to make the best decision.
The type of transportation for entering and exiting the country:
Direct flights if they are available from your country, if not, we will arrange for a transit flight. In the given link below the list of countries with direct flights to Iran are listed: SkyScaner Website [check the flights]
The types of transportation for moving around between/in the cities:
We can make arrangements for buses, private cars, or flights if available for going from one city to another
And as for in the cities:
we can make arrangements for VIP buses and Private Cars or for an adventure we offer using public transportation such as subway for tasting a little bit of local life.
In the included itinerary at the end of this post you can alter the type of transportation used in it to the one you prefer. Our itineraries are flexible.
#8 Accommodation in Escorted Tours Iran
Accommodations during the trip are not only about somewhere to sleep and store stuff but to find a temporary "home" that could support the activities you want to do while traveling abroad while minding your budget as well.
Being aware of the available types of lodging in your escorted tours Iran is an essential step in planning a great memorable trip which we will help you to achieve it:
Hotels: 3 to 5 star hotels
Eco-lodges: the traditional houses that are turned into lodgings for a more localized experience
Camping can also be on our list of accommodations, of course, in environmental tours
There is much more to know about Iran's accommodation in escorted tours Iran in the link below:
#9 The Tour Guides of Iran Tours
Our expert and professional field operatives are creative in doing their jobs while they are able to combine and mix their knowledge with innovation in all of our Iran escorted tours.
Our tour guides are:
Experienced in their line of work
Creative and cooperative
Licensed by the Cultural Heritage, Handicrafts, and Tourism Organization of Iran
Generally English guides, however, if you prefer another language we can arrange that for you
#10 Iran Escorted Tours Price
Expenses and prices are different in each one of the Iran escorted tours due to a various number of accommodations and transportation to be included.
In the next section we have given you the classic itinerary of Iran Escorted tours which is flexible; however, if you want to find out more details of the prices of each lodging and transportation, contact us via this link:
#11 Why a Domestic Tour Operator
We recommend cooperating with Iranian tour operators, because:
Direct and

 

time-effective

 

communication with no third party involved
Lower package price

 

offers when third party commission is hence omitted
Native experts

of their countries, who are

fully dominant over the current situation in Iran, hence offering  pragmatic Iran escorted tours, and prompt action in urgent cases.
Direct business contributes to the tourism industry,

 

economic growth

 

of the hosting country, if that is something to concern you.
If interested in more on this topic, please visit : Why an Iranian Tour Operator?
Sample Iran Escorted Tours
The classic itinerary of 8 days Iran escorted tours is given here, however, you can customize it according to your wishes:
>> Iran Tours 2020 & 2021 (Click Here)
Day 1 – Tehran
A full day visit of the capital of Iran: Starting at The National Museum of Iran, you continue to one of the few royal palaces of Iran, Golestan Palace in old district of Tehran. Next in line are the Carpet Museum of Iran and the new symbol of Tehran: Milad Tower and its panoramic view of this vast city.
Day 2 – Shiraz
Taking the morning flight to Shiraz and after a short rest, your visit starts with Vakil complex of Bazaar, bath and mosque. Karim Khan Citadel is your final stop.
Day 3 – Shiraz
A refreshing morning visit to the dazzling Nasir al-Mulk Mosque (Pink Mosque)! You will continue to 2 beautiful Persian Gardens, Narenjestan Garden and Eram Garden. Tombs of two prominent Iranian poets: Hafez and Saadi conclude your day.
Day 4 – Shiraz – Yazd
Departing for Yazd, you will visit the famous Persepolis and its Necropolis: Naqsh-e Rustam, then moving on to tomb of Cyrus the great in Pasargadae. On the road, you will stop by one of the world's oldest trees, Cypress of Abarkuh. Overnight in Yazd.
Day 5 – Yazd
Your full day tour of Yazd starts with the Zoroastrian Fire Temple and Towers of Silence.  Jameh Mosque of Yazd is your next site to see and you will have a relaxing visit at Garden of Dowlat Abad, with its tallest wind-catcher of the world. The main old square of the city, Amir Chakhmaq Complex and an amusing show of Pahlevani (ancient heroic sports) rituals at an Iranian Zourkhaneh are your final stops.
Day 6 – Yazd to Isfahan
Leaving Yazd, your next destination is Meybod and its Abbasi Caravanserai. Therein you will visit the Ziloo museum and workshop. If interested, you can explore a pottery workshop and even giving the craft a try.
Continuing to Ardakan, you can have a walk through the UNESCO inscribed Persian innovation, Qanats.
You will stay the night in Isfahan.
Day 7 – Isfahan
An early morning visit to Naqsh-e Jahan Square, and monuments on its four sides awaits you: Sheikh Lotfollah Mosque and Abbasi Jameh Mosque, Ali Qapu Royal Palace and the Grand Bazaar.
You continue to the Armenian neighborhood, Jolfa, to visit Vank Cathedral,  manifestation of Christianity in persian style. Conclude your day by visiting the 2 old bridges: Siosepol and Khaju Bridge.
Day 8 –  Kashan to Tehran
Heading towards Tehran, you will first stop by the desert. If interested, you can try camel riding, sand hikes and Safari if available. After a traditional lunch at a desert eco-camp, you will visit Kashan and its exquisite examples of traditional desert houses and the renowned Fin Garden.
Return to Tehran and, you will get ready for your flight back home.
* To explore more of our Iran Tour packages, please visit:
>> Iran Tours 2020 & 2021 (Click Here)
* And also you can contact us through this form now: