Iranian Souvenirs or Persian souvenirs [A Top List to shopping for travelers]
Iranian Souvenirs: People wonder what to shop in Iran. What are Iranian souvenirs? What unique gifts from Iran they can buy among the things Iran is famous for? Things to bring back from Iran like Iranian handicrafts would be available in which cities or markets. Persian souvenirs can be found in all the cities in Iran. 
What to buy in Iran? The following subject tends to give you the information about presents from Iran.
Related post: What to eat in Iran?
What to buy in Iran?
Things Iran is Famous for:
 Handicrafts:
#1 Persian Carpet:
A Persian Carpet is the best-known Iranian cultural export, which also is a display of wealth, investment, essential part of religious and cultural festivals. Make sure to visit the Museum of Carpets In Tehran.
Handmade Persian carpets are known around the world due to their exceptional design and high quality. The famous carpet of Pazirik from the Achaemenes Dynasty is a sample of Persian carpets.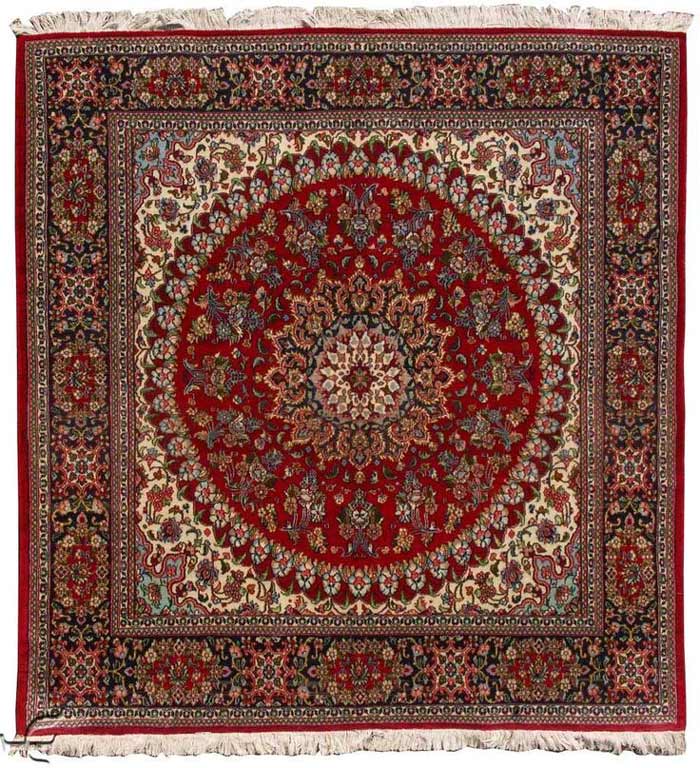 Persian carpets would be unique gifts from Iran but expensive things to bring back from Iran. In case you are not keen to spend much money, you can buy other kinds of rugs such as Gilim and Gabbeh.
Persian Kilim: Gelims are double sided flat-woven mats without knots one of the most valuable Iranian handicraft which has a worldwide reputation.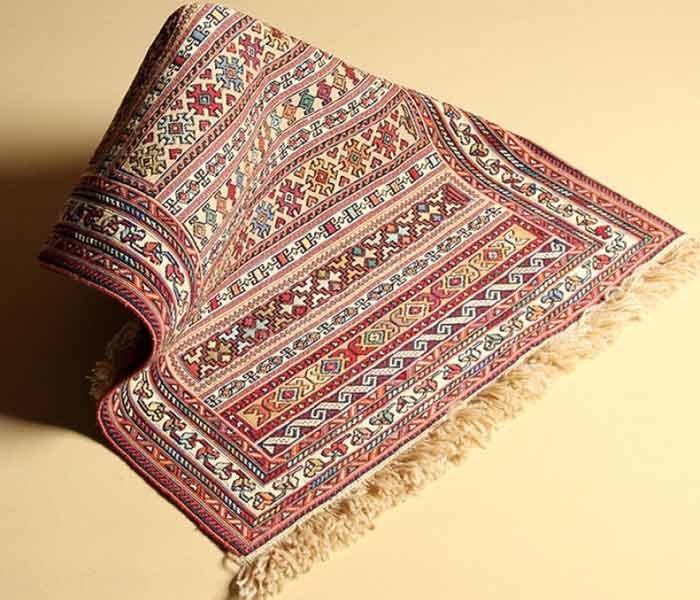 These rugs are thinner than knotted carpets and popular as wall hangings and prayer mats.
#2 Iran Ceramics and Pottery:
One of the oldest industries in the world is the Ceramic industry. Archeological excavations of Iran shows that pottery has a long history in Iran and dates back before the Persian Empire.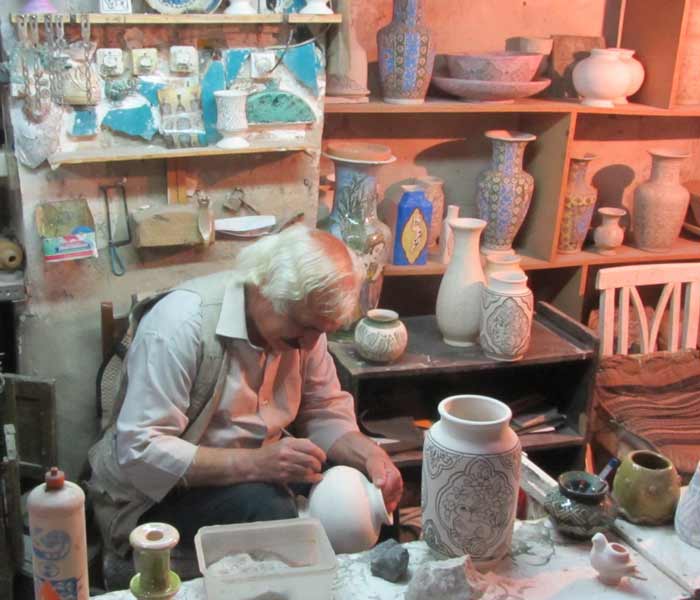 Hand-painted dishes and mugs, decorative objects made in typical Persian forms would be the ones that truly remind you of Iran.
#3 Iran Tile-Working:
Although the art of enameled brick working dates back in history, during the Islamic period this art was applied through novel applications along with various methods and new designs.
#4 Iran Calligraphy:
The calligraphy of Persian writing system is counted as one of the most fascinating and eye-catching expressions of Persian culture and one of the most respected arts through Persian history.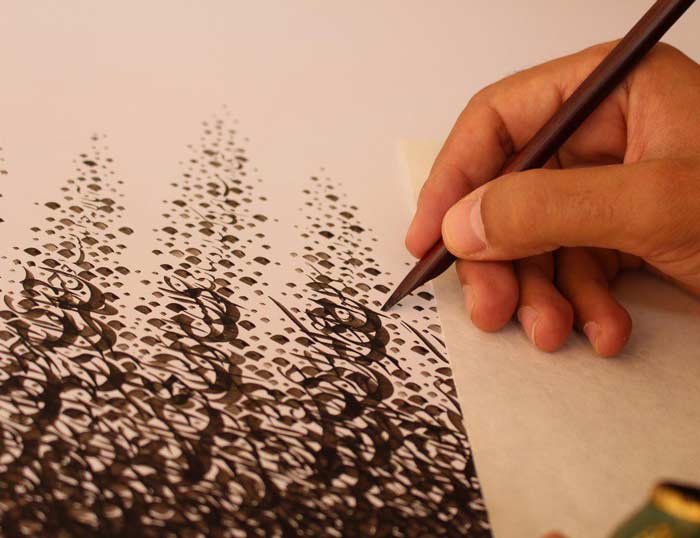 #5 Persian Miniature:
Persian detailed miniature paintings show Iranian mythological or religious themes. These stunning paintings can be made only with an extremely small brush and a very steady hand.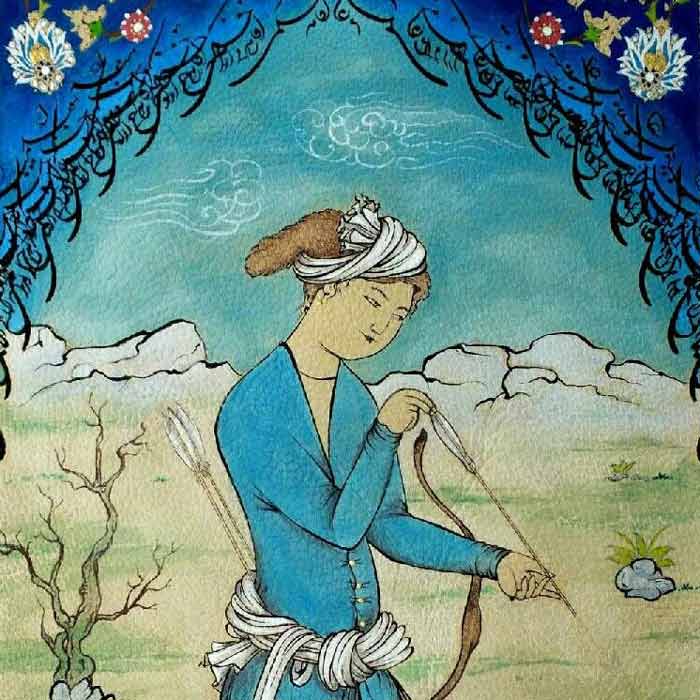 Miniature is a worldwide art and developed according to the different cultures. Persian miniature as presents from Iran is available almost everywhere.
#6 Persian Khatam:
One of the finest Iranian handicraft artworks is the Khatam Kari which is the art of decorating wooden surfaces by putting wooden or bone-made polygons together using a special glue.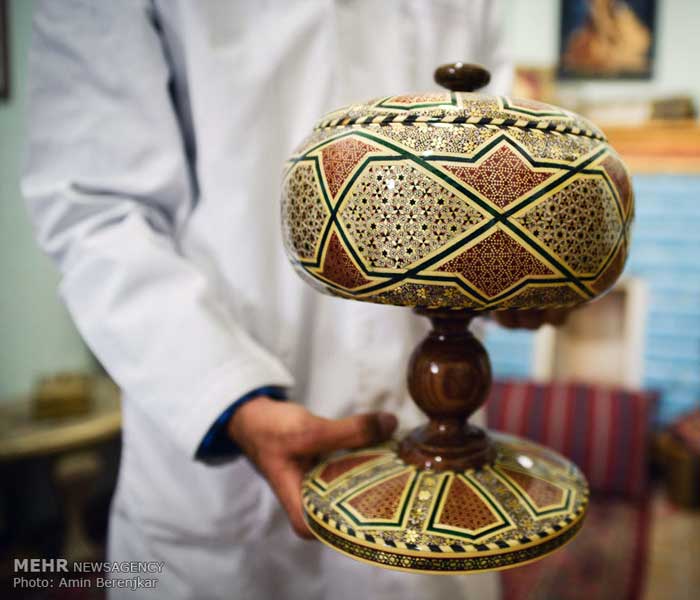 Hours of work should go into a small part. Lesser the space between the polygons, higher the equality. The material used in construction can be gold, silver and aluminum.
The main centers of Khatam Kari are Shiraz, Isfahan and Tehran. We suggest you to take Khatam Kari objects, as presents from Iran for these objects made with Khatam art, are practical objects.
#7 Minakari:
Minakari or enamelwork is the art of decorating copper surfaces with miniature patterns on a background, which is azure, green and red.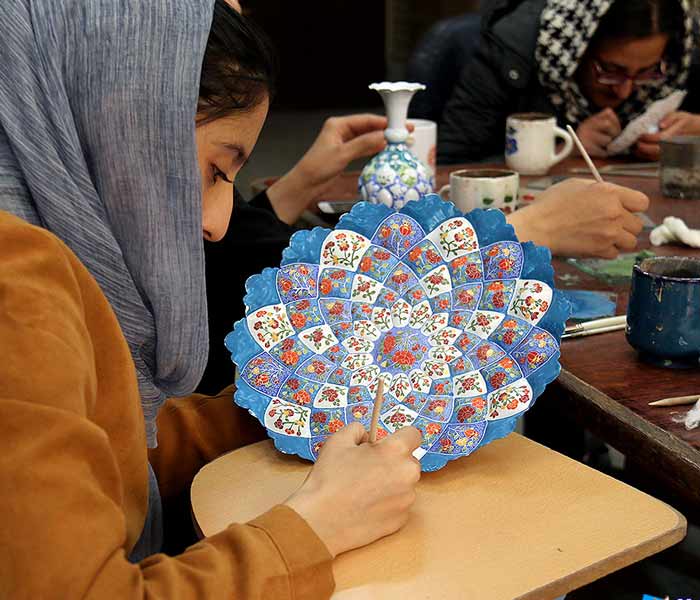 Decorative items, vases, plates and chalices are made through Minakari and foreigners can buy these as Iranian souvenirs specially Isfahan souvenirs.
#8 Turquoise:
In Persian culture, turquoise is known to have healing properties, cleanse the body and protect from the evil eye.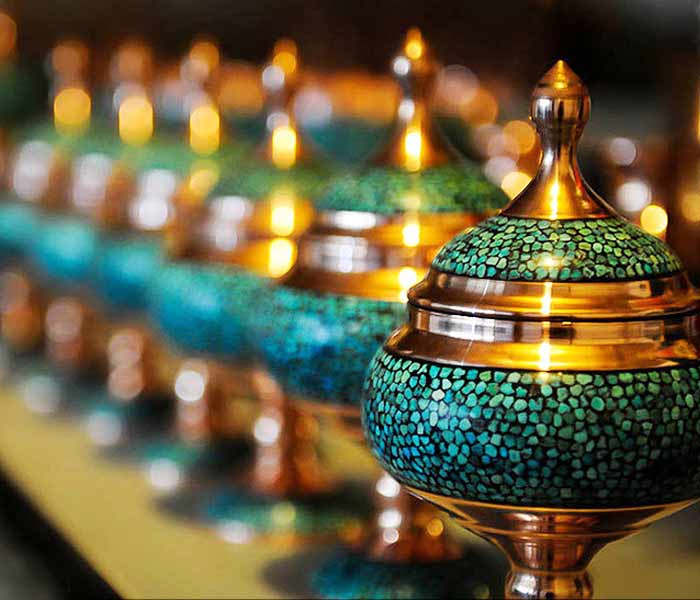 Therefore, turquoise can be found in different shapes as rings and jewelries and in art forms of Firoozeh Koob (the art of hammering pieces of turquoise into copper).
#9 Qhalamzani:
Embossing gold, silver, bronze and copper by experienced artisans to create designs on plates, vases and silverware.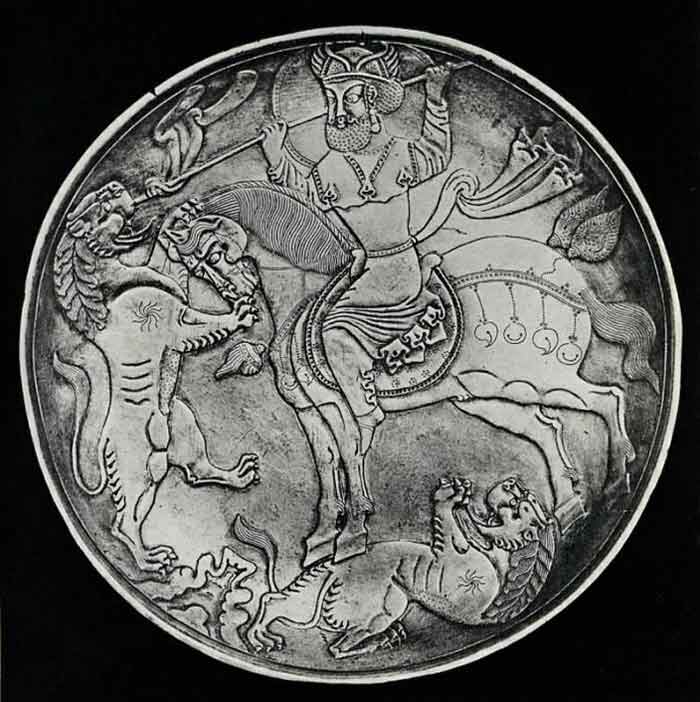 Food and Drinks:
These consist many Iranian souvenirs including high quality Iranian Saffron, different kinds of sweets such as rosewater from the fragrant Mohammadi roses (from Kashan), Gaz (from Isfahan), Sohan (From Qom), Ghotab and Baghlava (from Yazd), etc.
#1 Iran Saffron:
Saffron is an exotic flavor, which is often called "Red Gold", is extensively used in Persian cooking.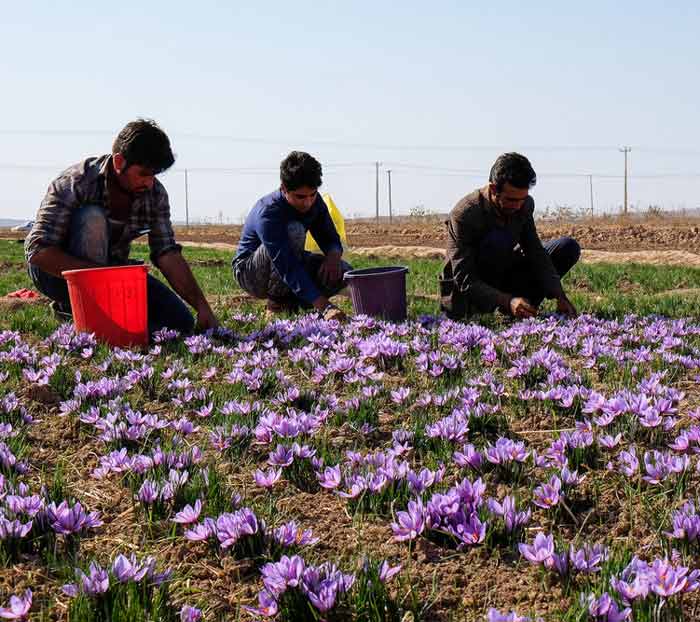 Iran is the biggest manufacturer of Saffron, producing 90 percent of the worldwide's produced Saffron. Mashhad is the hub of this industry but you can find it almost everywhere.
#2 Gaz:
Kind of an Iranian sweet that is made of egg whites, sugar, pistachios, almonds and rose water.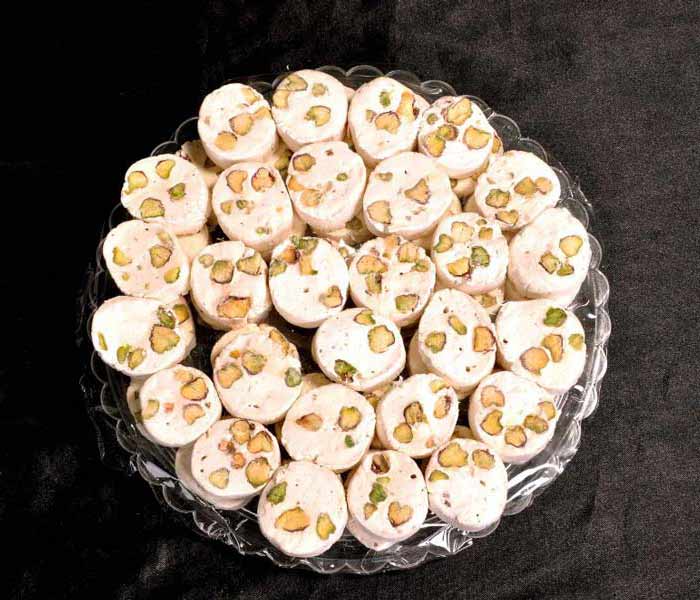 #3 Iran Caviar:
Iranian caviar is the best caviar in the world and a very lucrative Iranian export good.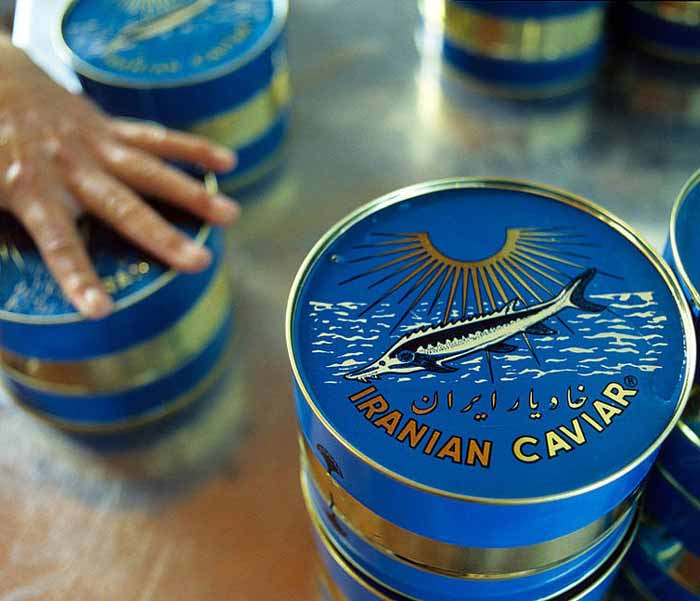 #4 Iran Pistachio:
Iranian pistachio is one of the best pistachios in the world and in international market ranks first because of its unique way of processing, rich taste and nutritive attributions.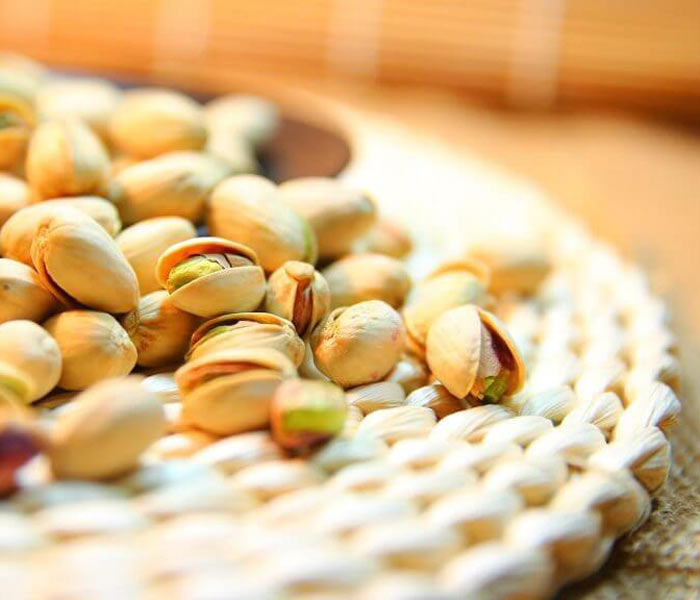 Iranian pistachio is famous worldwide as "Smiling Pistachios" for its eye-catching appearance.
Read more about Souvenirs in Iran:
1. Iranian Souvenirs
Iranian souvenirs: Walking through the markets in Iran, you can see that Iran has a vast range of goods and products proper for you to buy as Persian souvenirs and gifts as the things to bring back from Iran. Since Iran has an old history, civilization and culture, it has a special place in the world's art and craft and lots of things can be found to be famous.
Finishing this text, you could be able to think of what to shop in Iran to take with you as the unique gifts from Iran and Persian souvenirs.
2. Unique Gifts from Iran
unique gifts from Iran: Something as a symbol of the country would be a unique gift from Iran. Each Iranian city is famous for its special food or handicraft also considered as Iranian souvenirs.
Depending on what you are looking for, in Tehran there are several stores of Iranian handicrafts including rugs and glassware at Taleghani Ave., Ostad Nejatollahi Ave., Valiasr Ave., Vanak square, etc. Almost every major hotel of Tehran has at least one small handicraft store which makes it easier for buying the Iranian souvenirs.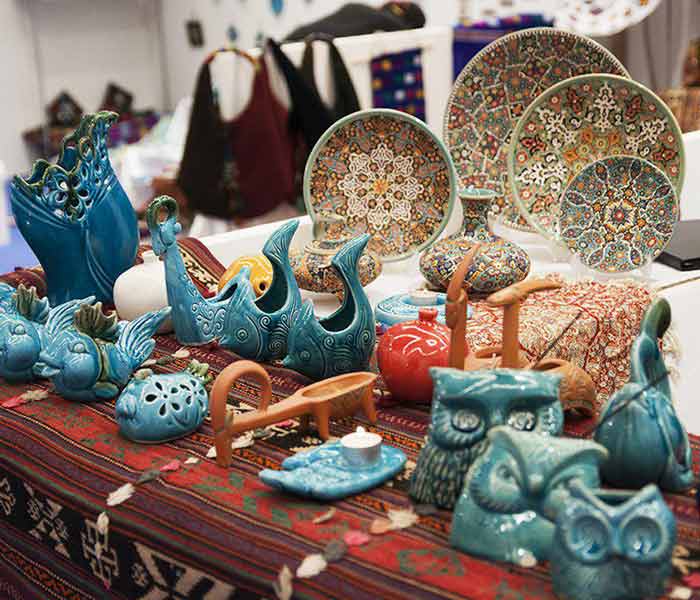 For rugs, you can think of Qom, and for Gobbeh (a special kind of rug, which is thick and warm, proper for cold places) Shiraz would be the place you could find the greatest. Isfahan, Imam square, might be the best if you are looking for copper.
3. Iranian Handicrafts
Iranian handicrafts are of the high quality, low price crafts although mass production is not common. The bazaars are the best places for finding what you look for or even when you do not know what to shop in Iran, bazaars would be a feast for the eyes and become overwhelming.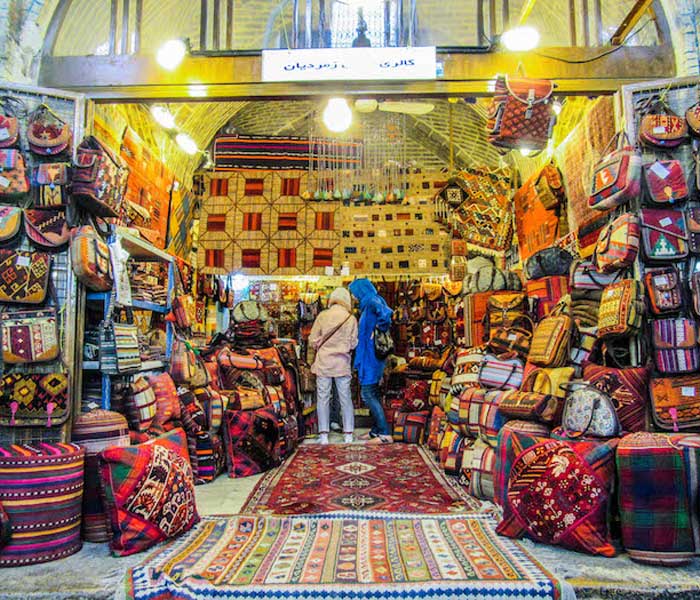 Even though bazaars are the best places to start looking, much of what is on sale in cities like Kashan, Kerman or Hamedan are more likely to suit local sales. On the contrary, the goods from the cities like Shiraz and Isfahan are more inviting as the foreign tourists are more common.
Fixed-price shops in most provincial capitals placed by the government-run Iran Handicraft organization help you with the lack of time to look around or not being eager on haggling.
4. Persian Souvenirs
Mystery and beauty are always brought to mind by Persian souvenirs. Iranian handicrafts are famous for being sophisticated and elegant. Some Iranian sweets and ingredients would make unique gifts from Iran since Persian cuisine is a delicious and ancient culinary tradition.
Some of the gifts would be expensive or even hard to transfer like Persian carpets. Here we suggest you to take something just as special like Iranian Saffron, which is easy to carry or you could pay with your credit card. The transaction is done through the shops in Dubai that most have. In such cases you could even find Iranian souvenirs in Dubai itself.
5. So What to Shop in Iran?
Every trip has its various parts, which could be enjoyable and easy, or a real hassle. A way to make things easier is to have a strategy for trip management and pre-planning.
One part of an Iranian trip, which could be a bit difficult, is buying Iranian souvenirs. Therefore, having a plan or getting help would be necessary in order to know what things to bring back from Iran or to get familiar with the things Iran is famous for.
6. Things to Bring Back from Iran
Iran has an extensive variety of Persian souvenirs. Iranian souvenirs can satisfy different tastes of various people from all over the world. In case you decide to visit this beautiful country, make sure to obtain some information about Iranian souvenirs and decide on the ones that are to you and your family's taste.
7. Presents from Iran
Iranian handicraft organization has shops with different kinds of Iranian handicrafts and prices controlled by the government. To get the best of your time, you need to consult a local to help you with choosing the proper shop. The things Iran is famous for, would be the best presents from Iran since they jog your memory of Iran.