Iranian Handicrafts [Full list and guide to shop Persian handicraft in Iran]
Iranian handicrafts include weaving, metal works, wood works, stone and mosaic. The most significant ones in weaving are Persian handicraft carpet and rugs, which are known in the world. Iranian handicrafts Tehran shops and stores of other major provincial cities are mostly under the supervision of Iranian handicraft organization. There are Persian handicraft online stores also called Iranian handicraft online shops available in order to make you able to find out about Persian handicrafts suppliers and the Persian handmade crafts.
Iranians were active in making different kinds of crafts from the ancient times. Here you can find a brief list of crafts and arts in Iran.
A brief list of Iranian Handicrafts:
Weaving
#1  Persian Carpet or Persian Rug
Pile-woven Persian rugs are produced with a heavy textile in Iran and for different uses, various utilitarian and symbolic purposes.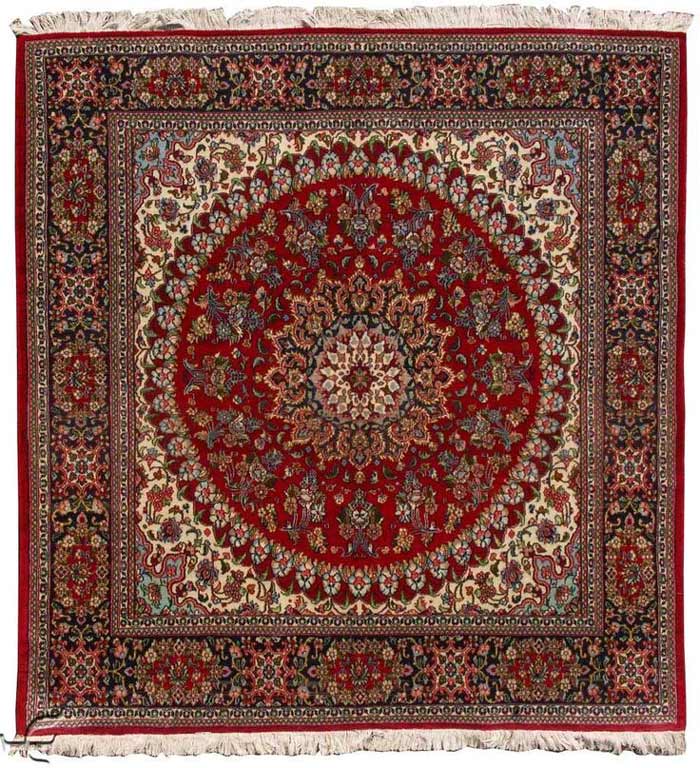 In Persian culture and Iranian art, carpet weaving has a special part and among the countries producing oriental rugs, Iranian carpet stands out due to its variety and unique designs.
#2 Kilims
A flat-woven carpet is called a Kilim. Kilims are decorative or used as prayer rugs.
Many motifs with many variations are used to make these one of kind Gelims.
#3 Ghalamkar
This art is a type of hand-painted or block-printed cotton textile made in Iran and India. Drying with a pen and using only natural colors, which involves seventeen steps.
#4 Iranian Termeh
Kind of a cloth which is woven with proper wool having long fibers. The process also includes preparing wool, washing and dying it which is one of the most important steps.
Termeh is a valuable textile with various usages and patterns. Weaving Termeh is a very sensitive, careful and time consuming work.
#5 Persian embroidery
One of the Persian arts using floral motifs particularly Persian figures, patterns related to hunting and animals.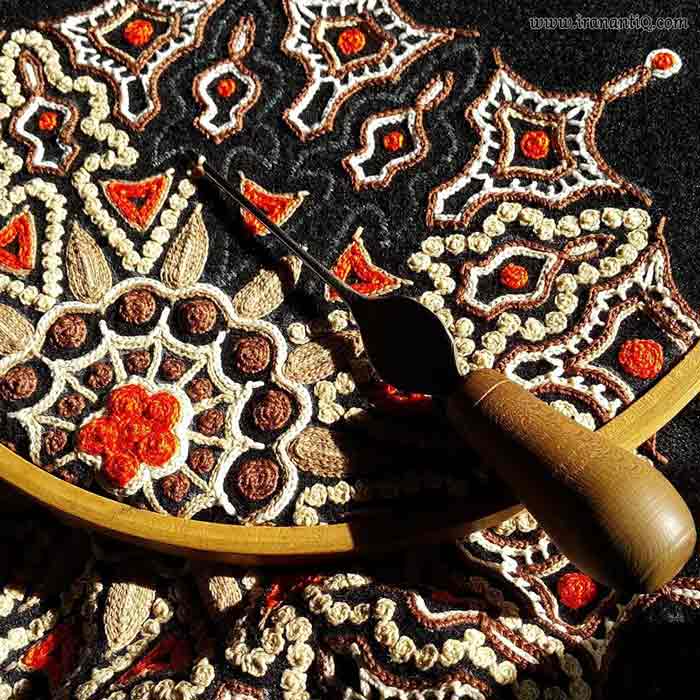 Almost all of type in which the design covers the entire work were of the earlier Persian embroideries. The importance of the varied silks of the needle work shouldn't be forgotten. Persian embroidery are worked in darning-stitch on cotton or loosely woven linen.
#6 Zaridozi
The art of decorating fabrics by sewing with golden stiches is called Zaridozi.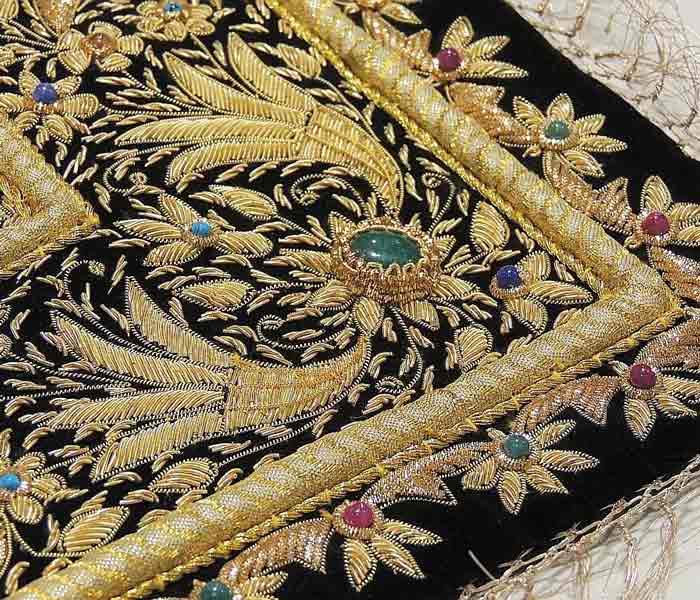 A type of metal embroidery, which involves making intricate designs utilizing gold and silver threads with pearls and exquisite stones.
Related Post: List of Top Iranian Souvenirs for Travelers
Metal works
 Khatamkari
Meticulous marquetry consists in the production of incrustation patterns with thin sticks of wood or bones. Sticks in polygonal shapes are glued in a strict order.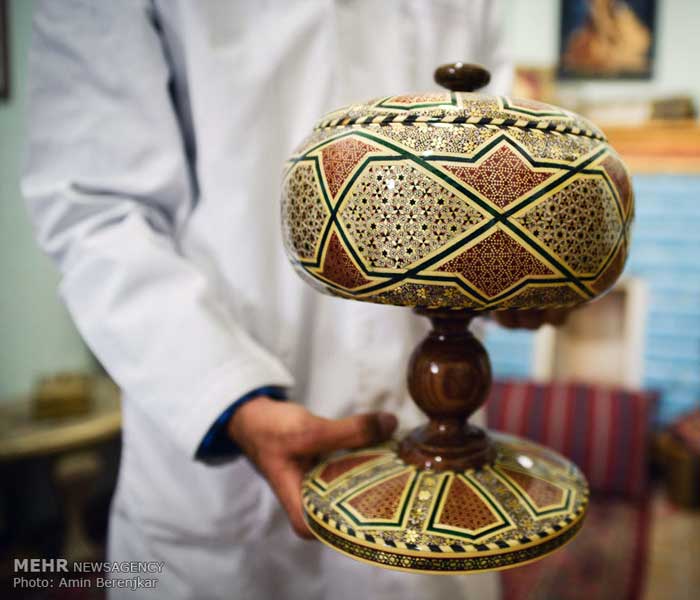 The sections made would be ready to be plated and glued on the object for decoration. Objects such as jewelry boxes, cadres, chessboards, desks, frames or some musical instruments are decorated with this art.
Mina-kari
Mina-kari is some sort of glasslike colored coat is stabilized by heat on different metals especially copper.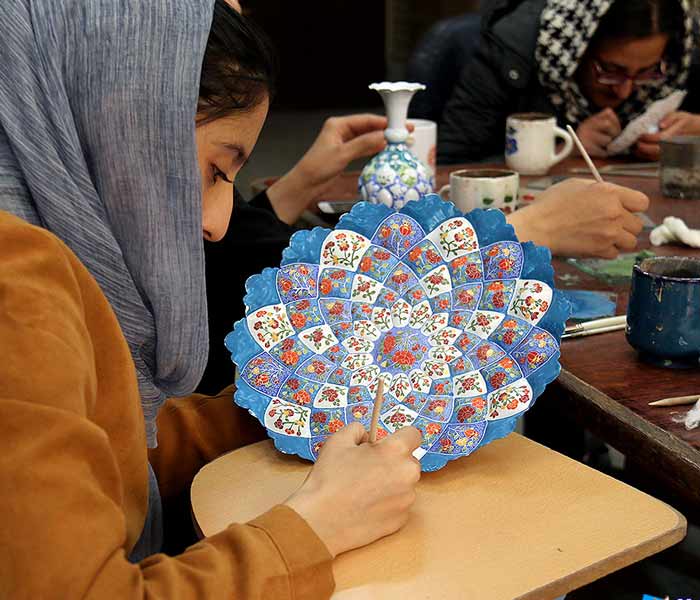 One of the distinguished courses of art which has been paid high attention by goldsmiths and painters. Dishes, vases, frames and boxes are the objects of today's performed enamel working.
Toreutics (Ghalam-Zani)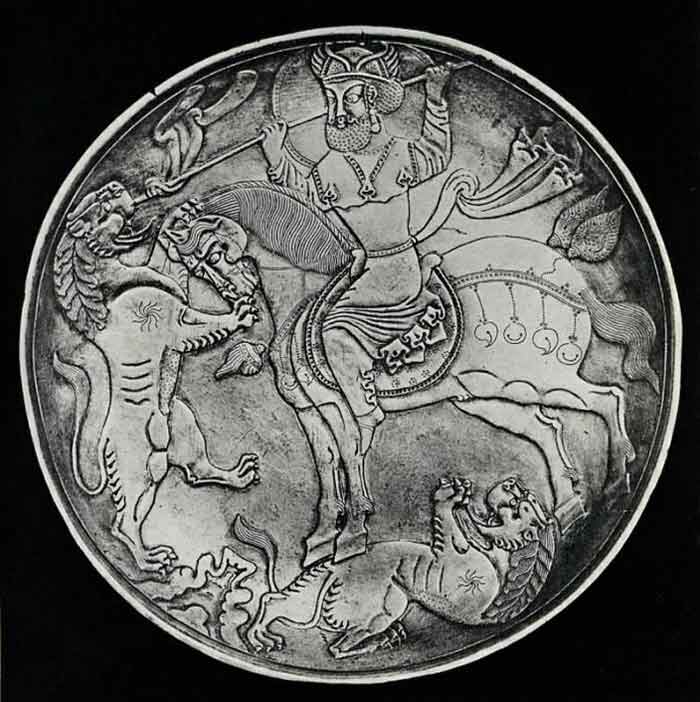 Artistic metalworking involving hammering gold or silver, engraving and chasing to form meticulous reliefs or small patterns and claims great antiquity since it was practiced in the Bronze Age and was stablished centuries before the Shaft Tombs.
Wood works
 Moarragh
Moarragh is similar to Musaic work. The art of putting pieces of wood together to form an artistic work is known as Moarragh.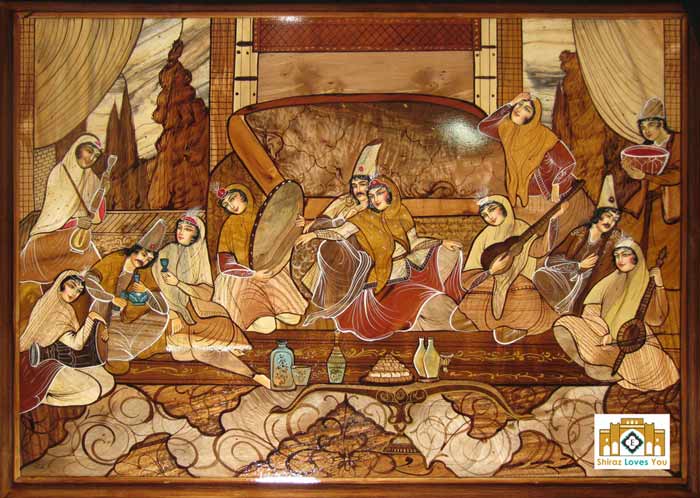 Each pieces of wood are from different kinds and colors. Moarragh is practiced with different materials such as stone but the most regular is the wood.
Wood Carving
Through this art, by means of a cutting tool or a chisel and a mallet, a wooden figure or a sculptural ornamentation of a wooden object is created.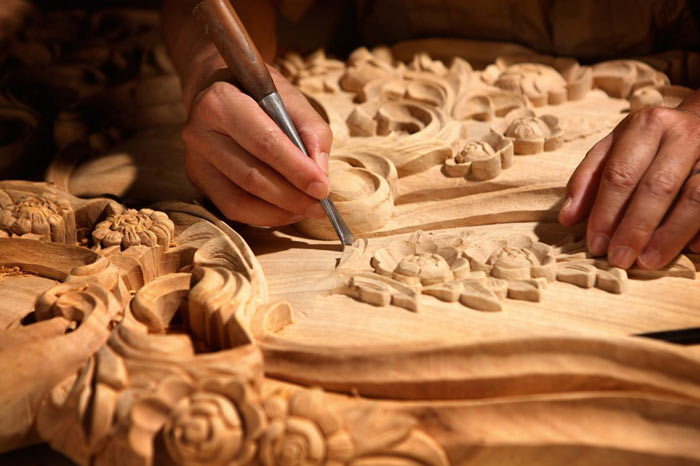 The making of the sculptures of wood are nowadays much less practiced than the other materials such as bronze and stone and thus forms an significant hidden element in the history of many culture's art.
Stone and Mosaic
Ceramics and Mosaic Works
Tile making in various methods such as luster-painted tiles, polychrome tiles, mosaic tiles, etc. are still going on.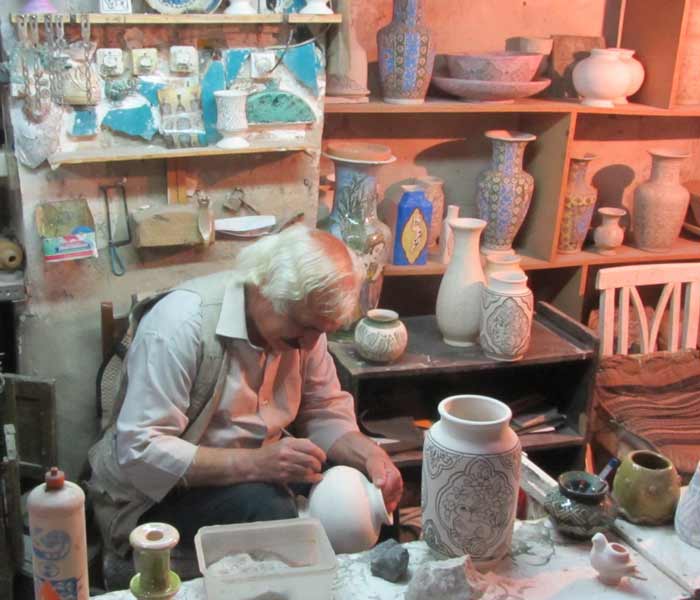 The main material is brick that is cheap and easily accessible. The beauty of structures and colorful shining works of art are made by the glazed tiles.
Turquois Inlaying
Small pieces of turquoise are set in mosaic fashion on parts of the surface including copper, silver or brass object, which gives the object a special glamor. Turquoise inlaying is performed on jewelry and containers and includes two general stages of goldsmith and turquoise inlaying.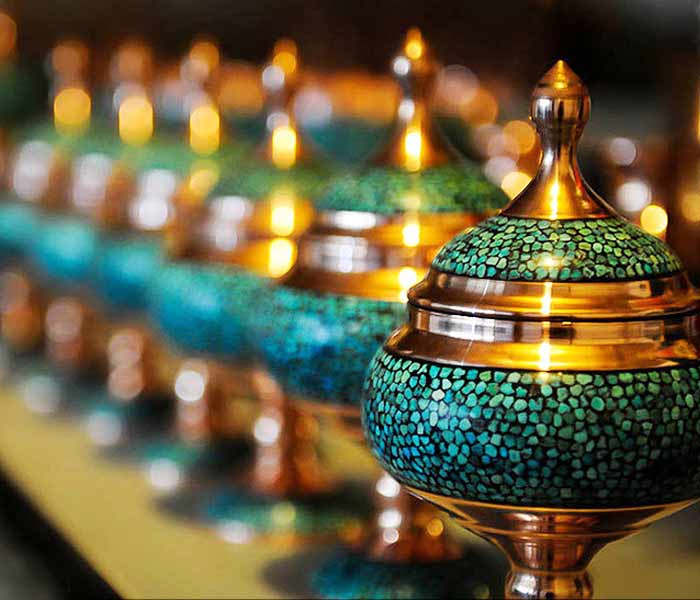 The important point in turquoise inlaying is the correct installation of turquoise chips on metal surfaces while burnishing the work so that the chips do not come off. Also if the turquoise chips are installed without a space between them, that piece of turquoise inlaid work will be of more artistic value.
Sculpturing
Sculpture represents the majority of the surviving works from ancient cultures although most ancient sculpture was brightly painted. Sculpture in stone endures far better than the artworks in perishable materials.
Related post: A list of must delusions Iranian foods 
Read more about Iranian handmade!
Where can I find Persian Handmade Crafts?
Iran has a lot to offer in its arts and Persian handmade crafts industry. The beauty and ancient history of Persian civilization has made it rich in its Persian handmade crafts.
Walking through bazaars of Iran surrounded by the shops of Iranian handicrafts would be charming for those who seek Iranian handicrafts and a threat to the eyes of those who are just visiting. Although, you are not going to be able to leave bazaars of Iran empty handed as tempting as the Persian handmade crafts are.
I need make a contact to Iranian Handicraft Organization
Some of the Iranian handicrafts may be expensive such as Persian handicraft carpet but you could buy the cheaper ones or you could refer to those shops which prices are set by the government through Iranian handicraft organization.
Link: Iranian Handicraft Organization
Iranian handicraft organization has some stores and shops with various types of Iranian handicrafts in most provincial cities and you can easily find the kind of shops you are looking for by asking the locals in case you do not have enough time to look around or you not keen of window-shopping.
I need a list of Persian Handicrafts Suppliers (Persian Handicraft Online Stores or Iranian Handicraft Online Shop)
In every city, you can see that there are types of Iranian handicrafts belonging to its city although suppliers are not focused in those cities. You ca find Persian handicrafts suppliers all over the country providing you with most of the Iranian handicrafts.
You may not travel to this country or you already visited Iran and you would like to buy some Iranian handicrafts as gifts or for decorating your house, or even if you are inside the country and not able to shop in bazaars, you may purchase from Persian handicraft online stores.
You can also find Iranian Handicraft Online Shops of the suppliers in Iran when you seek to purchase Persian handmade crafts. These shops provide you different Iranian handicrafts with lots of colors and for various types of tastes. On the other hand, Persian handicraft online stores has delivery services to most parts of the world.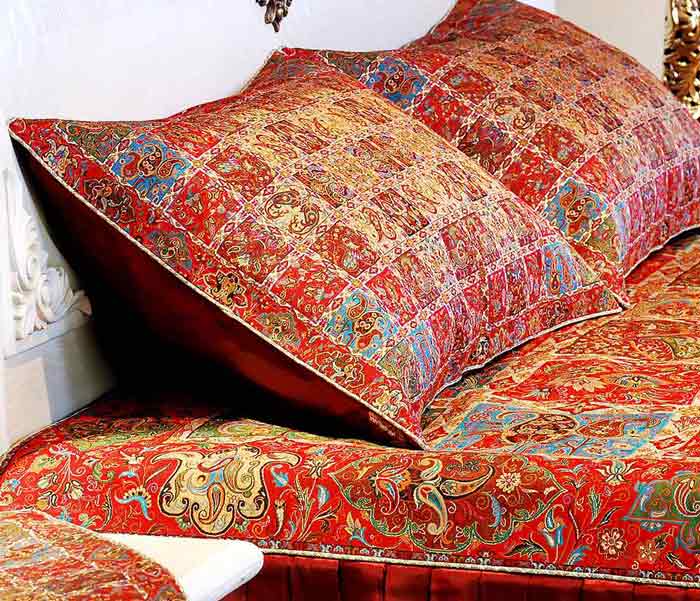 Some links are provided to find more about Persian handicrafts suppliers and Persian handicraft online stores.
Iranian Handicrafts in Tehran
Iranian handicrafts Tehran includes several stores of rugs and glassware at Taleghani Ave., Ostad Nejatollahi Ave. (Villa Ave., near Karimkhan Zand Ave.), Valiasr Ave. (opposite of Mellat park and the junction of Motahhari Ave.), Vanak square (Vanak shopping center), etc.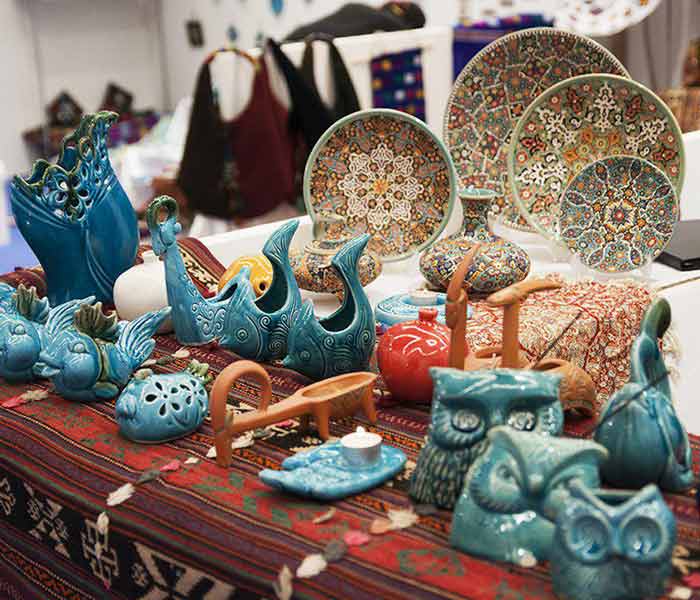 The main Iranian handicrafts Tehran shop would be found on Ostad Nejatollahi Ave. with lots of Persian handmade crafts in colors and prices set by the Iranian handicraft organization.
At least one small Iranian handicrafts store would be available in most major hotels of Tehran, make it easy for you to buy Persian handmade crafts as souvenirs for your loved ones.
Persian Handicraft Carpet
Iranian weavings are known worldwide for their durability, unique designs and antiquity. The most famous Iranian weaving is the Persian handicraft carpet, which is mostly used as floor coverings.
The Persian handicraft carpets depicts the wealth of the Persian culture with their different geometrical shapes, medallions and figures of animals and plans mostly driven from Persian history and culture.
Local materials specific to each area and the designs and shapes inspired by the natural environment, are the major facts making the Persian handicraft carpets and rugs unique.
Nomads weave various types of rugs different in style and design including Gabbeh, Kilim and Jajim, which are of those affected by the natural environment inspiration, and thus you may not find its kind or one similar to it.