Iran Vacation Packages [All inclusive Iran vacations]
Iran Vacation Packages(All inclusive Iran vacations): To redefine hospitality, to witness the details of ancient civilizations, and to have your share of the architectural treasure of the planet, it is best to plan a trip to the country of Iran and book for Iran vacation packages.
You can detect and explore your adventurous self in the Iran tours; a mysterious and enigmatic country. In order to do so, know about the points included in this post to experience Iran to the fullest.
>> Iran Tours 2020 & 2021 (Click Here)
In this post you will read:
What Makes Our Iran Vacation Packages Different?
Iran Visa 
Is Iran Safe for Tourist?
The prime time of travelling to Iran
The dress code and what to wear
Entertainments to do
In/to the country transportation
Lodging and accommodation
Souvenirs to buy
Sample Itinerary
#1 What Makes Our Iran Vacation Packages Different?
What Makes Our Iran Vacation Packages Different? We, Iran Tourismer team, are a young Iran-based Tour Operator. Our point of strength is we already value your zest to learn by choosing Iran, as your next destination.
So, we aspire to give you an authentic experience of Iranian culture and heritage on our Iran Vacation packages by offering you:
Workshops of Carpet Weaving and Pottery: To appreciate not just the delicacy and rigor of the famous Persian art, but the aesthetic identity of Iranian culture that manifests itself in Iranian handicrafts. So workshops are a pleasant tool to touch on  the Iranian culture. You may read lots about Persian art but the second you feel the knots and clay on your hands is when you learn by heart!
Interesting people at their interesting jobs: On our Iran Vacation Packages, we invite you to meet interesting people at their interesting jobs, whether it be an old Tehrani man at his petite traditional teahouse in the Bazaar for years, or an experienced smith at his workshop in Shiraz, etc.. You can have an authentic experience of Iranian culture on the street!
Customized Iran Vacation Packages: You are the one to decide which aspect of Iran you wish to experience and we accommodate. We do not dictate what we think is best for you, but we design your itinerary for your personality, preferences and interests. Our country has the potential to amaze you in different ways. So we offer you our recommendations as loyal natives of this country, not as business people.
#2 Iran Visa for Iran Vacation Packages
Iran Visa for Iran Vacation Packages is not complicated; not at all. Just keep in mind that:
Countries like Bolivia, Georgia, and Malaysia do not need visa for entering the country. There other countries as well. To know them go to the link below this section.
For American, Canadian, and British citizens the process is a bit different. They need to travel with a tour operator. We have all the details in the bottom link.
* Israeli citizens and passports with Israeli stamp face strict laws for entering.
For more details on how to get Iran Visa, visit our page: Iran Visa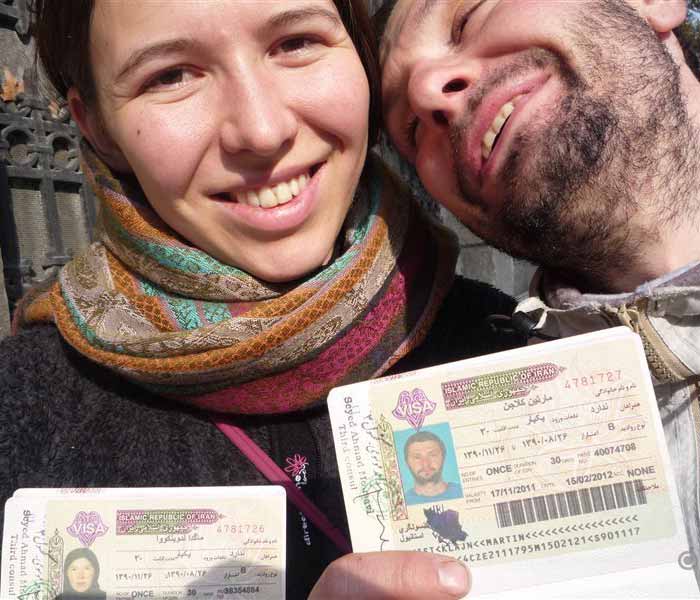 #3 Is Iran Safe for Iran Vacation Packages?
Is Iran Safe for Iran Vacation Packages? According to tourists themselves, Iran is one of the safest countries on the planet. Lonely Planet describes Iran as what could be the friendliest country on earth. And, according to the 2019 Travel Risk Map, Iran is rated as safe as majority of European countries to travel to. So let's put the fears behind and be adventurous.
For more information on this subject, visit: Safety of Tourists in Iran
#4 The Prime Time for Iran Vacation Packages
High season:
Mid-March to mid-May which is spring
October to November which is autumn
* The weather is fantastic and pleasurable in these two periods. There would be less people in the historical sites and the prices are higher than usual.
Low season:
The other month of the year are considered as low season. The summer might have hot weather and winter the cold, however, you can experience mild weather in the west and south relatively.
* Mind the holy month of Ramadan. The period is not fixed in the calendar. The reason we suggest that you travel to Iran before or after it is because the restaurants are all closed and give service only during the night.
Iran Vacation Packages:  Prime Time of Travelling to Iran
#5 Dress Code of Tourists in Iran 
Dress Code of Tourists in Iran: Iranian state law requires all adults to dress modestly and women wear a hijab (a headscarf covering the hair and neck area) in public.
Female Dress Code: Adult Female tourists are obligated to wear headscarfs and cover full body with e.g. loose long-sleeved tops, pant and long skirts. Wearing the headscarf loosely and exposing part of hair is OK.
Male Dress Code: Adult male tourists are advised to NOT wear shorts or tank tops in public. 
Finally, contrary to the popular fallacy, tourists are free to wear any color  or patterns they wish to, from neutral to bright, as long as they follow the said dress code.
Iran Vacation Packages: Dress Code of Iran For Tourists
#6 Entertainments to Do
Depending on your interest in Iran tour packages, entertainment can quench your thirst for some time off the sightseeing.
Let's see some of the adventures and explorations: List of suggested explorations in Iran
In the deserts: safari, camel riding, sand hiking, gazing into the starry nights of desert
In the mountains: climbing and skiing. For skiing, Iran has international resorts such as Dizin and Shemshak for both snow and grass
In the cities: you can spend some quality time in the Zurkhanehs where an ancient type of wrestling is still practiced which contains unity and teaches chivalry.
#7 In/to the Country Transportation
Using the any of transportation is totally depending on you. Iran has both traditional and modern way of transportation. We can help you to find the best way of moving around with our Iran vacation packages.
Arrival and departure of the country of Iran:
You can use direct flights to Iran from most of the countries, in case of no direct flights, we can arrange for you to get to the countries that have direct flights. Check from the link below to see if there are any direct flight from your country to Iran: SkyScanner.com
In/between cities transportation:
Moving between the cities can be arranged by a bus, private cars, or flights if available only depending on what you want.
As for inside the cities:
bus and private car.We can also include public transportation such as subway with its own unique features.
As you go to the end of this post, the given itinerary's transportation or Iran tour can be customized exclusively for you.
#8 Lodging and Accommodation
Accommodation can be considered as the most important part of one's trip which can lead to either satisfaction or dissatisfaction. You can decide which type of accommodation suits you best and we help you to do so.
You can choose from:
 3 star to 5 star hotels; whether you want to travel on budget or in luxurious way.
Ecolodges are recommended for those who wish to live like a local for a day or two. Some traditional houses are turned into ecolodges with their culture intact.
Camping is also available for those who book our natural Iran vacation packages.
#9 Domestic Iran tour operator; more beneficial because:
They offer lower prices. If you book with non-domestic operators, they eventually have to work with a domestic one; so why not you do it yourself?
They offer flexible itinerary that can be customized according to your needs and wishes.
They offer their years of experience so you would experience your journey in Iran to the fullest.
They offer tours with great varieties because they have a lot of options.
#10 Souvenirs to Buy
What is a trip without reminders of it? It might be difficult to buy souvenirs from Iran since there are too many good handicrafts and edibles. But do not worry because we will show you the way toward the most suitable souvenir in our Iran vacation packages. Some examples are:
First, the grand famous souveirs:
Iranian carpet
A delicate handmade cloth called Termeh
Enamel works of Esfahan known as Mina Kari
A traditional shoe from the west of Iran; Giveh
A special rug of Yazd; Gelim or Kilim
And at last, edibles as souvenirs:
Sweets from Yazd like Baklava and Pashmak
Pistachio
Saffron
Iran Vacation Packages: Persian handmade and Iranian Food tips for Tourists
*Sample Iran Vacation Packages
Sample Itinerary of Iran Vacation Packages: We call it "Essence of Iran" , an 08-Day package to cover the most prominent hallmarks of mainland Iran in the shortest time possible. The package covers 8 cities and is suited for individual to small groups. Transportation includes 1 domestic flight.
>> Iran Tours 2020 & 2021 (Click Here)
Day 1 – Tehran
You have a full day in the Iranian capital that offers you a collection of the reputed archaeological museum of Iran, displaying the excavated artifacts of this grand civilization; one of the few royal palaces of Iran, showcasing the Iranian art; the dazzling Carpet Museum where you can have a collective view of all styles of Persian carpet; and have panoramic view of this vast city from the top of one the world's tallest towers, Milad Tower. 
Day 2 – Tehran – Shiraz
You will fly to the blissful city of poems and nightingales, Shiraz. After a short rest, you start with the old town: Vakil complex of Bazaar, bath and mosque. After lunch, the old Karim Khan Citadel awaits you. 
Day 3 – Shiraz
Your full day tour of Shiraz starts with an early morning visit to the dazzling Nasir al-Mulk Mosque or the renowned Pink Mosque. After Lunch, next in line are the 2 grand Persian Gardens, Narenjestan Garden and Eram Garden with their dazzling pavilions you cannot miss. And finally you will visit tombs of two prominent pioneers of Persian Literature: Hafez and Saadi. 
Day 4 – Shiraz, Yazd
You depart from Shiraz towards Yazd, but make a memorable stop  the plain of Marvdasht to visit the grand Persepolis, its Necropolis, Naqsh-e Rustam and continuing to tomb of Cyrus the great in Pasargadae. Continuing your journey to Yazd, you will stop by the old Cypress of Abarkuh. You will stay the night in Yazd. 
Day 5 – Yazd
A full day tour of Yazd starts with hallmarks of the  ancient Iranianian religion: Zoroastrian Fire Temple and Towers of Silence! Then fast forwarding time to be dazzled by the renowned Jameh Mosque of Yazd. Garden of Dowlat Abad is there to boost your energy and repose in its cool. You finish your day by visiting the main square of the city, Amir Chakhmaq Complex and a show of Pahlevani (ancient heroic sports) rituals at an Iranian Zourkhaneh. All the while enjoying the beautiful view of the wind catchers and old but still inhabited neighborhoods
Day 6 – Yazd, Meybod, Ardakan, Isfahan
Departing Yazd, your next stop is city of Meybod, known for its ziloo (a type of flat weave) and pottery handicrafts. In Abbasi Caravanserai, ancient Iranian roadside inn for passing travellers, you will visit the Ziloo museum and workshop. Not so far away, you can sit at pottery wheels and touch on this soul refreshing art at a pottery workshop.
Resuming the journey, you will arrive at Ardakan to walk in the UNESCO inscribed Persian inovation, Qanats, underground water irrigation system in the desert regions of Iran. Hearing about it is one thing, marching underground to feel the rigors of erecting them is another.
You will finish your journey of the day in Isfahan.
Day 7 – Isfahan
A full day of Isfahan, you have a lot to be dazzled by! Starting at Naqsh-e Jahan Square, its two majestic works of Persian architecture and art, Abbasi Jameh Mosque and Sheikh Lotfollah Mosque, the dazzling 5-floored Ali Qapu Royal Palace and the Grand Bazaar on its 4 sides, you have seen Persian art at all layers.
You will continue to the Armenian neighborhood, Jolfa, to visit Vank Cathedral,  manifesting christian beliefs by Persian Armenian artisans. You will finish your day with a pleasant evening visit to 2 bridges: Siosepol and  Khaju Bridge.
Day 8 –  Isfahan, Kashan, Tehran
Heading towards Tehran, you will make a stop in the desert of Kashan, to revel in the amazing sand ripples and dunes under the glittering sun. If interested, you can try camel riding, sand hikes and Safari. After a traditional lunch at a desert eco-camp, you will head to the city to visit an  exquisite example of Persian house of desert region and the Fin Garden and its bitter story.
You have a few hours to the end of your short stay in Iran and flight back home from Tehran.
To explore more of our Iran Vacation Packages and options, please visit: Iran Tour Packages
* To explore more of our Iran Tour packages, please visit:
>> Iran Tours 2020 & 2021 (Click Here)
* And also you can contact us through this form now: