Tajrish Bazaar & Emamzadeh Saleh, Buzzing with life
Tajrish Bazaar & Emamzadeh Saleh: Tajrish is one of the old neighborhoods of northern Tehran, in Shemiranat District, located at the foothills of Alborz Mount. As one of the joyful Tehran attractions, Tajrish Bazaar, is the oldest traditional market of northern Tehran, with at least 70 years of history.
Care to feel the old traditional uptown Tehran? Tajrish Bazaar Tehran is the place to visit. Tajrish Bazaar is not just a site to cherish its history and architectural design, but is where one can truly revel in luscious colors, tastes and scents of a bustling local market.
Walk through Tajrish Bazaar and Emamzadeh Saleh Shrine and Tajrish mosque are there to manifest how faith is still so deeply rooted in Iranian culture. The bazaar is not just a market to buy goods and go home, it is a culture! one that no Tehrani can afford to let go of as part of their identity, which one can get a touch of by walking in Tajrish Bazaar teahouse too. (Tajrish Bazaar opening hours is mentioned at the bottom of the page.)
By the way, if you are planning to visit Iran, why not take a look at our Iran tour packages, as an Iranian tour operator:
>> Iran Tours 2020 & 2021 (Click Here)
#1 Where Is Tajrish Bazar?
Where Is Tajrish Bazar? The bazaar is located in one the oldest parts of northern Tehran, Tajrish neighborhood, Shemiranat District. Tajrish lies at the foothills of Alborz mountain range, at an elevation of 1,612 m from sea level. The neighborhood, once a village, has always been popular for its refreshing weather, the reason why former kings and rich people had their mansions built here as the countryside.
With Tajrish Square on the west and Qods Square on the east, Tajrish Bazaar also connects 2 old neiborhoods of Tajrish and Sarpol. Emamzadeh Saleh Holy Shrine and Tekyeh Tajrish (traditional theater) are adjacent to the market.
Tajrish Bazaar is the oldest traditional market of northern Tehran, with the typical architectural design of Iranian roofed bazaars. The bazaar has an estimated length of 300 to 700 m, housing more than 400 chambers along its narrow passageways, selling fruits and vegetables, spices, handicrafts, etc.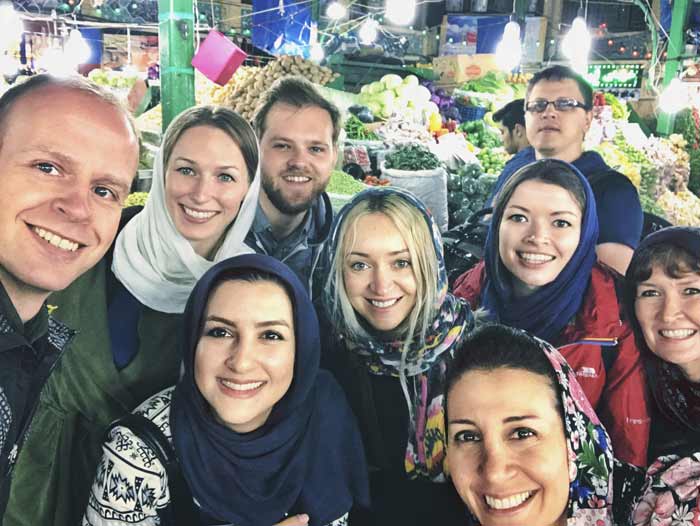 # How is Tajrish Bazaar Different from Tehran Grand Bazaar?
Tajrish Bazaar widely differs from Tehran Grand Bazaar in the central down town:
Tajrish Bazaar is remarkably smaller in size
shops at Tajrish Bazaar are retailers and mainly sell everyday consumer products, whereas Tehran Grand Bazaar still counts as a decisive commercial center in Iran, largely active in wholesale business.
#2 What to Buy at Tajrish Bazaar
What to Buy at Tajrish Bazaar : Here, one can find products at all prices, from amusingly cheap to expensive (mostly when it comes to handicrafts). What attracts most Tehranis from across the town to Tajrish Bazaar is its luscious edibles.
Fresh Fruits and Vegetables : One of the main features of Tajrish Bazaar is the temptingly colorful ample fruits and vegetables of all kinds with their irresistible scents of filling the space.
Spices, herbs, nuts and dried fruits : numerous shops offer a wide range of high quality edibles, some of which are quite new and unprecedented to newcomers and foreign tourists!
Handicrafts and Souvenirs : the perfect place for buying souvenirs and Iranian handicrafts from all over Iran, especially if one is looking for cheaper prices and not expecting a prime quality. Various cheap souvenirs, like magnets, mugs, etc are also abundant.
#3 Tajrish Bazaar Attractions
Tajrish Bazaar and Emamzadeh Saleh Shrine
Tajrish Bazaar and Emamzadeh Saleh Shrine : Adjacent to accessible through the bazaar, is the Shrine of Emamzadeh Saleh, brother to 8th Shiite Imam, Imam Reza whose shrine is in Mashad. The mausoleum has been a popular pilgrimage site to Tehrani people. Typical Iranian Architectural style and colorful tile and mirrorwork of the shrine, and witnessing the religious culture of Iranians makes the place worth a visit.
Tajrish Mosque
Tajrish Mosque : There are 3 old mosques adjoining Tajrish Bazaar, where locals and shopkeepers can retrieve to for their prayer rituals.
Tekyeh Tajrish
Tekyeh Tajrish : Walking down Tajrish Bazaar passageways, there is wide central roofed area surrounded by double-floored chambers. The yard is used for selling fruits and vegetable, except some days of holy months of Muharram and Safar (Lunar Islamic Calendar), when people gather and perform mourning rituals (Ta'zieh Khani) for the martyred 3rd Shiite Imam.
Called Tekyeh, the traditional theater hall was built around 220 years ago (Qajar period) for performing religious plays, as mentioned. However, in the devastative flood of 1987 in northern Tehran, parts of the monument were damaged and then renovated.
Culinary Delights
Culinary Delights : A major attractive feature of Tajrish Bazaar is walking through the colorful shops of spices, pickle and lush fruits and vegetables.
Tajrish Bazaar Teahouse / Traditional Restaurants
Tajrish Bazaar Teahouse / Traditional Restaurants : Wish to take a break from your stroll in the Bazaar? different traditional restaurants and teahouses are in and around Tajrish Bazaar for your pleasure. Also, if interested in trying traditional Iranian soups and broths, there are plenty of shops in Tajrish neighborhood.
# 4 History of Tajrish Bazaar Tehran
History of Tajrish Bazaar Tehran : Tajrish Bazaar Tehran is the oldest local market of Shemiranat District. While some records dates the establishment of the bazaar to 70 years ago, others believe the bazaar is about 150 years old, with some monuments like Tekyeh Tajrish dating back to 220 years ago.
To better appreciate the history of Tajrish Bazaar, it helps to touch on the history of Tajrish neighborhood first. Situated at the foothills of Alborz Mountain and enjoying the crisp weather, Tajrish was home to villages, luscious orchards and gardens. Nomads, too, would migrate to the area in spring and summer to enjoy the lush vegetation and cool weather. Moreover, Qajar and Pahlavi kings chose the region as their summer residence.
The neighborhood gradually developed and inhabited more and more people, leading to the gradual development of Tajrish bazaar too. The bazaar was not originally roofed and winter snow and rainfall would disrupt the commercial activity of the bazaar. This led to covering the bazaar with a  wooden and metal roof. In 1973, the roof was replaced with iron sheets.
However, later the Iranian Cultural  Heritage and Tourism Organization renovated the bazaar and its roof, concordant to the traditional architecture of bazaars of Iran. and each shop was designated a traditional tile frieze of their brand name.
Nearby Attractions
Darband Mountain Resort – 1.9 km
Sa'dabad Palace Complex – 2 km
Niavaran Palace Complex – 4.8 km
Cinema Museum Of Iran and Ferdows Garden – 1.1 km (on foot)
Museum of Music – 750 m (on foot)
Museum of Time – 1.3 km (on foot)
Tajrish Bazaar Opening Hours
Tajrish Bazaar Opening Hours :  Everyday, from 10 AM to 10 PM.
On the weekend (Friday) some shops may be closed.
The Bazaar is least crowded in the Morning and busiest in the afternoon until past evening.
How to Get to Tajrish Bazaar Tehran
How to Get to Tajrish Bazaar Tehran : Tajrish Bazaar sits between the 2 squares of Tajrish and Qods , and is accessible from both. Taxis from different parts of Tehran, BRT lines (Tehran Bus Rapid Transit), and Tajrish Metro Station on Qods Square are available to easily get to Tajrish Bazar.