Qeshm Island, Land of Wondrous Extremes
Qeshm Island is the largest Iranian Island of the Persian Gulf, in Hormozgan Province of Southern Iran. Qeshm is home to 59 towns and villages and 149,000 inhabitants. As one of the top Hormozgan attractions, and inscribed as a UNESCO Global Geopark, Qeshm Island is home to wondrous geological formations andexotic wildlife. Also as a Free Trade Zone, Qeshm counts as one of the largest trade centers of the Middle East.
Qeshm is one of the top tourist destinations for Iranian and foreign tourists, making Qeshm island tourism a subject of much interest. In this post, we, Iran Tourism team, have tried to cover the top Qeshm attractions such as: Qeshm island geopark, Qeshm Chahkooh Canyon, Qeshm Stars Valley and Qeshm shopping center. Also you can find out more about Qeshm island visa and Qeshm island weather which are of interest to foreign tourist.
As an Iran tour operator, we invite you to visit our Iran tours as well:
>> Iran Tours 2020 & 2021 (Click Here)
#1 Qeshm Island General Facts
Situated in Persian Gulf, Hormozgan Province, Qeshm island is the largest island of Iran, 1,491 km2, separated from mainland Iran by Clarence Straight (Tangeh Khoran), 22 kms opposite Bandar Abbas, with the closest point 2 km from mainland .
Qeshm island houses 59 towns and villages and approx. 149,000 people (2016). Local people mainly subsist on fishing, Lenj boat construction, cattle raising and retail trade.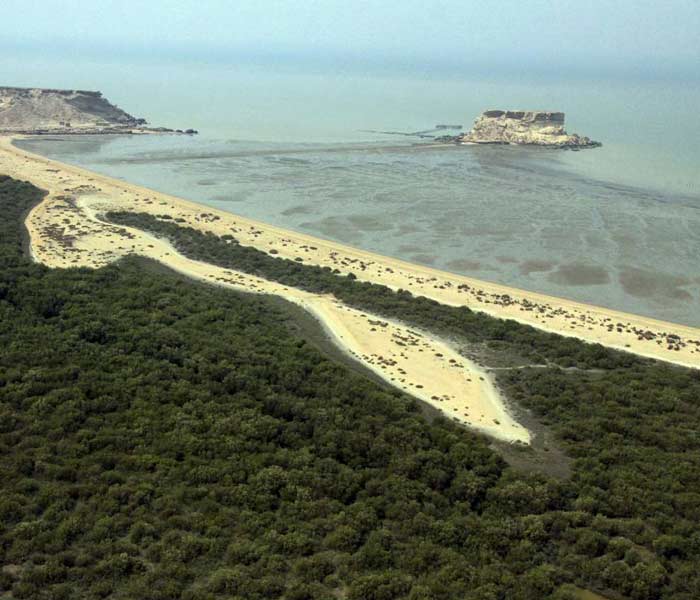 #2 Qeshm Island Tourism
Qeshm Island Tourism : Home to an extraordinary ecosystem, Qeshm island has been a top subject of Geological studies. Yet, its unique natural landscapes leaves any visitor in awe, rendering it one of the top tourist destinations of Iran, with an annual one million visitors, Iranian and foreign.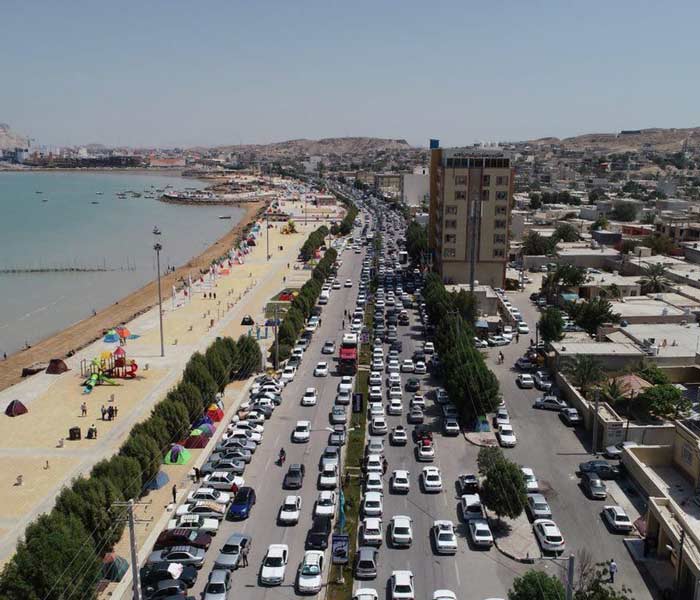 Besides fishing and trade, local communities eagerly engage in geo-tourism activities. Profiting from this sustainable and environment-friendly business, the local community has an added incentive to conserve the geo-sites.
Being one of Iran's Free Trade Zones, Qeshm island has also become a major trade center, with various shopping malls, hotels and entertainment facilities in the city of Qeshm on the easternmost point of the island, attracting a wider range of tourists.
#3 Qeshm Attractions
Qeshm Attractions : Qeshm island is more than the typical islands that come to mind with palm trees and sandy beach resorts. Priding an abundance of natural attractions, from mesmerizing canyons and deserts to unique forests, valleys to caves, and distinct flora and fauna giving this island its unmatched identity on a global scale.
Below is a brief account of Qeshm attractions to get the zealous reader going:
#1 Qeshm Island Geopark
Qeshm Island Geopark is the first in the Middle-East and a UNESCO Global Geopark. It is part of the huge mountain range of Zagros with geological formations, more than 480 million years old, and home to an stunning diversity of wildlife.
There are 25 geo-sites in Qeshm Island Geopark such as: Qeshm Stars Valley, Qeshm Chahkooh Canyon, Namakdaan Salt Cave, Naz Islands, Hara Forest (mangroves), etc.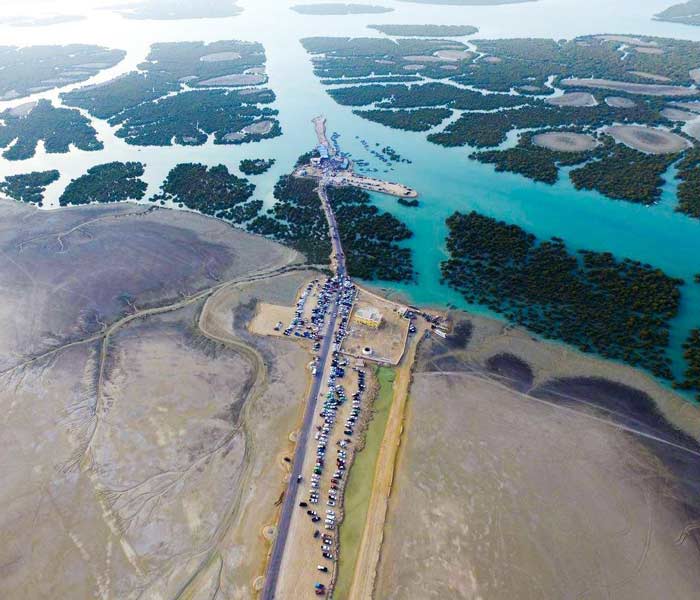 #2 Qeshm Stars Valley
Qeshm Stars Valley : Most-visited among geo-sites, the Stars Valley has a distinct geological morphology due to erosion by rainstorms, wind and gravity on various layers, resulting in the canyon or pillar-shaped structures.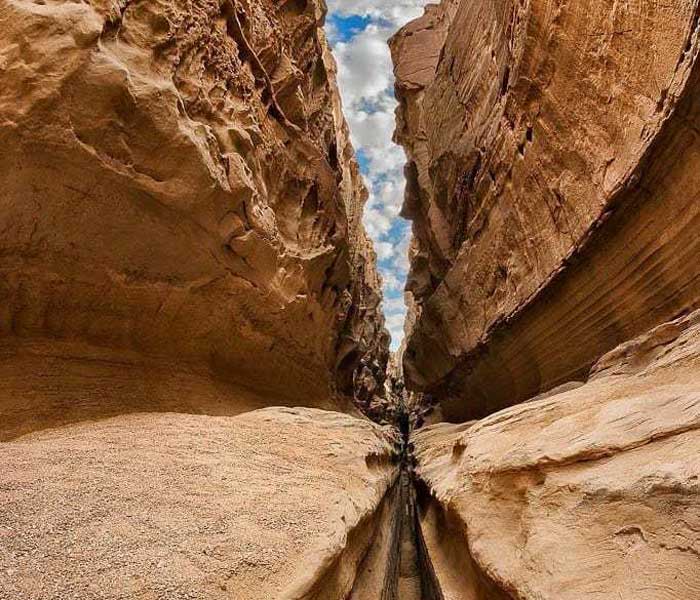 One must take caution as some layers in Stars Valley are too fragile to tolerate human weight.
Locally called "Estalah-kaftah" meaning "the Fallen Star", the locals believe this valley was the result of a star hitting the earth forming the current geological structure. More bizarre, some also believe in existence of Ghosts and "Jinns" in this Valley during the dark, which may be explained by the peculiar geological forms and wind blowing into the Stars Valley at night.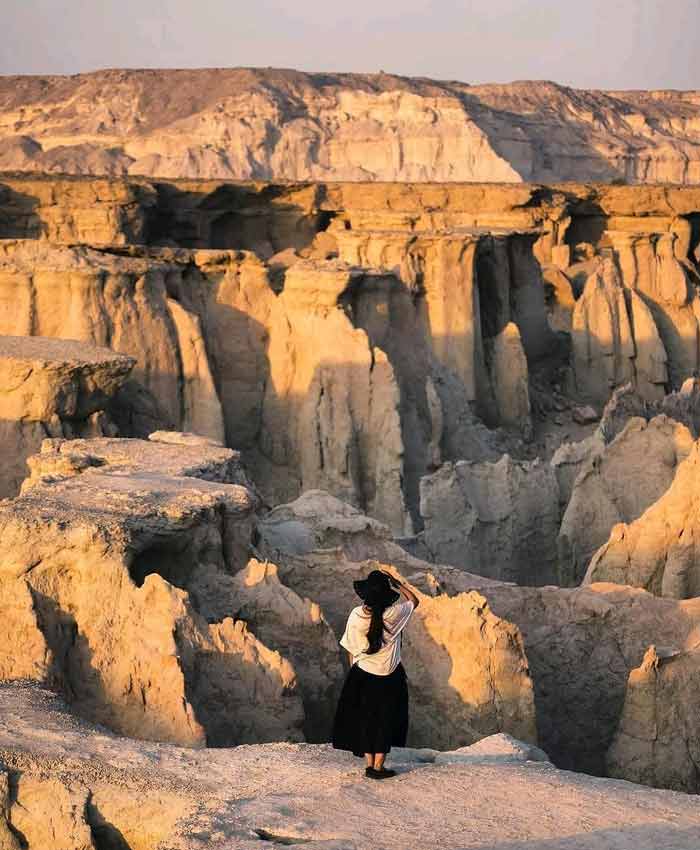 #3 Qeshm Chahkooh Canyon
Qeshm Chahkooh Canyon : Chahkuh gorge, on the north-western part of Qeshm island, is an exquisite example of erosion through the rare but heavy rainstorm water.
The presence of concave and round structures on the walls of the valley is the result of water induced erosion, dazzling the eyes with aesthetic pleasure.
Taking advantage of this formations, locals dig wells inside the main axis of the valley to act as water reservoirs in the dry seasons. Genius approach to fight freshwater scarcity! Possible reason why the canyon is called Chahkooh (mountain of wells).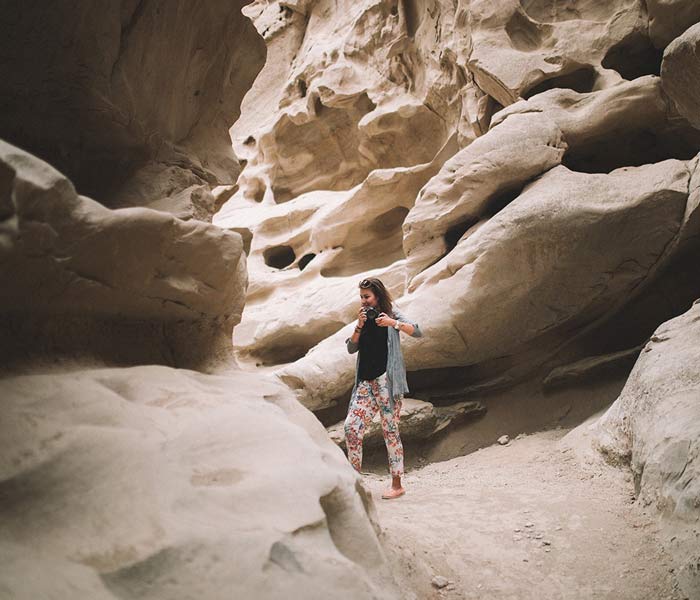 #4 Qeshm Shopping Center
Qeshm Shopping Center : Having become one of Iran's Free Trade Zones, Qeshm island has been one of the top tourist destinations for those who take pleasure in shopping as well as geo- and cultural tourism.
Being a major commercial hub, one can find a plethora of commodities in Qeshm shopping centers, ranging from local markets to huge luxe malls in the main town of Qeshm. The Old Bazaar of Qeshm, Setareh Qeshm, Pardis, Ferdowsi and City Center malls are among the famous shopping centers of Qeshm Island.
#4 Qeshm Island Visa
Qeshm Island Visa : Being a Free Zone, all nationalities (except Israeli passport holders) do NOT need Iran Visa to enter and stay in Qeshm island only, for a period of 14 days. (For extending the permit, tourists can refer to  Qeshm Free Zone Organization.)
However, if intending to enter mainland Iran afterwards, 180 nationalities have the option of Visa-on-Arrival at International Airport of Qeshm, to obtain their visa (Effective Jan 2018). Or, strongly recommended to save time, they can apply for Iran Visa online via the website of Ministry of Foreign Affairs of Iran prior to their entry in Iran.
UK, American and Canadian passport holders are not eligible for Visa-on-Arrival and need to apply in advance, to enter mainland Iran. Moreover, they need to be accompanied by a tour guide during their stay in Qeshm island or mainland Iran.
Also, nationals of Afghanistan, Bangladesh, Colombia, India, Iraq, Jordan, Pakistan, Somalia need to apply for visa in advance and retrieve their Iran Visa Authorization Code.
For a complete guide on how to get Iran Visa and Visa-Exempt nationalities, click Iran Visa.
#5 Qeshm Island Weather
Qeshm Island Weather : The island has a semi-equatorial climate, with an average temperature of approximately 27 °C (81 °F).
Due to the predominant hot and humid climate, Qeshm island weather is mild in early spring, fall and winter while very hot and humid in the summer.
The warmest months are June through August, and the coolest from October to January.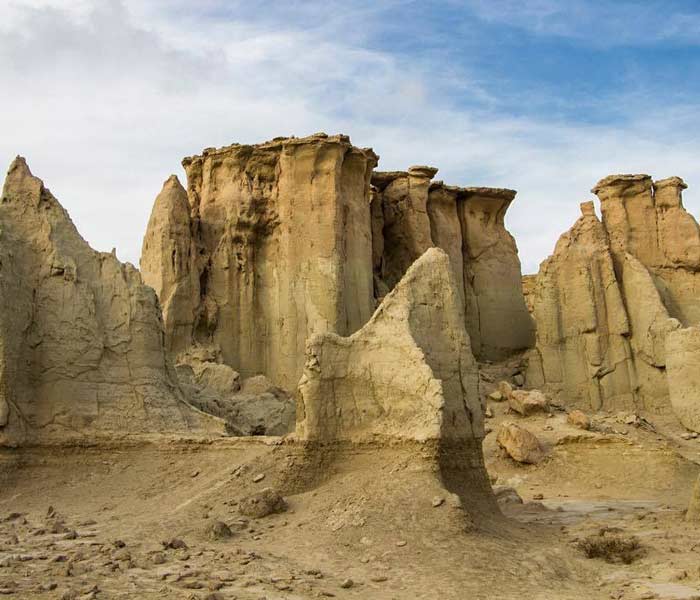 How to Get to Qeshm Island
How to Get to Qeshm Island : Access to the island is quite easy via:
Qeshm International Airport
Private vehicle: via Landing Crafts (car ferry) from mainland (Bandar-e Pol) to Bandar-e Laft (port) of Qeshm Island
Passenger Furry from Bandar Abbas city on the mainland or Hormuz Island