Hormuz Island, Crimson Charm of Persian Gulf
Hormuz Island is one of the Iranian islands of Persian Gulf, and one of Hormozgan attractions.  The 42 km2 island belongs to Hormozgan Province, being 8 kilometers off the coast in the Strait of Hormuz.
What primarily attracts tourists from around the world, is the famous Hormuz Island soil, a deep red. However, Hormuz Island attractions are not confined to the soil; Which is why we have tried to present a brief account of this fascinating island, accommodation options such as Hormuz Island hostels, Hormuz Island weather, Hormuz Island population, etc.
As an Iran travel agency, we, Iran Tourismer, invite you to also check out our tours in Iran:
>> Iran Tours 2020 & 2021 (Click Here)
#1 Hormuz Island General Facts
Located in the Strait of Hormuz, 8 kilometres off the Iranian coast, Hormuz island is part of Qeshm County, Hormozgan Province. The 42 km2 island houses approx. 5,900 (2016) people in the town of Hormoz.
The locals mainly subsist on fishing. Local handicrafts such as embroidery, basket weaving, etc. are other sources of income.
Due to its paramount strategic location, Hormoz Island was once a tempting prey to foreign powers, especially the Portuguese in the 16th Century. The relics of the Portuguese Castle are now one of Hormuz Island attractions.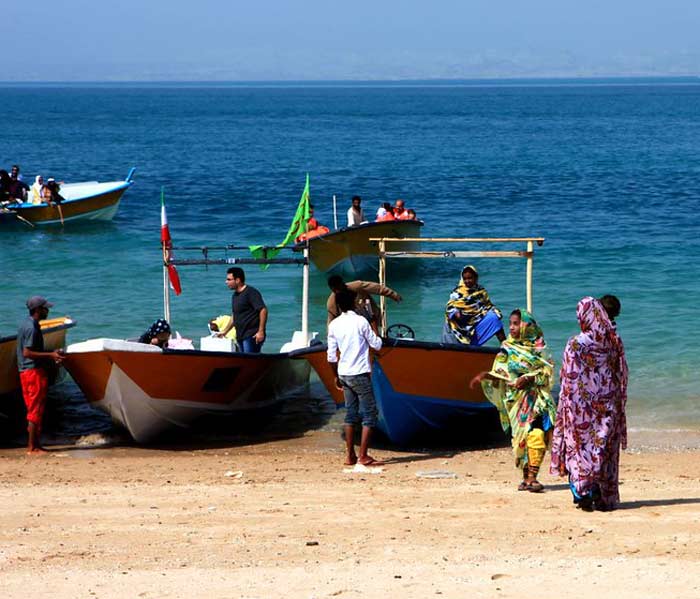 #2 Hormuz Island Attractions
Hormuz Island Attractions : Hormuz Island is most famous for its imposing red soil. But, beware red is not all there is to Hormuz Island soil and its epic geological formations. As one takes on the coastal road around this spectacular island, colors of blue, purple, yellow, white, glittering gold and silver come flashing past your eyes on the  tranquil sand beaches, epic cliffs, mountains and caves.
#1  Red Edible Mountain/Red Beach
Red Edible Mountain/Red Beach : It is not just red and beautiful, but edible too! Hormoz Island has a mountain rich in red oxide soil, called "Gelack", which is not just a valuable mineral for industrial purposes, but the locals use it as an spice in their cuisine, such as sauces, jams, etc.!
The mountain being on the shoreline, makes the peculiarly red beach and red waves of the sea an unmissable sight to see!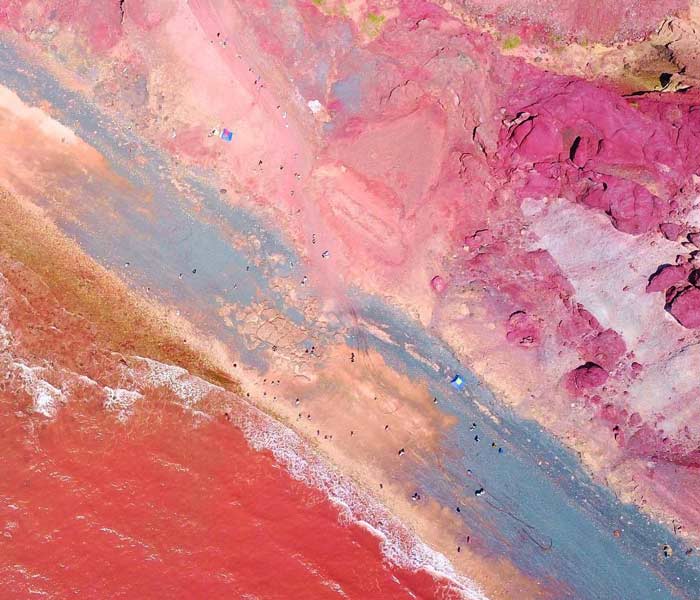 What is more, walking along the shore, you will encounter parts where sand glitters with metal compounds, especially mesmerizing at sunset or sunrise. No need to fret over your clothes getting stained red, as they will be washed off easily.
The Red Beach is only one among the island's various rocky sand beaches with their mysterious sea caves.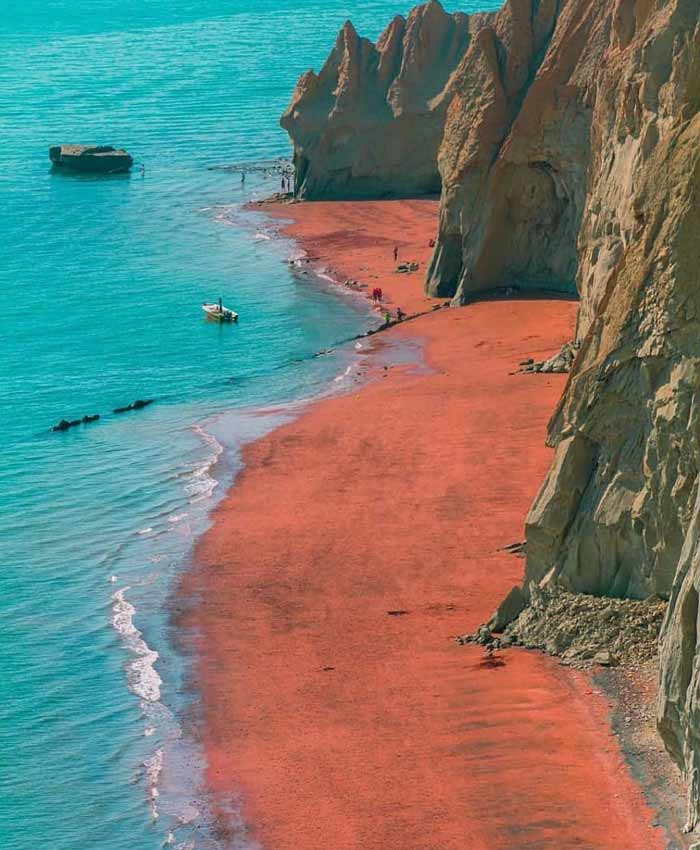 #2 Silence Valley
Silence Valley : Pure silence engulfs you, walking down this valley! Surrounded by grand salt mountains and cliffs, one readily gives in to the serenity and positive energy of the valley.
Walking further, there is small salt cave, rightfully called "Meditation Cave". Covered with salt crystals, going deep into the cave needs professional cave equipment.
Also in the valley, the spectacular sight of " Turquoise Goddess Salt Dome", as locals call it, awaits you.
Flowing through the valley, is a seasonal salt stream in orange and gold colors.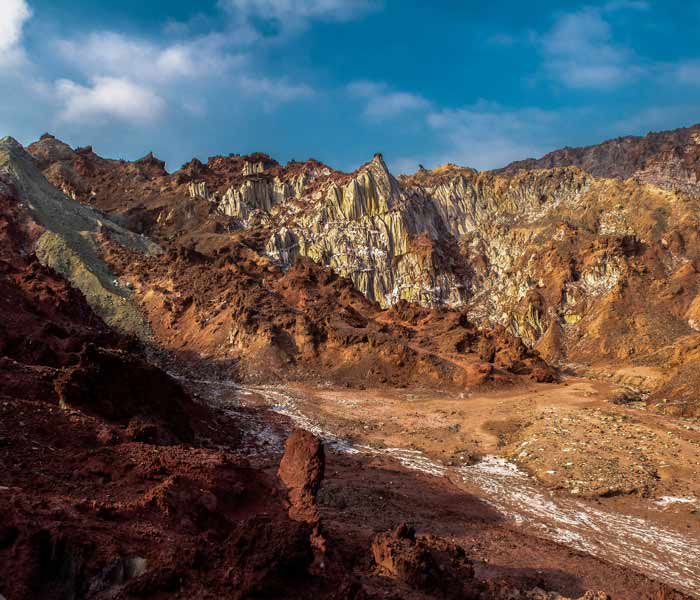 #3 Rainbow Valley
Rainbow Valley  : In close vicinity of Silence Valley, lies the mesmerizing valley of more than 70 shades of minerals, rendering the valley a  perfect subject of Geology studies.
The mineral colors of black, white, yellow, red, blue, … make up a stellar landscape, no visitor of Hormoz wishes to miss.
To preserve this invaluable geological beauty, it is strongly recommended to visitors not to take any soil or rocks from the valley!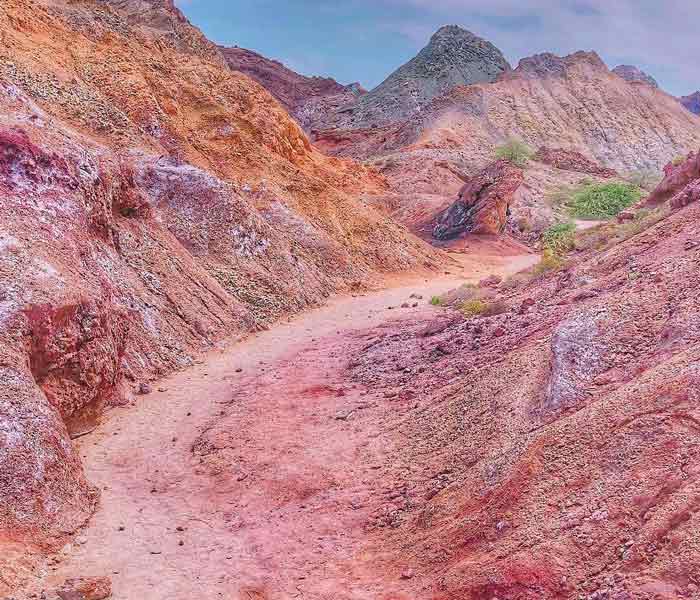 #4 Valley of The Statues
Valley of The Statues : Within a 30-minute walk from the road, there is a valley famous for its eccentric rock formations that tickles the imaginative mind of many visitors. Let the creativity take over and you will make ephemeral impressions of eagles and dragons. This is not all. Walking through the valley you will find yourself at the edge of a cliff looking over the vast sea!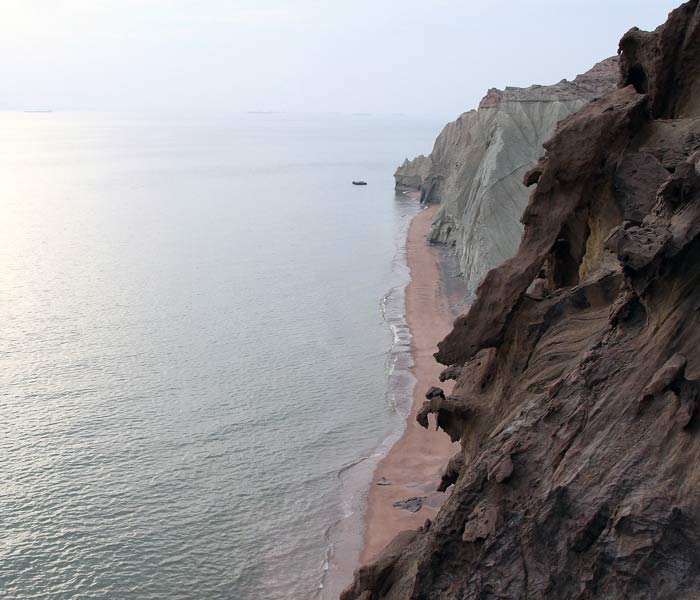 #5 Museum/Gallery of Dr. Ahmad Nadalian
Museum/Gallery of Dr. Ahmad Nadalian : As an international environmental artist, Dr. Nadalian has set up a gallery of  works of art, his own and international artist, handicrafts of local women and of Hormozgan Province. Artworks are made of colorful soil of Hormuz Island, carvings on rock, graffiti, etc. as an endeavor to raise and praise environmental awareness.
For more info on the museum and Dr. Nadalian, visit www.riverart.net
#6 Portuguese Castle
 Portuguese Castle on Hormuz Island : Located at the northernmost point of the Island, stands the ruins of a Portuguese Fortification, reminiscent of the occupation of the this strategic island by the Portuguese Navy. They were forced out of the region during the reign of Shah Abbas I (Safavid King) in 1622.
There is also an underground chapel and a water reservoir in the castle.
Currently bicycle rental booths are available near the castle.
3# What to do on Hormuz Island
What to do on Hormuz Island : Besides visiting the natural geological landscape, Hormoz Island is the suitable place to try :
boating
swimming and scuba diving
camping
biking
Local cuisine and spices
Henna tattoos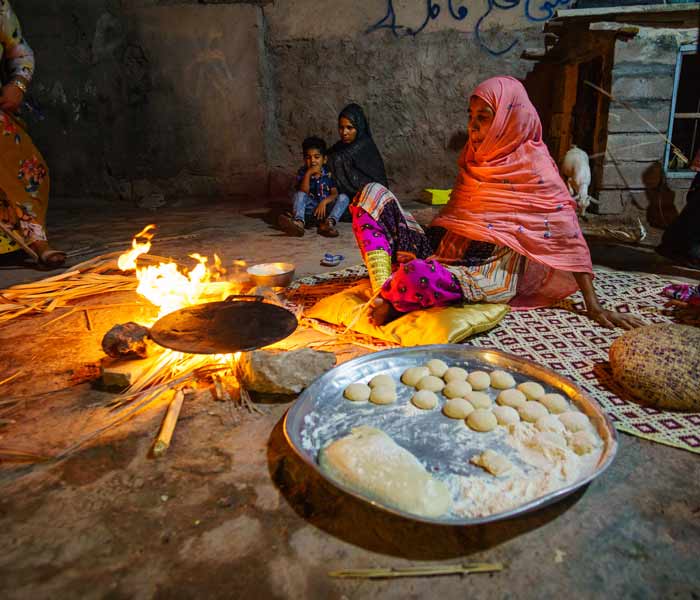 #4 Hormuz Island Hostels
Hormuz Island Hostels : Accommodation in the island ranges from camping to staying at local houses and a few hostels and eco-lodges.
Tourists who prefer hotel accommodation and service are recommended to not stay the night in Hormoz Island and choose Qeshm Island for the overnight.
#5 How to Get Around Hormuz Island
How to Get Around Hormuz Island : When arriving at Hormuz Island, tourist have the following options to commute in the island:
Walking : One can visit Homuz attractions on foot in 8-9 hours
Bikes for rent : One may hourly rent bikes and pedal around the island
Three-wheeled tricycles : Most convenient motor vehicle at hand on the island with the driver, one can get around the island on shaded seats with the blowing wind to ease the hot.
Vans : suitable for group tours
Rental Cars : Available but not in plenty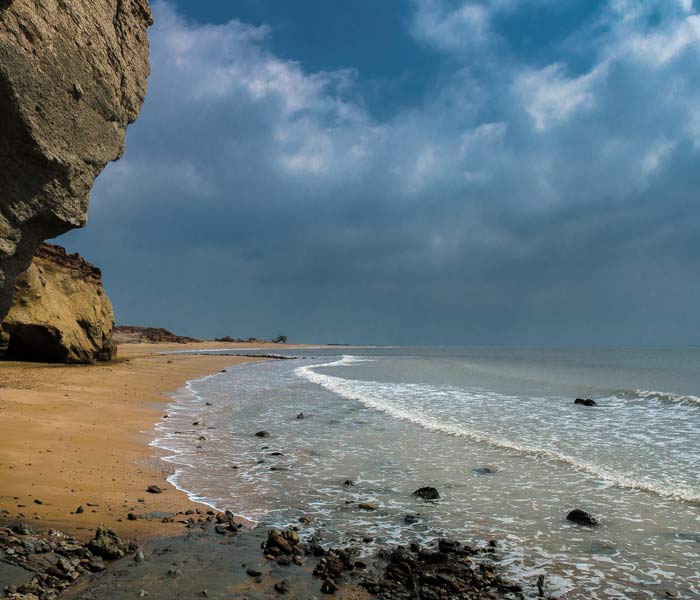 #6 Hormuz Island Weather
Hormuz Island Weather : Due to semi-equatorial climate, Hormoz Island experiences very hot summers, with pleasantly mild winters. While the weather in early spring and late fall is not irritating hot, the best time to visit the island is winter.
How To Get To Hormuz Island
How To Get To Hormuz Island : Access to Hormuz Island is possible via passenger ferries from Bandar Abbas or Qeshm Island.
Private cars cannot be taken to Hormuz Island.