Christmas in Iran, How Do Iranians Celebrate Christmas?
Christmas in Iran : Although primarily an Islamic country, the idea of a Persian Christmas in Iran is not far-fetched, as Christianity in Iran dates back to the early years of the faith. The advent of Christianity coincides with Parthian Iran, when the predominant religion of Persia was Zoroastrianism and Mithraism. While Islam has been the predominant and official religion in Iran, Christianity is the second religious majority with at least 600 churches and 300,000 to 370,000 followers of the faith. Hence, Christmas in Iran is widely and freely celebrated by the Christian and even other Iranians.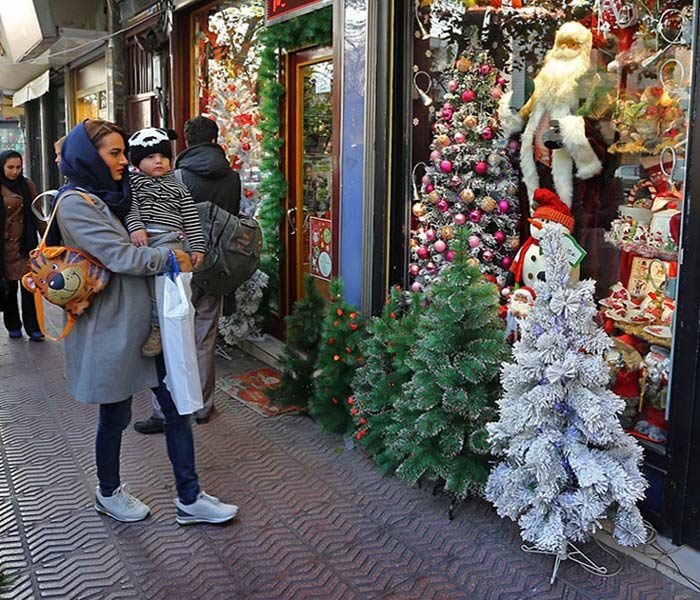 Armenians are the largest ethnic Christian population of Iran, mainly practicing the Orthodox branch, followed with  the Assyrian community. Other branches of Christianity exist too, but as a minority.
While inhabiting different parts of Iran, the Christian community is most concentrated in Northwestern Iran in East and west Azerbaijan provinces, Isfahan (New Jolfa neighborhood) and Tehran.
#1 Christmas Celebration in Iran
Christmas Celebration in Iran : Although not a national holiday, Christmas in Iran is officially recognized and celebrated even by the non-Christian Iranians, especially the youth as an opportunity for joy and merriment.
During Christmas season, hotels and public centers such as shopping malls set up Christmas trees and decorations in respect to the Iranian Christian community. But how do you say Merry Christmas in Iran? It goes like: "Christmas Mobarak!". Hence, the festive spirit of Christmas in Iran is evidently felt across the country, each region celebrating the occasion in accordance to their deep-rooted local traditions.
Every year, the Christians celebrate Christmas in Iran by decorating Christmas trees, exchanging gifts, and attending services. Christmas in Iran is celebrated on eve of December 25th, while Armenians of Iran also celebrate Christmas at the same day as Epiphany on January 6th.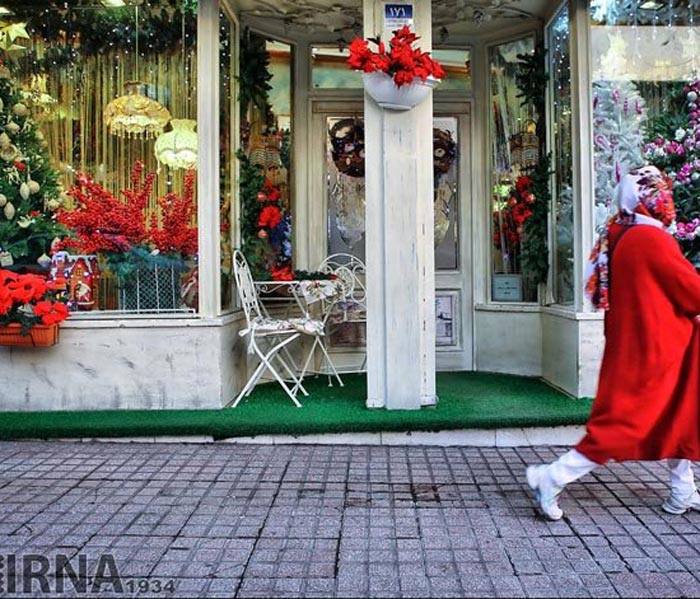 #2 Christmas Traditions in Iran
Christmas Traditions in Iran : Widely known by the name "Little Feast", Christmas in Iran is preceded by the "Little Fast" ritual of fasting from animal products for 25 days from December 1st. Fasting is intended to purify one's soul in anticipation of Jesus Christ. Christmas Eve is the last day of the Little Fast, an before dawn of Christmas day people attend Mass to receive Communion and then break the fast. And so begins the preparations for the great Christmas feast.
The traditional dish for Christmas in Iran is called "Harrissa" , which is a chicken barley stew cooked in large quantities to be enjoyed for several days. Christians celebrate Christmas in Iran by throwing private parties, visiting family and friends and giving each other gifts. There are even Iranian Christmas songs, mainly in veneration of the birth of Jesus Christ.
#3 Christmas in Tehran
Christmas in Tehran : Tehran, as the capital of Iran, has hosted a large population of Christian Iranians, especially Armenians since the 18th century. Currently, different districts of Tehran are home to large communities.
Armenians of Tehran established their first church, "Saints Thaddeus and Bartholomew Church", in 1768 in old Town Tehran, near the Grand Bazaar. Ever since, 14 other churches have been built and still functional throughout Tehran. (See on Map)
Armenian Cultural Ararat Complex in Vanak district of Tehran, founded in 1944, is one of the private complexes where Christians, especially Armenians, gather to celebrate their different cultural events from Christmas to wedding parties, charity events, etc. without the common restrictions of Hijab or drinking Alcohol, which are strongly forbidden in public.
Such complexes exists in other cities of Iran as well for the Christian communities to freely practice their rituals and revel in the festivity of Christmas in Iran.
#4 Famous Churches in Iran
#1 The Armenian Monastic Ensembles of Iran
Inscribed as a UNESCO World Heritage of Iran, "The Armenian Monastic Ensembles of Iran" are located in Eastern and Western Azerbaijan Provinces of Iran. The ensemble consists of three monastic ensembles of the Armenian Christian faith from 7th to 14th :
Monastery of St Thaddeus (7th Century A.D) also known as Kara Kilise (the "Black Church") in West Azerbaijan. (See on Map).
Monastery of St Stepanos (9th Centry A.D) in East Azerbaijan. (See on Map)
Chapel of Dzordzor (9th Century A.D) in West Azerbaijan. (See on Map)
#2 Vank Cathedral in Isfahan
The Holy Savior Cathedral, also known the Church of the Saintly Sisters, is a cathedral located in the New Jolfa district of Isfahan, Iran. It is commonly referred to as the Vank, which means "monastery" or "convent" in the Armenian language.
The cathedral was established in 1606, dedicated to the hundreds of thousands of Armenians who were settled by Shah Abbas I during the Ottoman War of 1603-1618 in the New Jolfa district of Isfahan. New Jolfa is still the main neibourhood of Armenian community in Isfahan. Numerous churches have been established in Isfahan since the 17th century. (See on Map)
Learn More about: Vank Cathedral.
#3 Saint Mary Church in Tabriz
"Saint Mary Church", also known as "Holy Mother of God Church" is an Armenian Apostolic church in Tabriz, completed in 1785. It is the largest and oldest Christian church in Tabriz and a notable center for Armenian national and religious ceremonies held by the Armenian community of Tabriz. (See on Map)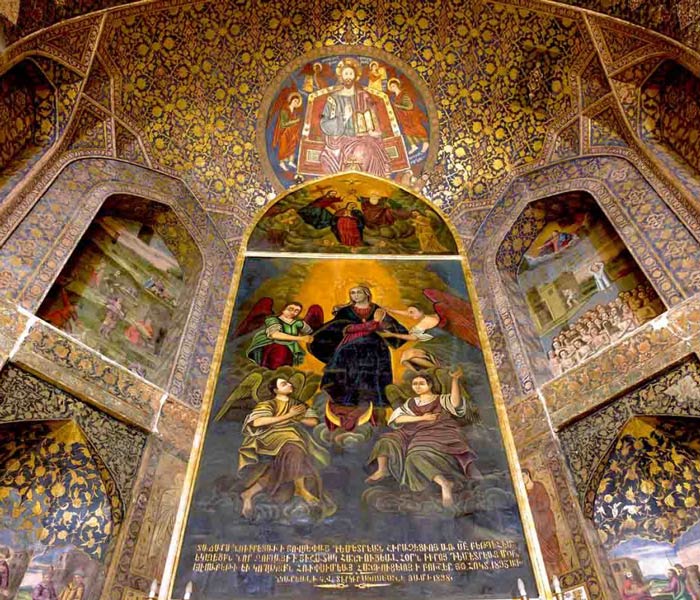 #4 Saint Sarkis Cathedral in Tehran
Saint Sarkis Cathedral is an Armenian Apostolic church in Tehran, completed in 1970. The cathedral is the largest church in Tehran and is named after Saint Sarkis the Warrior.