Borujerdi House Kashan | Symbol of Traditional Persian Houses
Borujerdi House is a traditional historic house in Kashan city of Isfahan Province. It was built in 1857 by the same architect who built the exquisite house nearby (Tabatabaei House), for its affluent merchant owner, Seyed Mehdi Natanzi. Borujerdi House is a brilliant example of vernacular architecture of desert region of Iran. The house counts as one of the top Kashan tourist attractions.
Owner of Boroujerdi House Kashan (Borujerdi House), Seyed Mehdi Natanzi a wealthy merchant of Natanz known as Boroujerdi, fell in love with Seyed Jafar Tabatabaei's daughter (one of the greatest carpet merchants of the time). In order to give him his consent to marry his daughter, he asked Seyed Mehdi Natanzi to build a house similar to his own house!
And he did so! to satisfy the demand of his future bride's family. After seven years the construction of Andaruni yard (interior yard) and after 11 years the main hall were completed!
Before reading more, let's watch this video about amazing Kashan city:
If you are planning to visit Iran, we invite you as an Iranian tour operator, to check out our Iran travel packages as well:
>> Iran Tours 2020 & 2021 (Click Here)
#1 Borujerdi House Kashan
Borujerdi House Kashan (Khaneh-ye Broujerdiha) is somehow similar to the Tabatabaei House, but this one is smaller. One of the most popular historical houses of Kashan, Borujerdi House was built by a local architecture for the wife of Seyed Mehdi Boroujerdi at Qajar era (mid-19th century).
Boroujerdi House UNESCO's premier choice for its popularity of tourism attraction in 2015 and 2016 is also close to the other historical monuments.
#2 Boroujerdi House Architecture
Biruni and Daruni! Interior and Exterior Architecture
Boroujerdi house architecture, one of traditional Persian residential architectures consists two section of Biruni (exterior) and Daruni (interior), two main and subsidiary entrances, vestibule, corridor, rectangular courtyard between main living area and entrance area.
Also summer residence, winter residence (summer and winter residence were the two sections houses were divided to), kitchen, roofed yards and vast underground storeroom are the other main parts of a traditional Persian house.
Boroujerdi House Wind Towers
Boroujerdi ha house in kashan attracts people from all over the world for its symmetric crescent wind towers (three forty-meter-tall wind tower of which tow are above the living area and one is above the entrance area), the different artistic ornaments such as exquisite stucco and paintings (paintings by royal painter Sani Ol Molk).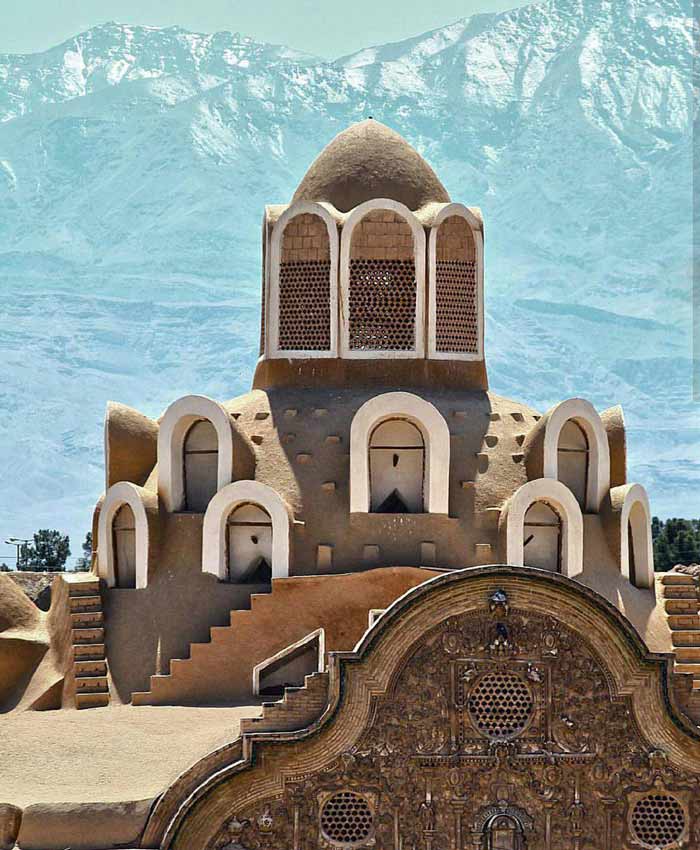 Make sure to ask the guides for telling you the stories of the stunning paintings.
Decorations
The decorations appear in the main hall covered with a central dome of Khishkhan type, part of geometric sculpture roofscape which is compared to Gaudi's Casa Mila and beautiful paintings on the ceiling, interior chambers with mind-blowing architecture and paintings, and so on.
Borujerdi House Opening Hours
Everyday, 9 AM to 6 PM
Borujerdi House Address