Agha Bozorg Mosque | The Glorious Monument of Qajar Era
Agha Bozorg Mosque is a historic mosque in Kashan city. Constructed in late 18th century (Qajar era). Aqa Bozorg Mosque and theological school was dedicated to Molla Mahdi Naraghi II (titled Agha Bozorg or the great lord), a prominent clergy of the time, to perform praying, preaching and teaching. The mosque counts as one of the unique Kashan attractions.
Agha Bozorg Mosque architecture makes the monument truly unique among Iranian mosques, for its vernacular architecture and adaptation to the desert climate with such finesse and aesthetic taste.
Before reading the post, let's Watch this video to know Kashan city, as an overlooked gem of Persia!
If you are planning to visit Iran, we, as an Iran tour and travel agency, invite you to have a look at our tours in Iran as well:
>> Iran Tours 2020 & 2021 (Click Here)
#1 Agha Bozorg Mosque History
Built in the late 18th century, Agha Bozorg Mosque (Masjed-e Agha Bozorg) literally means big or great lord is a large complex of theological school (Madrasah) and mosque at the center of the city.
Aqa Bozorg Mosque Kashan is still a working mosque and open to both students and public. One of the finest Islamic complexes and best of mid-19th century.
#2 Agha Bozorg Mosque Architecture
Agha Bozorg Mosque plan and its precise architecture with four storeys beginning at a large sunken courtyard, an austere dome, unusual lofty wind towers above the entrance, dome flanked by two minarets adorned with colored tiles in geometrical design, are of the stunning features of the mosque.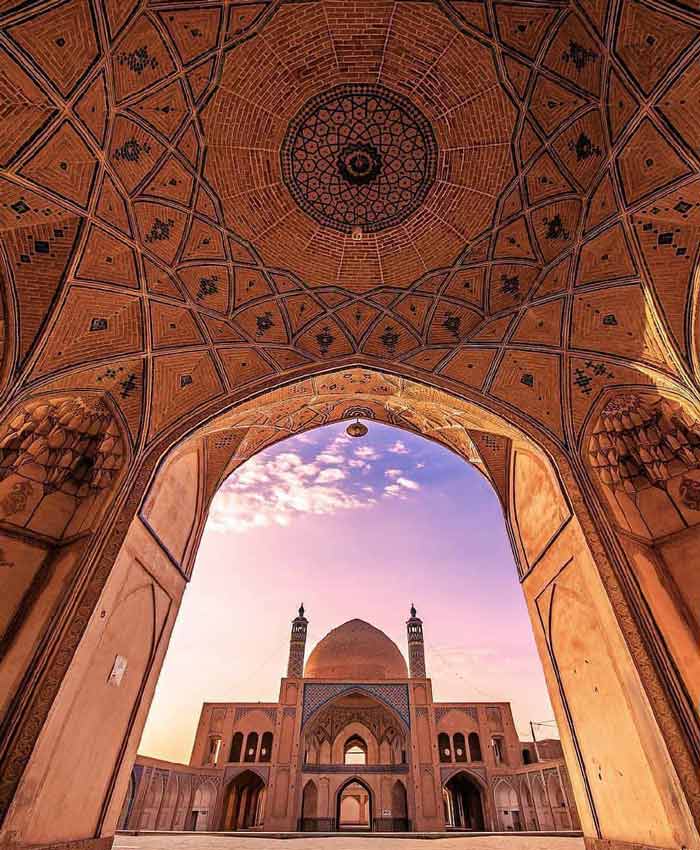 The mosque has a symmetrical design with a modest architecture, two great iwans, one in front of the Mihrab (niche which shows the direction of Macca) and the other next to the entrance door, two courtyards of which the sunken courtyard consists gardens with trees and a fountain.
#3 Aqa Bozorg Mosque Significant Characteristics
Some special characteristics of the mosque, which makes it more and more attractive, are as follows:
Its architecture with a mixture of mosque and school with two different styles and patterns.
The variety of applications as both school and mosque for students and public.
Little ornaments and simplicity of the mosque: Stuccowork, painting, wooden works, carvings, tile work and no excesses are seen.
 A pair of exquisite doors at the main entrance.
The special architecture of dome, which is based on eight great pillars, allows cold air flow into the dome chamber in the summer and in the hot weather of the desert.
 The sunken courtyard has gardens and a fountain, which helps the freshness of the air.
*Tips
Agha Bozorg Mosque is not near the other attractions of Kashan and not populated, it could be a side trip after visiting traditional houses such as:

Khaje Taj od-Din mausoleum, Sultan Amir Ahmad Bathhouse (Hammam-e Sultan Amir Ahmad), Boroujerdi Historical House, Abbasian Historical House.

Early afternoon and at sunset would be a proper time to visit Aqa Bozorg Mosque Kashan Isfahan.
Agha Bozorg Mosque Opening Hours
Everyday, 9:30 AM to 6PM
Agha Bozorg Mosque Address