Vakil Complex Shiraz | Vakil Mosque and Vakil Bazaar
Vakil Complex is located in the historic part of the city of Shiraz. The complex includes Vakil bazaar, Vakil mosque and Vakil bath house, all of which were constructed by the order of Karim Khan Zand (Zand Dynasty) in the 18th century. They 3 monuments are all in close vicinity of one another and count as the main Shiraz attractions.
Vakil means regent and is the title of Karim Khan Zand, the founder of Zand Dynasty. Karim Khan Zand chose Shiraz city as the capital and by constructing beautiful buildings and pleasant gardens, he had made Shiraz one of the best cities of that period. (Vakil Complex Shiraz Iran opening hours and address are included in the end.)
Let's watch this video about Shiraz and Vakil Complex history, before continuing the read!
If you wish to travel to Iran, we as an Iran tour and travel agency, urge you to also take a look at our Iran tours:
>> Iran Tours 2020 & 2021 (Click Here)
#1 Vakil Bazaar Iran
Vakil Bazaar Iran was built by the order of Karim Khan Zand near the Arg of Karim Khan (Karim Khan Castle) and near Shahrdari square. Vakil Bazaar was originally stablished by the Buwayhids in 11th century AD, completed by Atabaks of Fars, and renamed after Karim Khan in 18th century.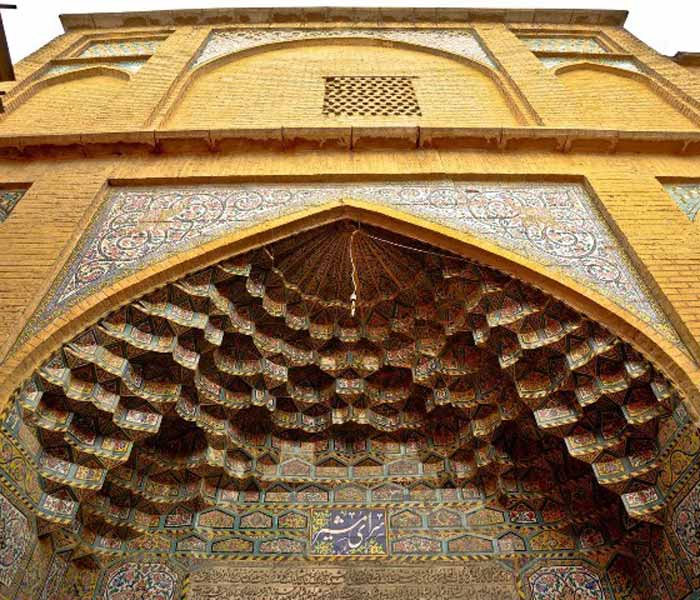 In case you are interested to old traditional bazaars you shouldn't miss Vakil Bazaar. The main bazaar of Shiraz, Vakil Bazaar, is part of Vakil Complex, which is still in operation and is one of the most famous traditional and historical markets in Iran.
A very high ceiling covers Vakil Bazaar and it has a beautiful architecture. Courtyards, caravanserais, bath house and old shops are included in Vakil Bazaar. The shops around Vakil Bazaar provide tea, Persian rugs, carpets, spices, antiques and copper handicrafts that you could buy as souvenirs.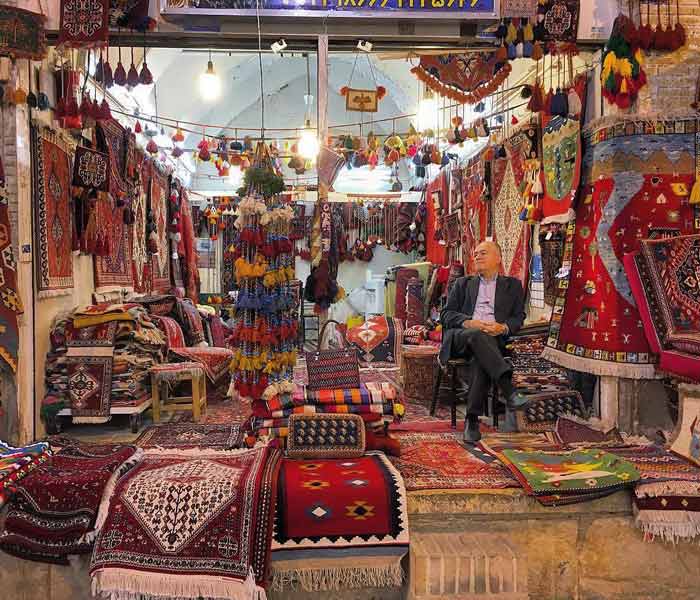 At the end of Vakil Bazaar, you can find Moshir Complex for traditional cafe in case you need to rest, have some sweets and drink tea. We suggest you to visit vakil bazaar in the morning since in the evenings it is crowded.
#2  Vakil Bath House
One of the admirable monuments belonging to Zand Dynasty is Vakil Bathroom. The biggest most famous bath house in town and located at west side of Vakil Mosque.
Vakil Bath House like the other bathes of Zand Dynasty has three sections as squirrel, entrance and conservatory.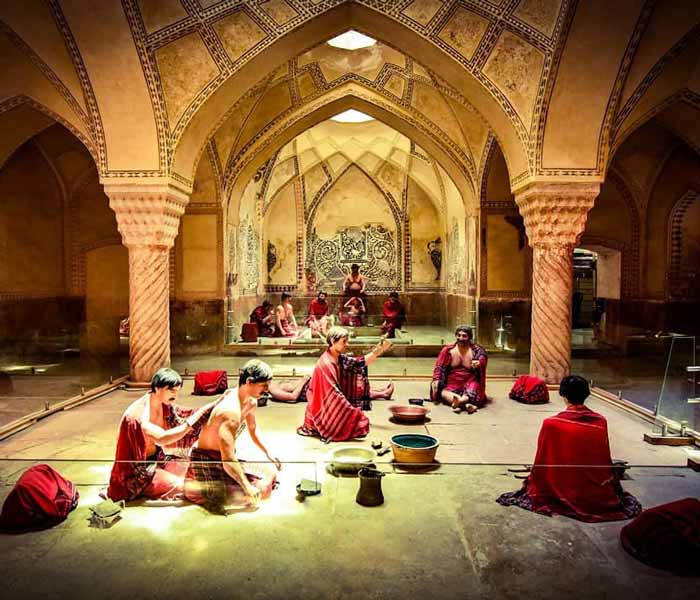 Vakil Bath House is currently used as a museum to introduce Zand Dynasty. Thirty wax statues in different states are placed at various parts of the bath to show the real life of that time.
Vakil Bathroom, a large bath with most advanced architectural principles of its time, is a multipurpose bath complex for different social occasions. There is a special section (Shah Neshin) predominantly for king.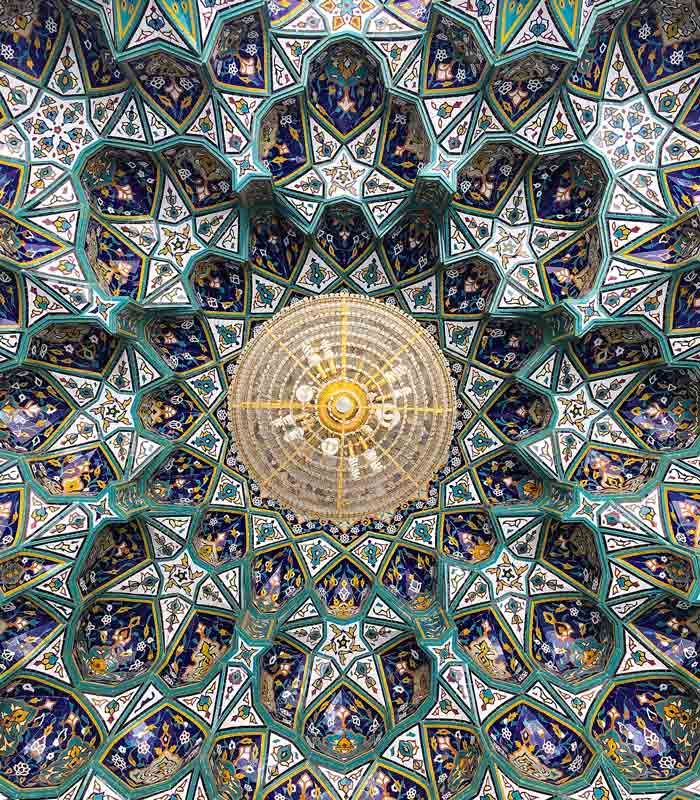 Vakil Bathroom is the most famous bath in Zand Dynasty for its style and type of architecture, decorative ornaments and paintings. Its dome is designed by amazing decoration and paintings.
The magnificent works on the walls of Vakil Bathroom like images with myths, epic and religious subjects, illustrates Karim Khan's interest to the history of ancient Persia.
#3  Vakil Mosque
Vakil Mosque (Masjed-e Vakil) located at the west side of Vakil Bazaar and next to the entrance, was built between 1751-1773. In terms of art and architecture Vakil Mosque is unique and a must to see.
Vakil Mosque Architecture
The northern part of Vakil Mosque is important for its long vault famous to Morvarid. Vakil Mosque has a frieze decorated with tiles, vault with polychrome tiles and marble flooring.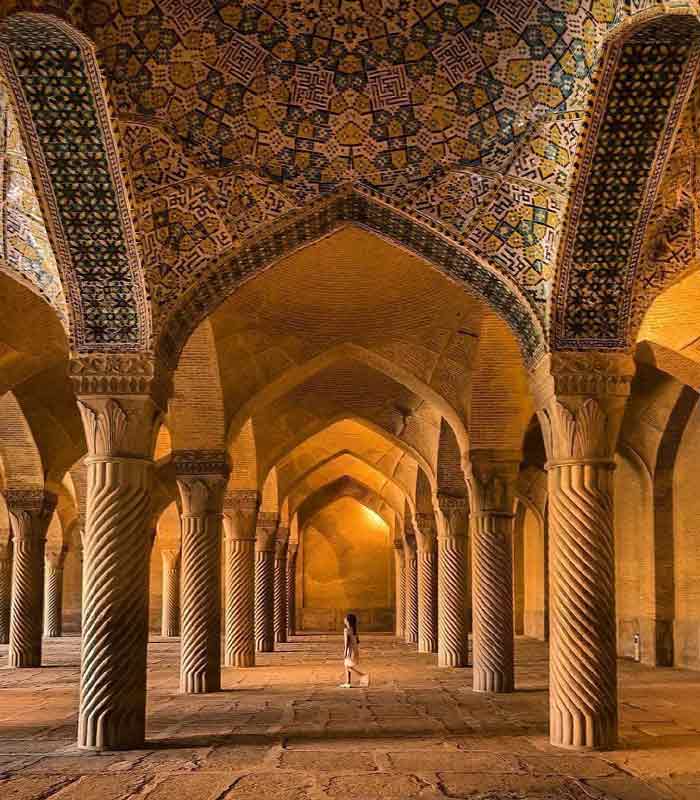 Vakil Mosque has only two iwans (instead of usual four-iwan typology) situated at south and north side of a large open court and decorated with Shirazi polychrome tiles.
Vakil Mosque's prayer gallery contains forty-eight monolithic pillars carved in spirals shape, each with capital of acanthus leaves.
One of the masterpieces of Zand period, the pulpit inside Vakil Mosque is cut from solid piece of green marble and the flight has fourteen steps.
Vakil Bazaar Shiraz Opening Hours
8 AM to 9 PM
Vakil Bath Shiraz Opening Hours
8 AM to 5:30 PM
Vakil Complex Address