Bagh-e Narenjestan | A Majestic Mansion
Bagh-e Narenjestan (or Qavam House) is a historical house in the city of Shiraz. Construction of the house dates back to late 19th century (Late Qajar era), belonging to the famous wealth family of Qavam in Shiraz. Qavam House is is one of Shiraz tourist attractions for its beautiful garden of sour oranges and exquisite architecture.
While walking in the alleys of Shiraz, the smell of bitter orange intoxicates you. Now imagine wandering in the garden of bitter orange : Bagh-e Narenjestan! Bagh-e Narenjestan Shiraz or Narenjestan Garden Shiraz is famous for its bitter oranges (=Narenj) and also the great mansions inside it. Narenjestan Shiraz is a must-visit to truly appreciate what makes Shiraz so famous among people. (Bagh-e Narenjestan opening hours and Bagh-e Narenjestan address are included in the end.)
If you are planning to travel to Iran, we as an Iran travel agency invite you to also take a look at our Iran travel packages:
>> Iran Tours 2020 & 2021 (Click Here)
#1 History of Narenjestan Garden
When Mohammad Ali Khan Qavam al-Molk, who was a successful and important merchant came to Shiraz, he was appointed as governor of Shiraz by Qajar king, Fath Ali Shah (early 19th century).
Later, his son, Ali Mohammad Khan (the second Qavam al-Molk) started the construction of Qavam House (or Narenjestan Garden). But he passed away taking the dream of the finished garden to his grave.
His son, Reza Khan (the third Qavam al-Molk) continued the work of his father to honor his memory. Construction of Narenjestan e Ghavam took almost 10 years from 1879 to 1886.
The Qavam House Shiraz is also known for exhibiting seven arts of Iranian architecture and design of the time which we will talk about further as you read. Furthermore, the house of the granddaughter of Reza Khan, Zinat al-Molk House is an exhibition of Iranian art as well.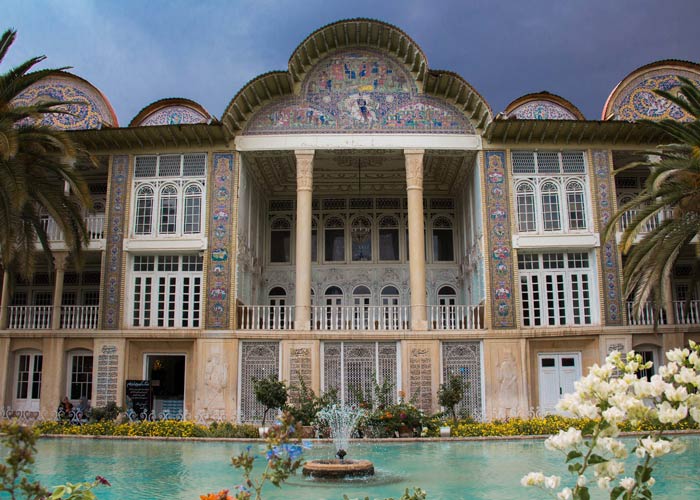 #2 Narenjestan Garden (Bagh-e narenjestan)
Narenjestan Garden (Bagh-e narenjestan) : The line of the central courtyard is filled with symmetrical palm trees and bitter orange trees, smell of which just mesmerizes you. The Garden is full of colorful flowers along with green well-cared bushes which you would not want to leave.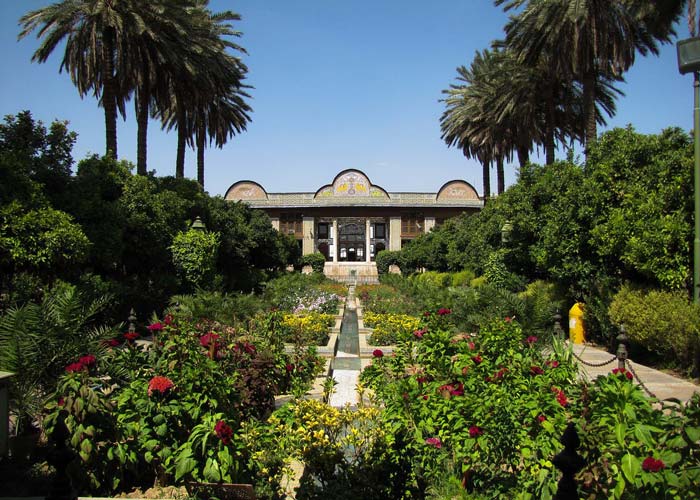 #3 Qavam House Architecture
Qavam House Architecture :
1.     The pavilion's mirrored entrance hall opens onto rooms covered in a myriad of intricate tiles, inlaid wooden panels and stained-glass windows.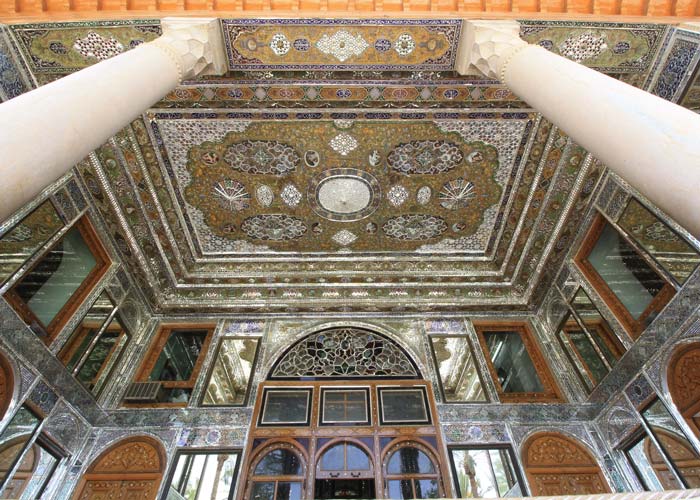 2.     Particularly noteworthy are the ceilings of the upstairs rooms, painted with European-style motifs, including Alpine churches and busty German Fraulein.
3.     The symmetric plans of the both southern and northern sides of the building are eye catching.
4.     The northern portico has massive mirror works which displays the climax of Qajar art.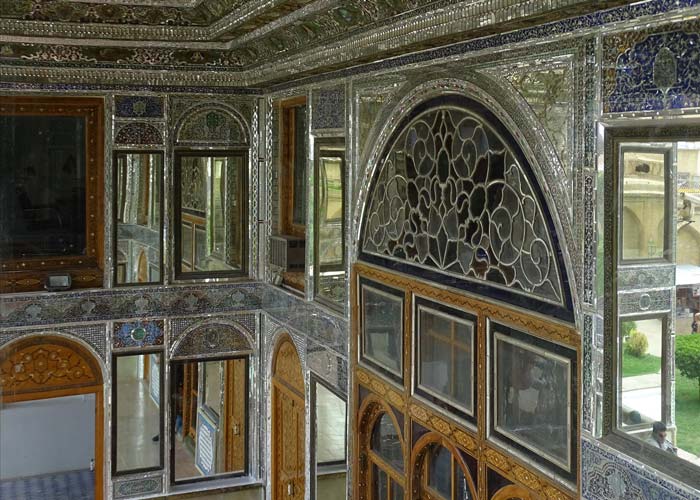 5.     This mansion was in fact a "biruni" house which means where the public reception and business meetings took place. (in contrast to "andaruni" where was private and dedicated to household and residential area)
6.     In the case of Narenjestan e Ghavam the biruni and andaruni were connected with an underground tunnel which is off limits these days!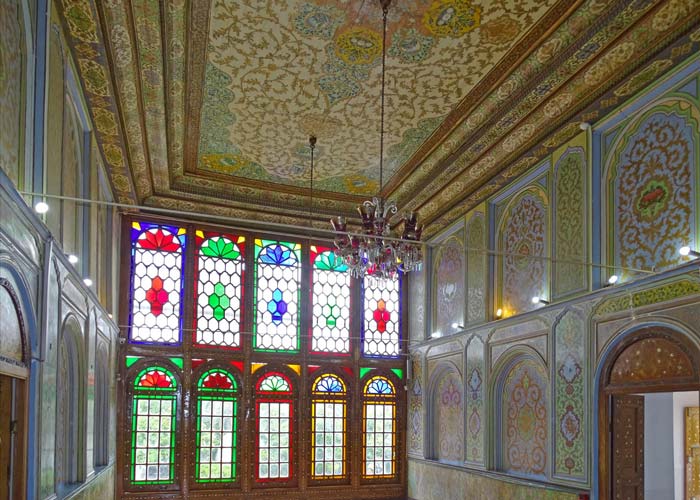 #4 Zinat al-Molk House
Zinat al-Molk House : Zinat al-Molk was the granddaughter of Reza Khan (the third Qavam al-Molk). She resided in the mansion behind the main Qavam House and which was the andaruni (which we discussed in the previous lines).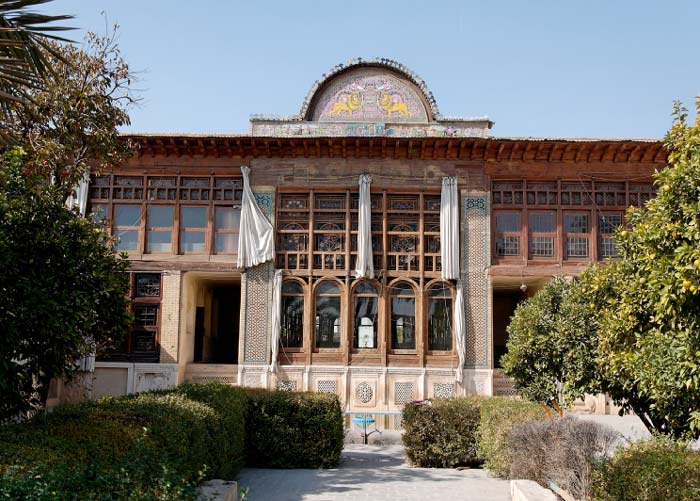 Zinat al-Molk house is not in the premises of the Bagh-e Narenjestan but an alley away and is a museum open to the public.
The Seven Arts
1. Paintings
2. Stucco ceilings and brick works
3. Cornice works
4. Dado carvings
5. Tile works
6. Mirror works
7. Mosaic works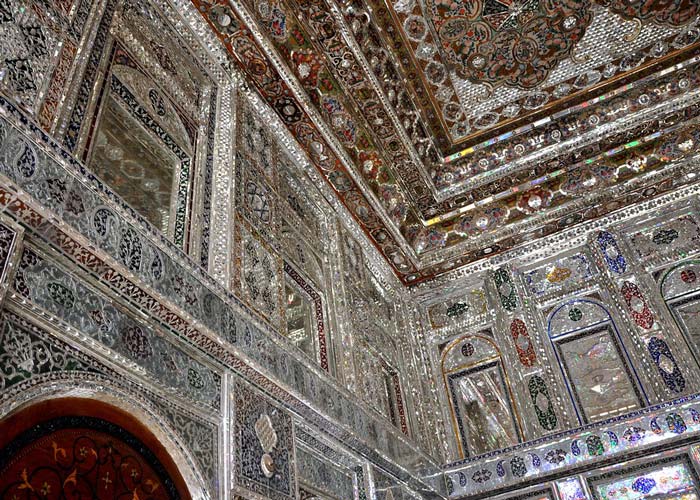 Bagh-e Narenjestan Opening Hours
8 AM to 9 PM – in Spring and Summer
8 AM to 8 PM – in Fall and Winter
Bagh-e Narenjestan Address