Tomb of Hafez | A Poet For Poets
Tomb of Hafez is located in Shiraz city. Hafez of Shiraz was a great 14th century  Iranian poet living in Shiraz. The current mausoleum, as one of Shiraz attractions, was designed by the French architect André Godard in 1935,  consisting of two monuments : a pavilion housing the tomb of Hafez and a Memorial Hall in commemoration of Hafez.
Hafez Tomb (Tomb of hafez)
"He fears  nothing. He sees too far, he sees throughout; such is the only man I wish to see or be."
Said Emerson who gave Hafiz that grand and famous compliment, "Hafiz is a poet for poets."
Hafez Tomb opening hours and address are included in the end.
Before continuing the read, let's watch this video about Iranians commemorate national day of Hafez !
If you are planning to visit Iran one day, we, as an Iran tour operator, urge you to also check out our Iran travel packages:
>> Iran Tours 2020 & 2021 (Click Here)
#1 Who Is Hafiz of Shiraz?
Hafez poet is the most famous and popular poet among Iranians from Shiraz city. He lived during 14th century composing poems of love, mysticism, divinity, faith, and hypocrisy.
His name literally means "the memorizer" or "the (safe) keeper"; however, the main reason for naming is that he had memorized the whole holy book of Quran.
He passed away in 1389 leaving a great inspiration and legacy to Iranians and to the whole world.
#2 Hafez Tomb Architecture
1. Hafez Tomb in Brief:
built, destroyed, and renovated during history; the current appearance of Hafez Tomb in Shiraz city is designed by André Godard – the famous archeologist and historian (who also designed the building of national museum of Iran)
in 1935 the mausoleum was embellished with an octagonal pavilion, supported by eight stone columns beneath a seven-colored tiled dome in azure and green.
The marble stone on his grave is engraved with a long verse from the poet.
2. The garden of Hafez tomb
If you visit Tomb of Hafez in May, the smell of bitter orange trees intoxicates you. The blooming flowers and their reflections in the rectangular pools double the spiritual experience.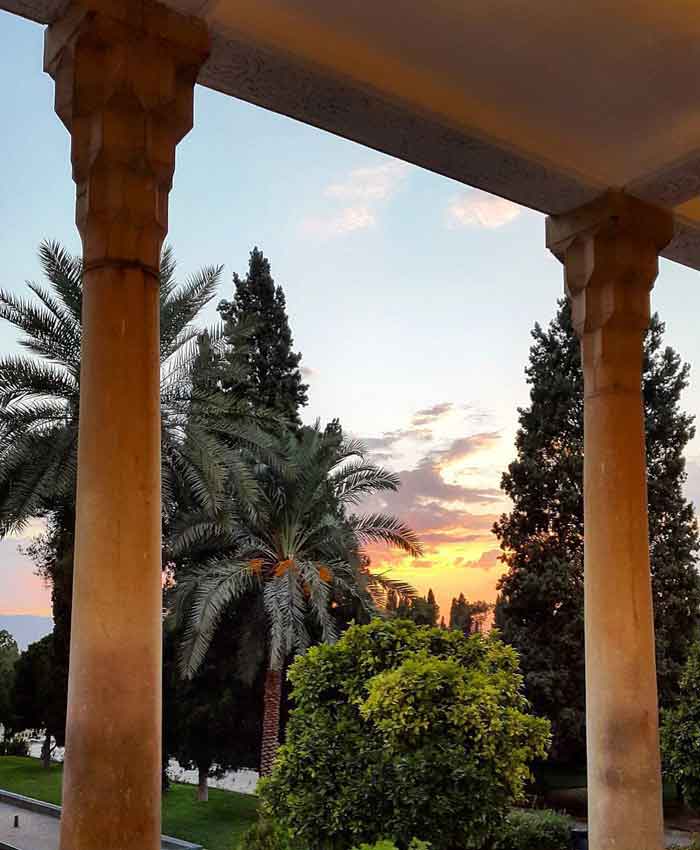 3. The graveyard
Famous and outstanding citizens of Shiraz city and important poets are buried in the graveyard along with the decoration of trees and flowers.
#3 Hafez Poem
Hafez poet's style of writing poems is ode and lyric poem mostly inspired by the holy book of Quran. Hafez poems have become proverbs among Iranians and no matter the age of a person; every single Iranian knows a poem or two.!
#4 Hafez Poet
Hafez poet has been an inspiration and role model for other great poets and writers such as:
Ralph Waldo Emerson:
Hafiz is a poet for poets.
Goethe
He was so touched by the Hafez poem that he dedicated his west-east diwan to Hafez and translated Divan of Hafiz.
Sir Arthur Conan Doyle
He has his character Sherlock Holmes state that "there is as much sense in Hafiz as in Horace, and as much knowledge of the world" (in A Case of Identity)
#5 Divan of Hafiz
Divan of Hafiz is the collection of Hafez poems. Traditionally his Divan is used as a fortune telling book.
#6 Fal-e Hafez:
If you'll be in the tomb of Hafez around sunset, you can see locals gathering around his tombstone and before opening the Divan of Hafiz, they close their eyes and think about the question they want to be answered by Hafez.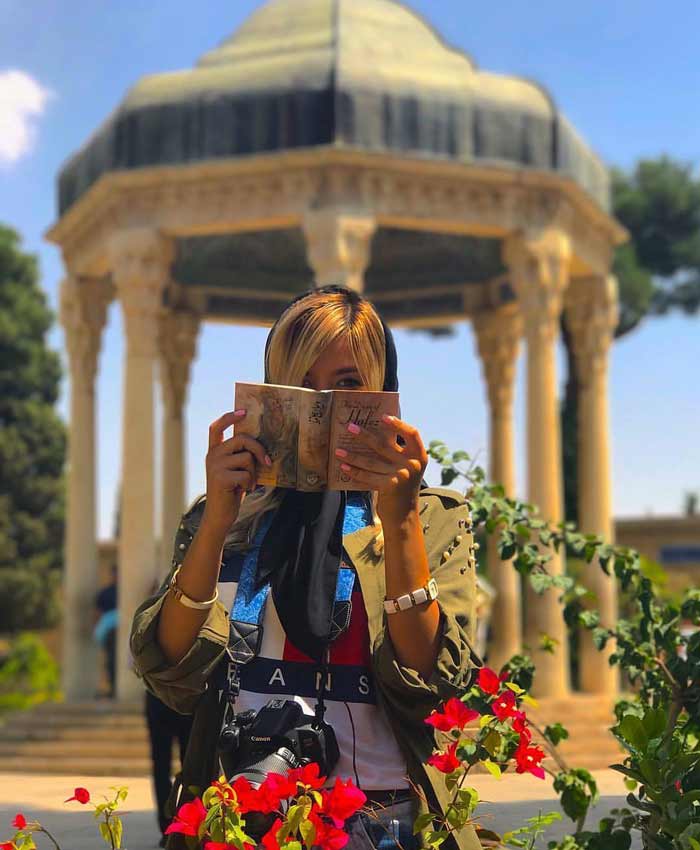 Then they randomly open the book and read the given poem and interpret it as if they find comfort and answer to their desire.
This ritual is called Fal-e Hafez. Sime times they take the Fal by a bird!
Fal-e Hafez is like blood in the veins of Iranians. We do it on the Nowruz (Iranians' new year). We do it on Yalda Night (the longest night of the year which is the last night of the autumn; December 21st). we do it when we are in despair and seeking solution. There are even some poor people who sell the poems! (by buying each random poem by your choosing, it is like you are telling your fortune)
By clicking on this link, you can take a Fal as well ?
Click to take a Fal!
Here is an ode as a gift:
Till you grant my wish, I won't give up my demand

I will reach the Soul of Souls, or be buried in this land.

When I am dead and buried, open my grave and see

Smoke rising from my corps, by my inner fire fanned.

Show Thy face to the people, awe-struck and radiant

Man and woman will cry out, at Thy smallest command.

I am tired of this life, jealousy eats away my heart

Without a kiss from your lips, I end my worldly errand.

In search of those sweet lips, I have spent my whole life

Desires of the deprived, those lips will reprimand.

In the circles of the Lovers, his goodness they understand,

With reverence, Hafiz's name, they pass from hand to hand.

Hafez of Shiraz
Hafez Tomb Opening Hours
Everyday, 7:30 AM to 9:30 PM
Hafez Tomb Address