Si o Se Pol Bridge | A Gift from the Past!
Si-o-Se Pol Bridge (or Allahverdi Khan bridge) is the largest bridge among the 11 bridges in Isfahan city, which cross the river of Zayanderud, an of Isfahan tourist attractions. The bridge was built in early 17th century by the order of Safavid king, Shah Abbas I, to serve as a bridge and also a dam. The popular name Si o se Pol (lit. 33 bridge) comes from the structure of the bridge comprising of 2 superimposed rows of 33 arches.
The first thing that comes to mind about Isfahan city is probably the Si o se Pol bridge. All people in Iran know si-o-se pol bridge in Isfahan as its symbol (bridge of 33 arches Iran in English). Si-o-se Pol Isfahan Iran like other must-see places has a history behind it. Here we want to talk about Sio Se Pol Facts like :  What Is The Si-o-se Pol Bridge Made Of? What's si o se pol bridge type? Is Allahverdi Khan bridge the same bridge as si-o-se pol Isfahan Iran ? How is the design and construction of the siosepol?
Opening hours and its location on the map are mentioned at the end.
If you intend to visit Iran, we, as an Iran travel agency, urge you to also take a look at our Iran tourism packages:
>> Iran Tours 2020 & 2021 (Click Here)
#1 History of Sio se Pol Bridge Isfahan Iran
In the Safavid era, Isfahan was the capital of Iran. So the king (Shah Abbas) did his best to improve it. That time, there was a river (nowadays we call it Zayandeh rood) that flew through the city and made Isfahan in two parts , so the king ordered the construction of the bridge, Si-o-se Pol Isfahan Iran in 1005 A.H.
It was also a place to hold ceremonies and watch people come together and have fun; although these ceremonies are not being held anymore.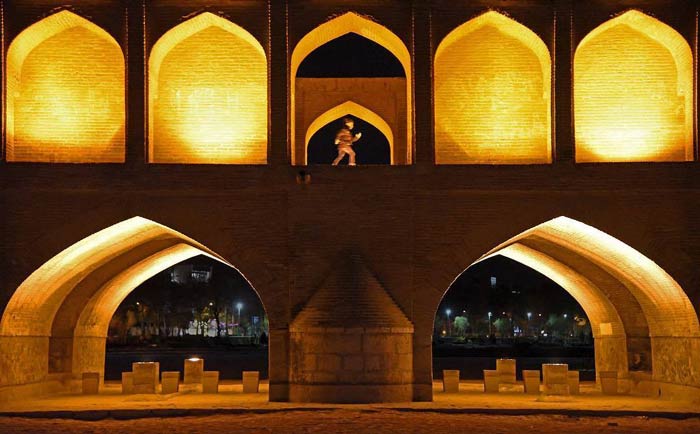 Ab-Pashan: One of these ceremonies that made people get out of their houses and have fun together was Ab-Pashan. every year, in 4th of July people got together near the bridge , having light-hearted pleasure by sprinkling water on each other and dancing.
Epiphany: this celebration was dedicated to the Christians in Isfahan on the occasion of the baptism of Christ. In 6th of January, Christian followers believing that water became sacred in this day, swim in Zayandeh Rood River; although they weren't allowed to cross over the bridge.
Nowruz: in Safavid Era, Nowruz celebration were held for 3 to 7 days and nights. People and Shah Abbas celebrated Nowruz near the bridge.
#2 Sio Se Pol Facts
What Is The Si-o-se Pol Bridge Made Of?
Yellow bricks and limestone are the main materials that are used for constructing the bridge. These kind of materials were common in the Safavid Era.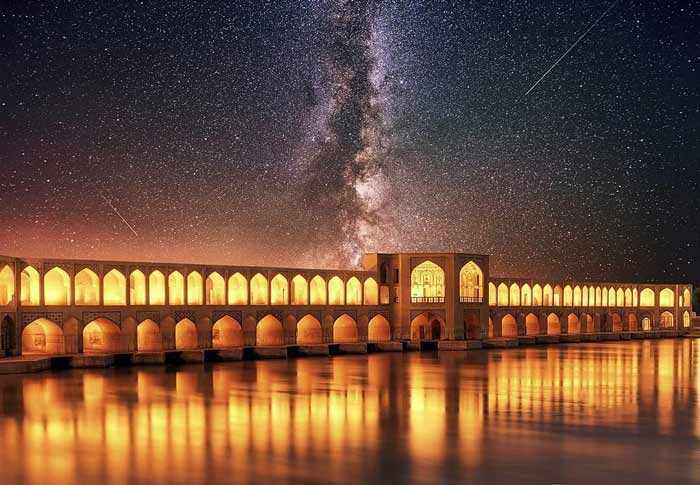 What's si o se pol bridge type?
Si-o-se pol Isfahan Iran   is an arch bridge meaning that arches are curved-shaped and each arch ends with abutments.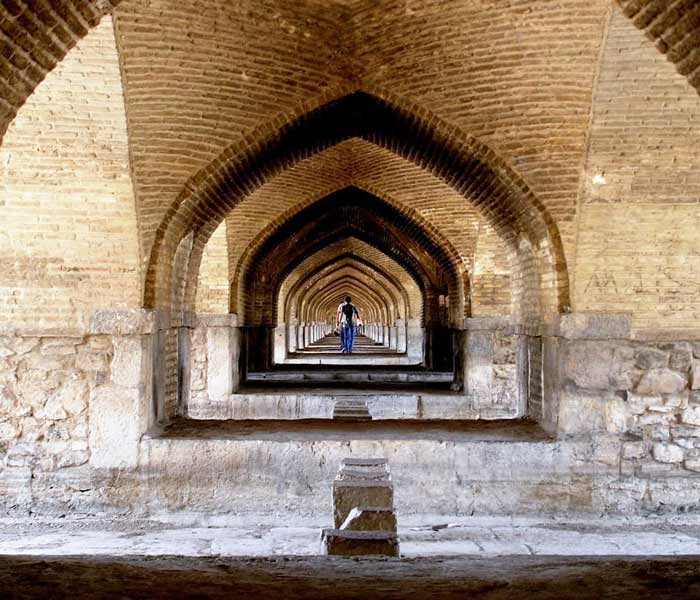 Is Allahverdi Khan bridge same bridge as si-o-se pol Isfahan Iran ?
Yes. It's not only that but it has lots of other names. In Safavid era, its popular name was Shah Abbasi bridge because Shah Abbas the great ordered the construction and its second popular name was Allahverdi Khan bridge because it was his attempt to build the bridge.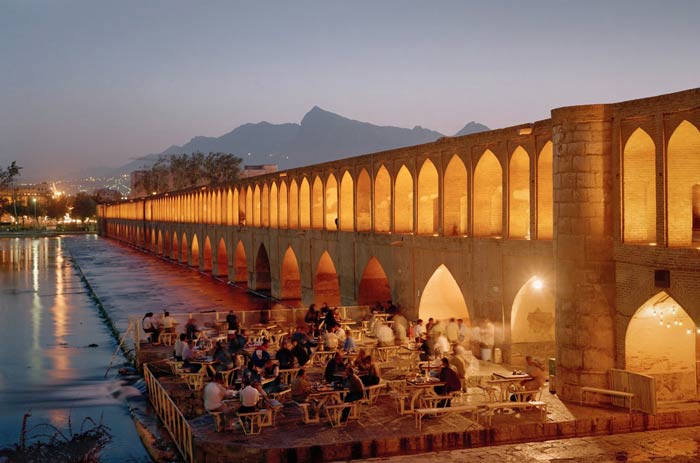 How is design and construction of the siosepol ?
Bridge of 33 arches Iran  has 295 meters length and with the 13.75 widths is the widest bridge in Isfahan.
This bridge used to have 40 arches but the passing of time and destruction of near gardens remain us a bridge of 33 arches.
Allahverdi Khan bridge used to have 6 passageways but only 2 remained for us. One of two is the straight way that goes on the bridge. Another passageway is between the central axes of the Allahverdi Khan bridge. In this part of the bridge, you're closer to the river.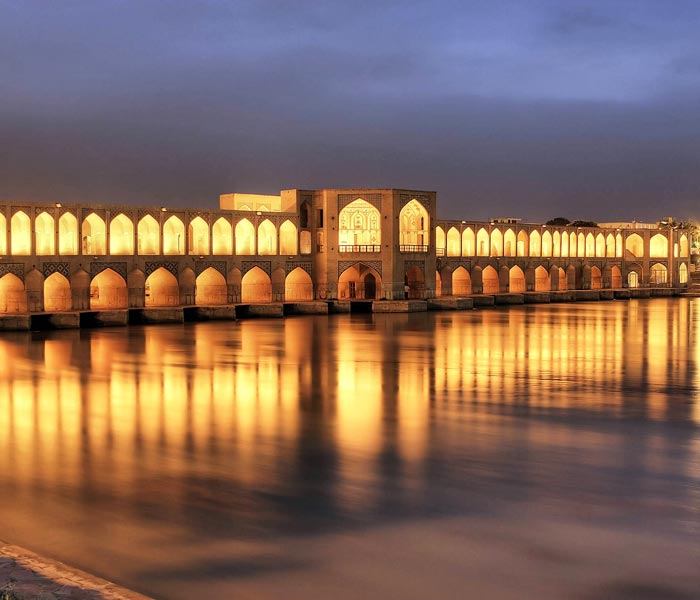 Nearby Attractions
1. Pol-e Khaju bridge: another piece of Isfahan history is only 25 minutes away from Si o Se Pol  bridge.
2. Hasht Behesht Palace : is another near sightseeing that is 1.9 Kilometers away.
Sio Se Pol Opening Hours
Open 24/7
How can I get to the sio se pol bridge?
The bridge is located in downtown and you can easily get there by bus or subway.
Bus: you can use Jomhouri Islami square bus to Enghelab Square and drop off.
Subway: you must take line 2 metro and drop off at Sioseh Pol subway station.
Sio se pol address on Map
Leave a comment!
Nowadays, people of Isfahan try to spend their evening on this bridge, and you will never know why until you see the beauty of the sunset over the imposing bridge of ours, si-o-se pol bridge in Isfahan iran. what about you? Have you ever watched the setting sun on the bridge and feel light-hearted?