Abyaneh Village | Ancient Red Settlement
Abyaneh village is situated on the slopes of Karkass Mountain in Natanz County of Isfahan Province. With a population of 301 (2016 census), the history of Abyaneh village dates back to 1500 years ago, making it one of the top attractions of Isfahan, and one of the unique villages of Iran, for its peculiar reddish hue.
This post is a brief guide on Abyaneh village and what makes thousands of visitors flock to Abyaneh red village. Aside from its most distinct element of reddish hue, Abyaneh historical village has a lot to offer to its visitors such as preserved traditions and culture, architecture and more that a millennium of antiquity. Here, we have included more details such as Abyaneh village architecture and Abyaneh village weather as well as what makes Abyaneh traditional village so outstanding.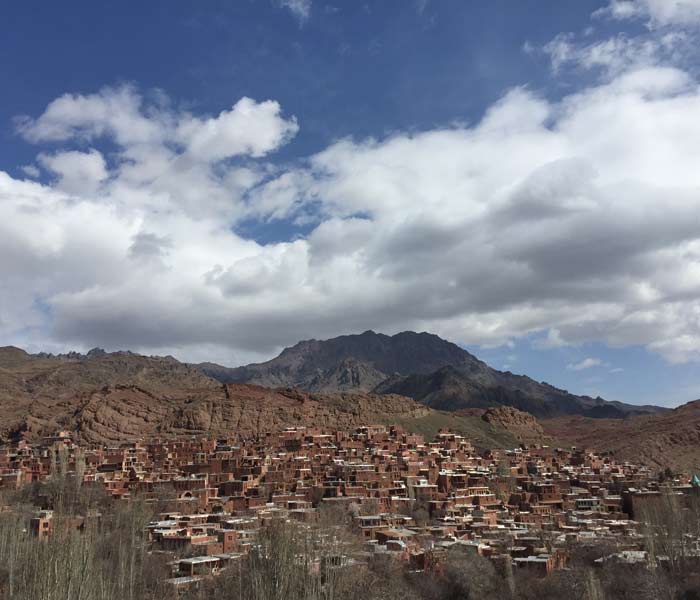 If you wish to travel to Iran one day, we invite you to have a look at our Iran travel packages, as an Iran tour operator:
>> Iran Tours 2020 & 2021 (Click Here)
#1 What Makes Abyaneh Historical village Unique?
 What Makes Abyaneh Village Unique? Most famed for its peculiar red hue and nature-adapted layout, Abyaneh village attracts thousands of Iranian and foreign tourists year-round. However, there is more to Abyaneh red village than meets the eye, which is why it was listed as one of Iran's national heritage sites in 1975. What is so unique about this village?
Abyaneh is one of Iran's famous villages for its distinct climatic architecture and reddish facade;
The village prides an antiquity of about 1,500 years;
Native Abyanaki people are hell-bent on upholding their traditions, dialect and even costumes; This is partly due to being situated in a mountainous area and remote from major routes and populated centers. Still, traces of middle Persian language (Sassanian era) are found in the dialect of Abyanaki people.
According to a 2016 census, the population of Abyaneh village was 301. People mostly subsist on agriculture (including orchards) and raising cattle; While rug weaving workshops and making traditional Giveh shoes are a source of income for the villagers too. Needless to say that tourism is an ever-growing industry for Abyaneh historical village.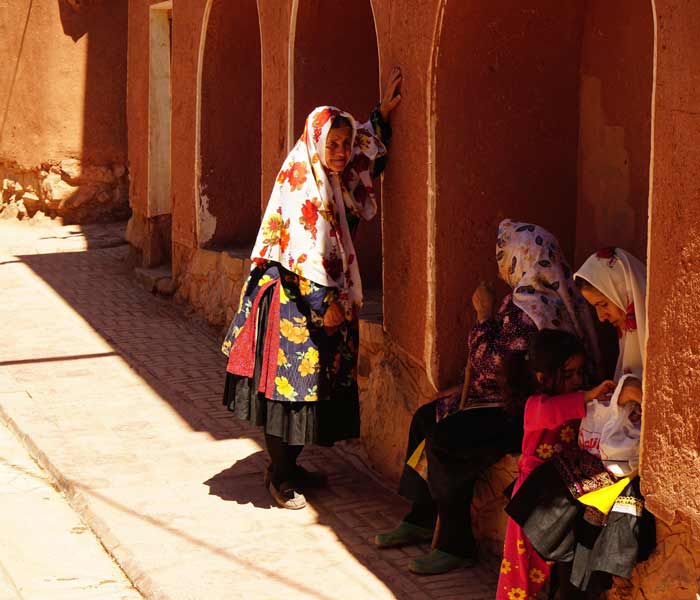 #2 Abyaneh Village Weather and Location
Abyaneh Village Weather and Location : Abyaneh village is situated on the slopes of Karkass Mountain in Natanz County of Isfahan Province. Located in the mountainous regions in proximity of central desert plateau of Iran, the village counts as one of the highest habitats of Iran with an altitude of 2,222 meters from sea level. Hence, Abyaneh village weather is combination of cold winters and warm summers. Seasonal rain and snow and dry summers are typical features of the village.
Abyaneh's geographical location has led to relative isolation of the village throughout history, which in turn, has also contributed to the locals adhering to their traditions and legacy to the present time.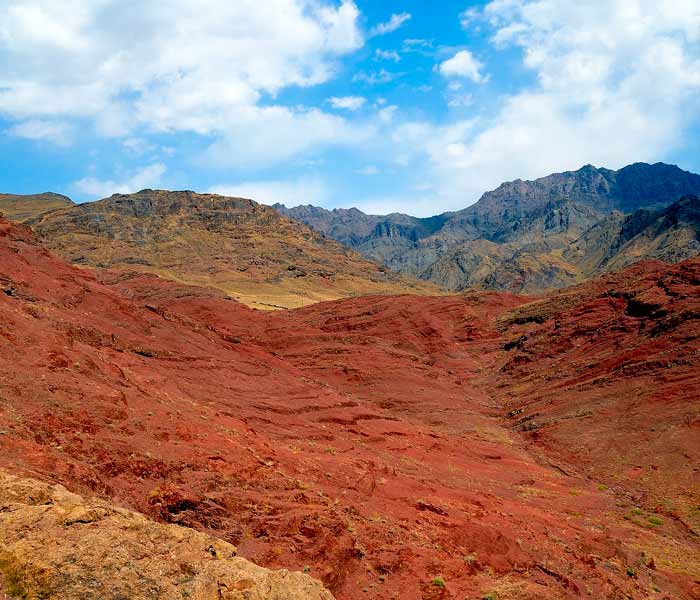 #3 Abyaneh Village Architecture
Abyaneh Village Architecture : Perhaps the most distinctive architectural feature of Abyaneh village is the curious ochre red color that has painted the whole village. High in iron oxide, the red soil is natural of the area and of the mine in the vicinity of Abyaneh "red" Village.
Established on the slopes of Mount Karkass, Abyaneh historical village has maintained its climate-adapted architecture for centuries . Obviously the village is constructed as on different levels on the slope, where one may notice some houses with their rooftops as the yard of the houses on the upper level.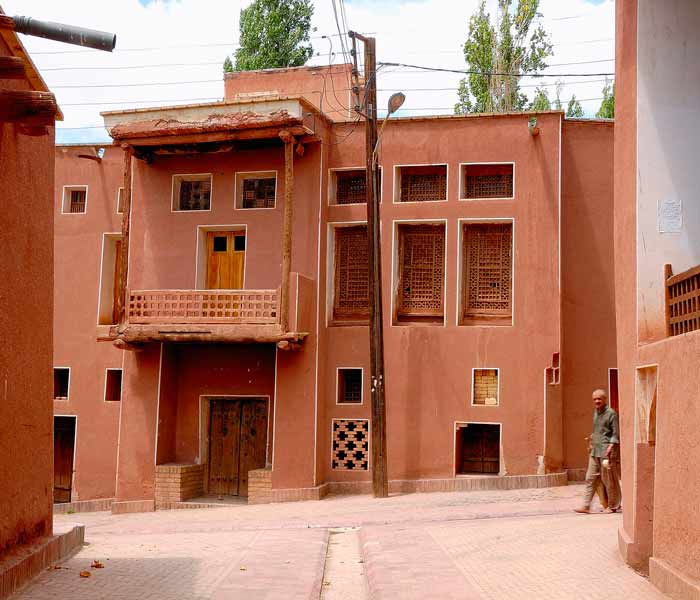 Most houses are ornamented by wood lattice windows and protruding porticos overlooking narrow alleys.
To economize space, storage caves have been cut in the nearby hills, outside the village to keep food supplies, or even cattle.
While the village has resolutely maintained its layout, red facade and historical architecture due to its paramount value as an Iranian heritage, the rooftops have recently been coated with insulation, and are no more red.
Abyaneh red village is not the first architecturally peculiar village of Iran, likes of which are: Masouleh, Ouraman Takht, Kandovan and Meymand with their unique identity.
#4 Abyaneh Village Attractions
Abyaneh Village Attractions : Abyaneh historical village counts as one of the richest heritage sites of Iran, as it is home to not just a peculiar image, but a recorded history of 1,500 years since the Sassanid era, and indigenous community hell-bent on preserving their legacy including language and even costumes.
Local Community : Aside from the fascinating façade of Abyaneh traditional village, Abyanaki people are quite an attraction themselves, still adhering to their traditional outfits : women wearing white scarves with colorful floral motives, covering the shoulders and upper-body, under-knee skirts. And men wearing their traditional black trousers and shoes.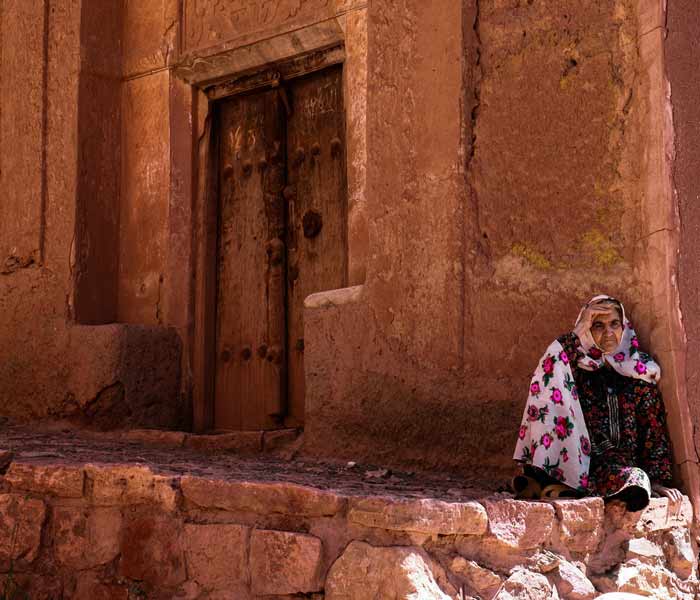 Zoroastrian Fire Temple of "Herpak" : This fire temple, dating back to the Sassanid era (224-650 AD), is a unique three-floored structure on a roofed alley. Some believe "Herpak" was a prominent figure of Median and Achemenian history.
Hinza Temple : Southeast of Abyaneh village, the temple lies in front of a cavity of a narrow cliff. Some attribute Hinza temple to the ancient deity "Anahita" for its characteristic features such as being in the heart of mountains and in the vicinity of water; while others believe it to be sacred since it was once a refuge for the daughter of the 7th Shiite Imam (Islamic era).
Mosques : there are 3 major mosques in Abyaneh village. One, Jameh Mosque of 11th century Seljukian era with a unique wooden pulpit; two, Barzaleh Mosque of 15th century Ilkhanid era; three, Hajatgah Mosque of 16th century Safavid era. The architecture of all mosques are harmonious with the climate of Abyaneh village.
Shrine of Shahzadeh Isa and Shahzadeh Yahya : The shrine belongs to two sons of the 7th shiite Imam.
Fortresses : there are 3 fortresses in different sides of Abyaneh historical village. One of which has a recorded antiquity of 200 years.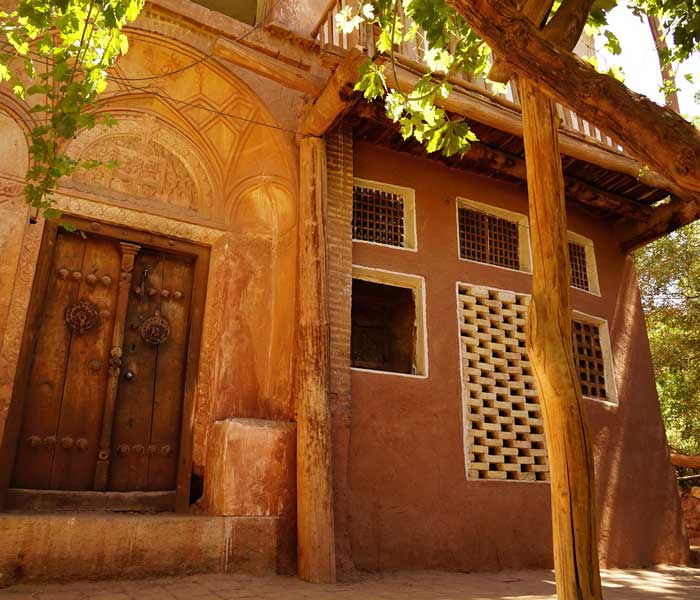 #5 Handicrafts of Abyaneh Red Village
Handicrafts of Abyaneh Village : Giveh, a type of Iranian traditional handmade shoes, and Persian rug are among the handicrafts of Abyane traditional village. While fruits and walnut are famous produce of this village.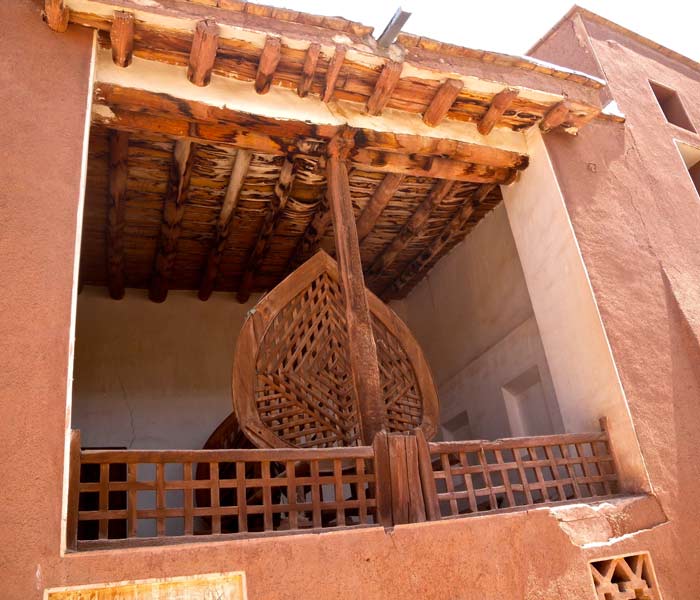 How to Get to Abyaneh Traditional Village
Access to Abyaneh historical village is quite convenient from nearby cities and from Tehran through the Kashan-Natanz main road.