Shah Cheragh Shiraz | Mirrored Masterpiece
Shah Cheragh Shiraz (Shah Cheragh Mausoleum) is a funerary monument, and a popular pilgrimage site in Shiraz city, housing tombs of two brothers of Ali ar-Ridha – 8th Imam of Shia Muslims. They were persecuted by Islamic caliph of the time (circa 900 AD). The shrine is most famous for its exquisite mirror work.
Shah Cheragh mosque is one of the most popular pilgrimage sites in Iran, and to foreign tourist, Shah Cheragh Shrine can be an attractive site among Shiraz attractions to observe Iranian architecture and religious culture of Iranians close-up.
In this post, you will have a concise account of Shah Cheragh history, Shah Cheragh architecture, when was Shah Cheragh  built and Shah Cheragh opening hours.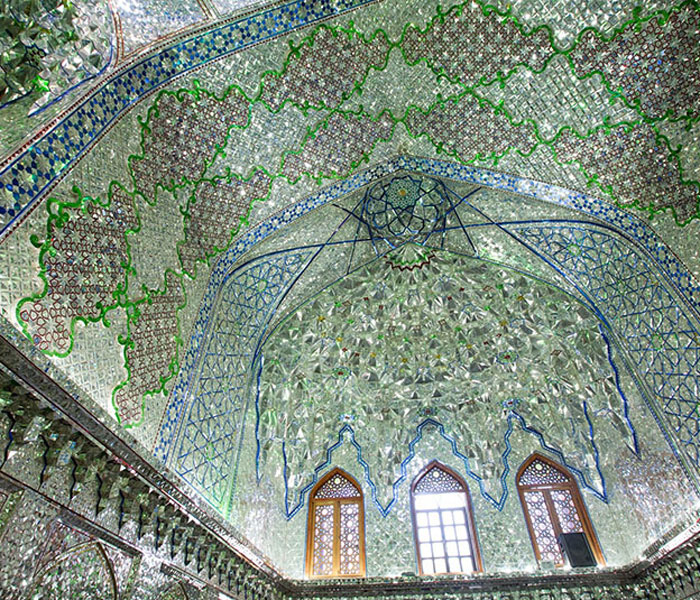 If you are interested in visiting Iran, we as an Iran tour operator invite to browse through our Iran travel packages:
>> Iran Tours 2020 & 2021 (Click Here)
#1 Shah Cheragh History
Shah Cheragh History: Shah Cheragh Shiraz (in Persian: King of Light) is one of the most popular funerary monuments in Iran. It is home to tombs of Ahmad and Mohammad, two brothers of Ali ar-Ridha – 8th Imam of Shia muslims. Circa 900 A.D, the two brothers aiming to join Ali ar-Ridha, who at the time resided in Khorasan of Iran (in eastern Iran) as the appointed successor to Abbasid caliph, took refugee in Shiraz but were persecuted by the Abbasids.
The tombs remained unknown until early 12th century A.D. Different accounts or myths exist around the discovery of the tombs; All of which revolve around noticing  a luminous light in the distance, where later the grave sites were discovered. And this is basically the reason behind the appellation : ''King of Light'' or Shah Cheragh Mausoleum.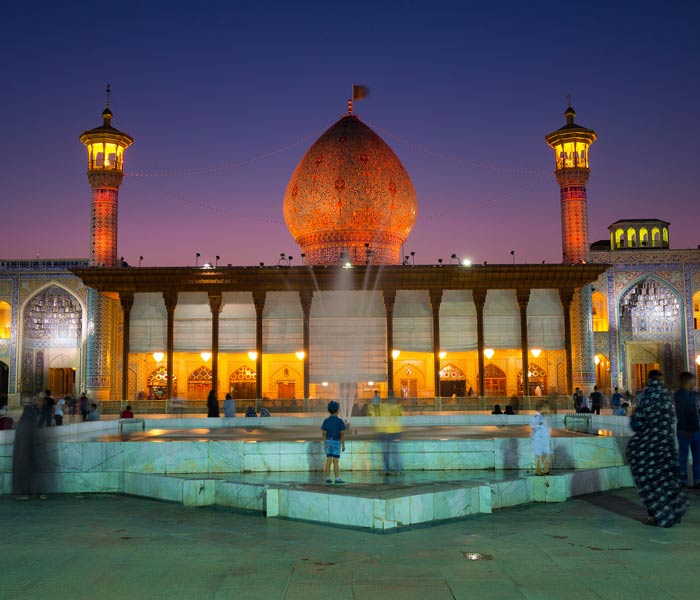 #2 When Was Shah Cheragh Built?
When Was Shah Cheragh Built? Upon discovering the tombs in 12th century A.D, governor of the time ordered construction of a dome chamber and colonnaded porch around the tombs, to glorify the sacred status of the buried brothers, descendants of Prophet Muhammad.
Interesting fact #1

Shah Cheragh Shiraz went through multiple painstaking renovations:
In the 14th century, Shah Cheragh mausoleum went through massive renovation, expansion and ornamentation by the queen mother of the Salghurid dynasty, turning into a celebrated pilgrimage centre. Queen Tashi Khatun ordered adding a mosque, a religious school and a sanctuary. The tomb of the queen herself is situated in the south side of Shah Cheragh Shiraz. None of the buildings set up by the queen has remained to this day.
Interesting fact #2

Until 19th century, Chah Cheragh Shiraz was shaken by 3 earthquakes:
1st quake: In early 16th century, the first Safavid king ordered repairs to the Shah Cheragh mosque, yet an earthquake shook most of the structure down, leading to another series of repairs.
2nd quake: Late 18th century, Shah Cheragh Shiraz underwent massive elaboration by the command of Nader of Afsharid dynasty. He donated an immense chandelier of pure gold and silver to Shah Cheragh shrine. However, the next catastrophic earthquake took its toll on Shiraz and the Shah Cheragh mausoleum, dictating the next chapter of repairs at the expense of the chandelier.
3rd quake: Early 19th century, Shah Cheragh Shiraz was once again renovated by the Qajar kings before the third quake mandated essential repairs to the mausoleum.
Finally in the 1960's, the existing dome was replaced by a fine but robust iron replica to avoid further cracks and damages.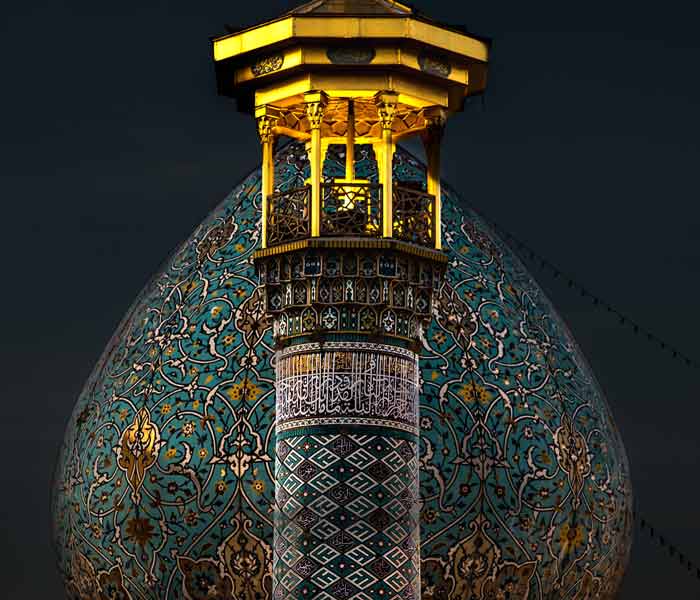 #3 Shah Cheragh Architecture
Shah Cheragh Architecture: Shah Cheragh Shiraz has gone through multiple repairs and expansions throughout history. And what remains now is a glorious artwork of Persian style.
Inspiring an air of divinity and spirituality in its visitors, Shah Cheragh Shiraz is most famous  for its spectacular mirror work of the interior space and the dome chamber. Millions of luminous, finely crafted pieces of mirror mingled with colorful tile work dazzles the eyes on entrance.
The delicate Persian marquetry on the columns  and ceiling of the portico and the striking tile work of the portal entrance and alcoves in the yard complements this endeared monument of Muslim Iranians.
Two main portal entrances on the north and south of the complex, a vast courtyard  surrounded by two-storied chambers embrace the Shah Cheragh shrine on the west and tomb of his brother on the north eastern side of the complex.
Situated in the old town of Shiraz, Shah Cheragh mausoleum is also accessible through doorways to the Jameh Atiq Mosque on the southeast and Bazaar of Shah Cheragh on the north.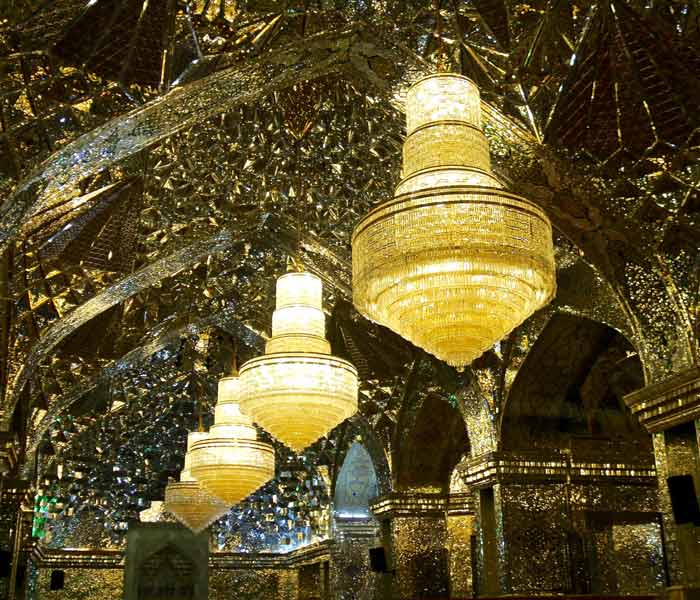 #4 Sentimental Value of Shah Cheragh Shiraz among Shia Muslims
Descendants of the holy prophet Muhammad, and brothers to 8th Imam of the Shi'ite community, Shah Cheragh brothers are highly venerated by Iranian Muslims.
It is worth noting that the Holy Shrine of Imam Reza in Mashhad, Khorasan is held exceptionally sacred by the Shia Muslims of the world, and Shah Cheragh Shiraz are brothers to this religious figure.
Iranians gather at Shah Cheragh Shiraz on different religious occasions throughout the year to perform religious rituals and ceremonies. Moreover, many locals retreat to this sacred place to perform their daily prayers.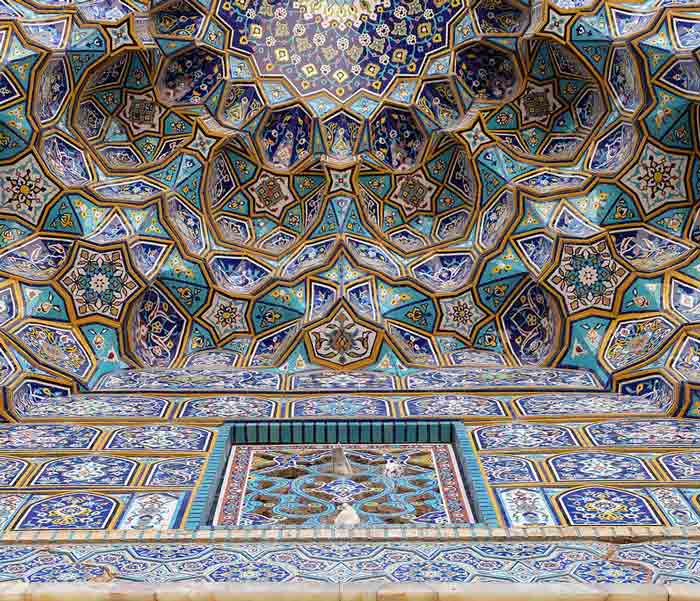 Shah Cheragh Opening Hours
Everyday, 24 hours a day.
Visits for Iranians or foreign nationals of any faith are free of charge.
Please Note : Counted as a sacred complex, all female visitors are mandated to wear Islamic Hijab (Chador) as a sign of respect. Chadors are available at entrances for free.
How to Get to Shah Cheragh