Yazd Zurkhaneh | Chivalry and Architecture Unite!
Yazd Zurkhaneh: Zurkhaneh ritual is a traditional heroic sport in Iran. "Saheb A Zaman Zurkhaneh", in Yazd city is located in the historical square of Amir Chakhmaq complex and counts as one of the interesting Yazd tourist attractions. The structure of the current Zurkhaneh used to be a water reservoir of 500 years of antiquity. Zurkhaneh literally translates to "House of Strength", where the Iranian traditional heroic sport is practiced.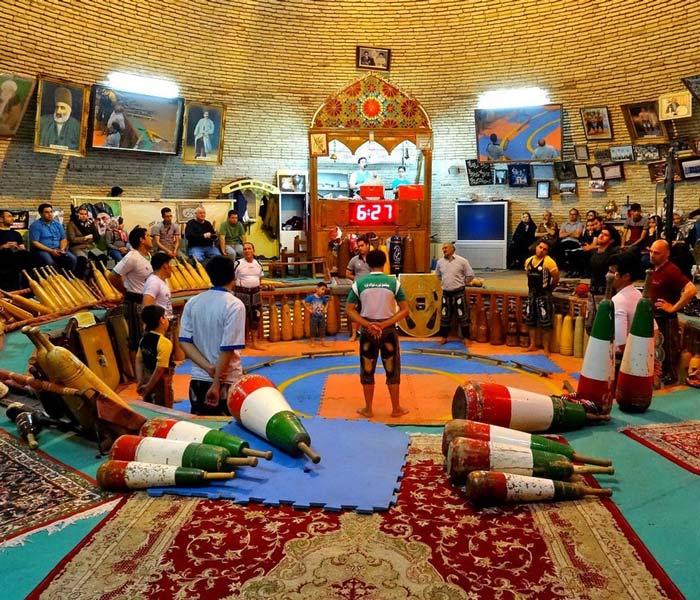 Also, if you are planning to visit Iran one day, as an Iran tour and travel agency, we invite you to have a look at our Iran travel packages:
>> Iran Tours 2020 & 2021 (Click Here)
#1 What Makes Yazd Zurkhaneh Unique?
Yazd Zurkhaneh prides itself for not just the exhibit of the Iranian ancient heroic sport, but also for being established in a former water reservoir with around 500 years of antiquity.
The current Saheb A Zaman Zurkhaneh is situated in the historical complex of Amir Chakhmagh in Yazd. The complex was developed by Amir Chakhmaq, governor of Yazd in the 15th century. The water reservoir was part of this complex.
The impressive edifice was an underground reservoir of drinking water with its large dome and 5 wind-catchers catching the eyes on street level. The advent of modern irrigation system made it redundant. The water reservoir found a new purpose in 1999, turning into a Zurkhaneh.
Hence, entering Saheb A Zaman Zurkhaneh, visitors witness the exercise session under a high brick dome structure.
Yazd Zurkhaneh is also one of the few Zurkhanehs allowing tourists and women to watch the Zurkhaneh ritual.
#2 Zurkhaneh Rituals at Yazd Zurkhaneh
Varzesh-e Pahlavani (Heroic Sport) ritual combine ancient Iranian martial art, calisthenics and music,  practiced in a Zurkhaneh. Zurkhaneh rituals and exercises aim to promote not just physical strength, but more importantly humility, kindness and chivalry.
During training, students are instructed by a Pīshkesvat (champion). Those who master the physical skills and pass ethical and moral stages of Gnosticism may acquire the prominent rank of Pahlevanī (hero).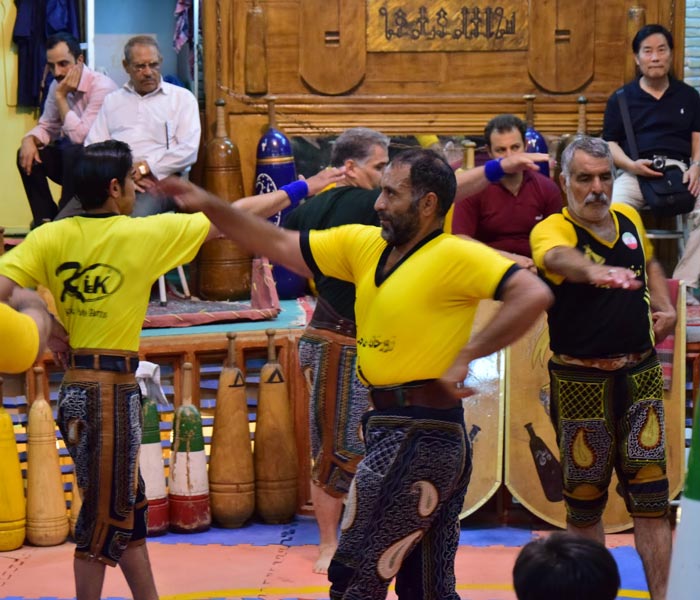 #3 Yazd Zurkhaneh Exercises
Yazd Zurkhaneh Exercises : At Yazd Zurkhaneh, the exercises are led by the senior athlete of the group, mostly focusing on weight training and calisthenics.
At Saheb A Zaman Zurkhaneh, just as any typical Zurkhaneh, athletes perform the exercises in the central arena (Gaud), about 1 meter deep, right under the dome. All the while, the Master (Morshed) recites epic poems and religious hymns and plays the Zarb (an Iranian goblet drum) to harmonize the exercises and keep the athletes' spirits high and in focus.
Gaud, the central arena, is considered sacred. Hence, athletes, one by one, enter the Gaud by touching the ground and then raising their fingers to lips and forehead, out of respect.
The exercise equipment too are simple yet unique. Athletes train themselves using a pair of wooden clubs (mil), wooden shields (sang), and bow-shaped iron weights (kabbādeh or kamān). Whirling swiftly is one of the fascinating exercises at Yazd Zurkhaneh : Athletes, in ascending order of seniority, take turns to whirl in the center.
Learn more about Zurkhaneh Rituals
#4 Visiting Yazd Zurkhaneh
Tourists get to watch a joyful session of Iranian traditional Sport
Photography and video recording are possible
Visit different chambers of the Water Reservoir and enjoy the genius architecture
Note : The exercise sessions are held at specific times, so it is better to stop by the reception of Saheb A Zaman Zurkhaneh, to know the timing, while on Amir Chakhmaq Square.
Yazd Zurkaneh Address and Opening Hours
Sessions are held Everyday (17:00 – 18:00, 18:30 – 19:30 and 20:15 – 21:45)