Nowruz Rituals in Iran
Nowruz Rituals in Iran : Nowruz (literally The New Day) marks the Persian New Year. It is an ancient festivity of the first day of Spring, as a symbol of renewal of nature, when it regains strength to overcome winter's cold and darkness. Nowruz coincides with the exact moment of the vernal equinox, which in the Gregorian calendar falls between 19th to 21st of March. Every year several nations celebrate Nowruz around the world.
As their most important Holiday, Iranians perform Nowruz rituals, starting days before the New Year, to prepare themselves for a new beginning:
#1 Spring House Cleaning
Spring House Cleaning : Weeks before spring, Iranians start shaking their houses of any unnecessary clutter settled in over the past year. It is not uncommon to see rugs hanging on walls waiting for their owners to beat or wash the dust out of them!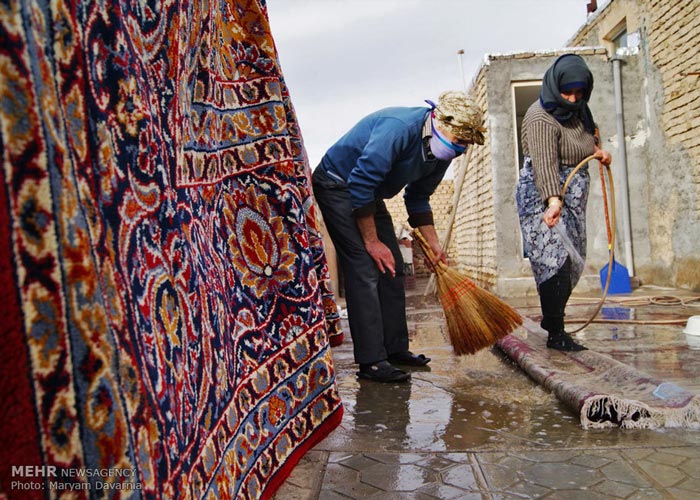 #2 Chaarshanbe Souri (Wednesday Festivity)
Chaarshanbe Souri (Wednesday Festivity) is a prelude to the New Year. As a festive part of Nowruz rituals, Iranians celebrate on the eve of the last Wednesday before Nowruz by fireworks and jumping over fire. They  sing a poetic line to the fire, asking it to take away ill-health and problems and bring warmth and health.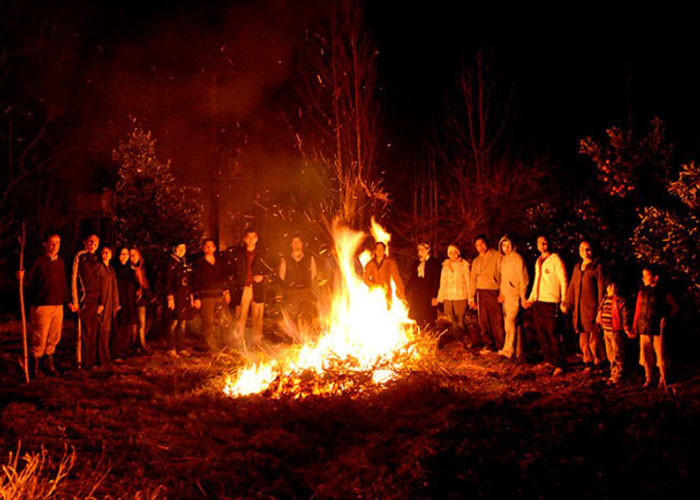 #3 Haft-Seen (the 7 S's)
Haft-Seen (the 7 S's) : One of Nowruz rituals is setting the Haft-Seen Table. As a tradition, families gather around the Haft-sin table and await the moment of Nowruz. Haft-Seen are 7 edible items starting with the letter S in Persian, symbolizing renewal and health for the new year. The items are green sprouts, apples, garlic, oleaster berries, a sweet pudding, vinegar, and sumac.
A volume of Hafez of Shiraz, or the Holy Qoran, a mirror, colored eggs, rice or wheat grains, flowers and goldfish too have been added to the setting.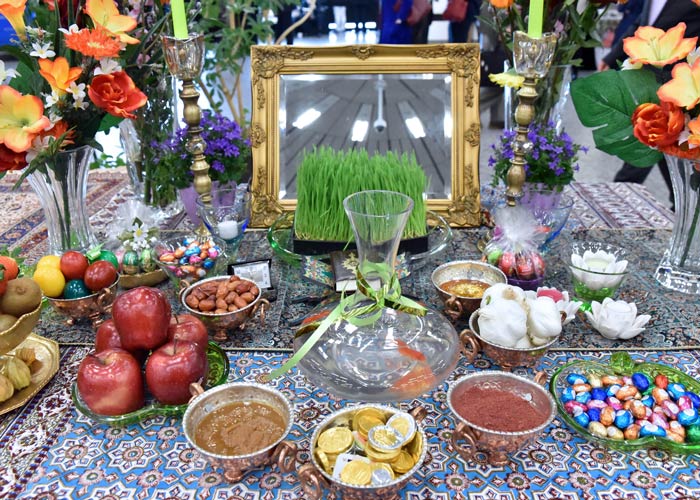 #4 Visiting Family and Friends
Visiting Family and Friends is an important part of Nowruz rituals. Iranians consider Nowruz the perfect time to share some quality time with their loved ones. Typically, young people will visit their elders first, as a sign of respect.
#5 Sizdah Bedar
Sizdah Bedar : Iranians conclude Nowruz Holidays on the 13th day, by spending the daytime picnicking in the nature, as the last part of Nowruz Rituals. They throw away the greenery grown for the Haft-Seen setting, best into running water. It is also customary for young single people, to tie the leaves of the greenery before discarding it, expressing a wish to find a partner. Another custom associated with Sizdah bedar is the playing of jokes and pranks, similar to April Fools' Day.