Kerman Bazaar | Iran's Longest Market Order
Kerman Bazaar is one of the prominent bazaars of Iran in both architecture and antiquity (dating back to 6 centuries ago). As one of the main Kerman attractions, it is located in the old district of Kerman city, stretching for 1,200 meters from Arg square (Tohid) to Moshtaghieh square (Shohada). Grand Bazaar of Kerman is also the longest market order of Iran, with multiple bazaars branching off in different directions.
Kerman bazaar opening hours and address are included in the end.
Before continue reading, Let's watch this video about amazing city of Kerman!
Also if you wish to visit Iran, as an Iran tour and travel agency, we invite you to check out our Iran tourism packages:
>> Iran Tours 2020 & 2021 (Click Here)
#1 Kerman Grand Bazaar History
The location of Kerman Bazaar was on the way of various trade roads such as the old Silk Road and was considered as a connection point between southern ports, northern and eastern cities and the cities in deserts according to these features Kerman Grand Bazaar had a significant role economically.
Bazar Kerman as one of the oldest trading centers of Iran is a complex of historical monuments and works, which was built in different eras by Kerman's different rulers of the time and includes more than 60 percent of historical monuments as schools, mosques, bathhouses, etc.
#2 Kerman Grand Bazaar Architecture and Special Specifications
Kerman Bazaar architecture reflects the climate circumstances and geographical conditions of Iran in the past.
Each bazaar has its own mosque and bathhouse. You can find out its architecture through the special form of different bazaars' bathhouses and mosques.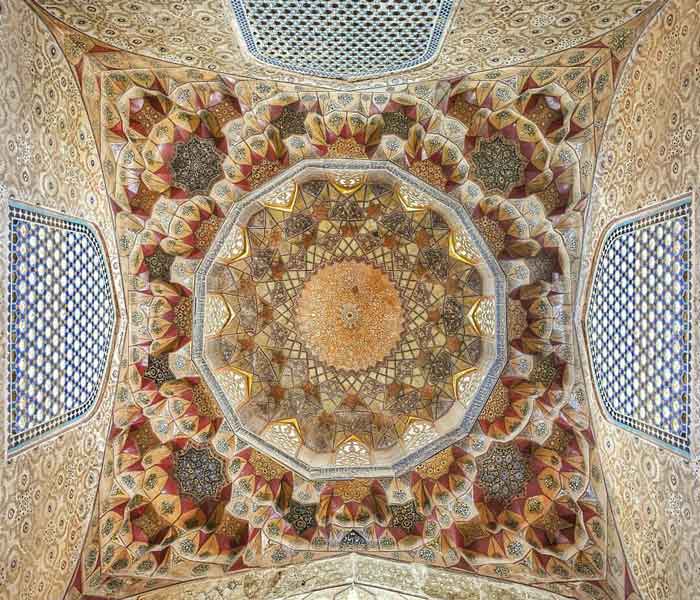 Kerman bazaar has various buildings around it, which are constructed in relation to the different bazaars and different periods.
One of the specifications is that the eastern and western bazaars cross the main market order in perpendicular pattern.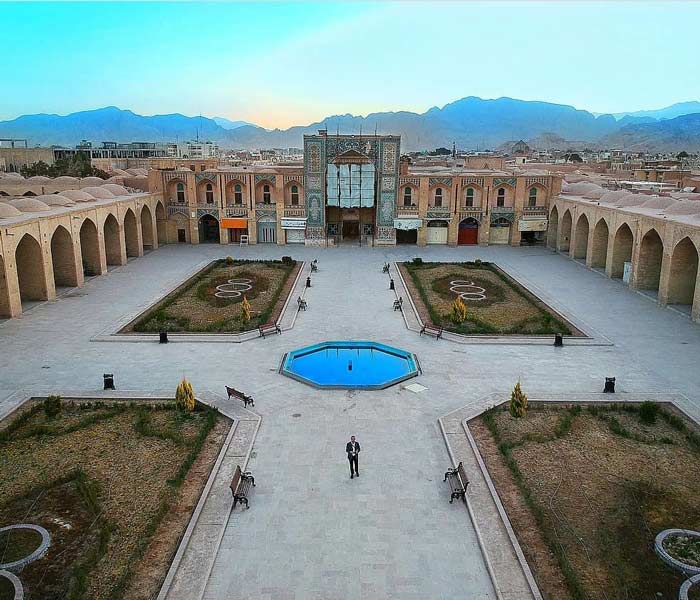 Charsooqs (the place where the main market orders cross) bearing 350 to 400 years old is decorated with stuccos and oil paintings and has one of the highest domes of the city.
#3 Different Parts of Kerman Grand Bazaar
Bazar Kerman consist various sections bearing old ages. We hereby mention and describe a few:
#1  Arg Bazaar: The most western part of Kerman Grand Bazaar, by its rectangular shape surrounds Tohid square and is divided to two bazaars as Naghar Khaneh Bazaar and Seraji Bazaar.
#2  Naghar Khaneh Bazaar: Starts from Arq square and has a large entrance with high ceiling and gate which is ornamented by tile works. Also, there are a few rooms at the upper floor. Its architecture belongs to the Qajarid Dynasty.
#3 Ganjali Khan Bazaar: This complex was constructed on the old bazaar's place. The most significant architectural sample in Safavid Dynasty, consists charsooq, a great bath, square, school, Zarrabkhaneh (mint, a place in which coins are produced), mosques, Ab Anbar (water reservoir), etc.
#4 Ganjali Khan Charsooq: The place where the two main thoroughfares meet, was considered as the most populated place of Kerman and is a part of ganjali Khan Complex.
#5 Vakil Bazaar: Built in 1856, its most important elements includes Vakil bathhouse, Vakil caravanserai, school for sewing, Vakil mosque and two Gheisariehs.
#6 Haj Agha Ali Bazaar and Complex (Ahangari Bazaar = blacksmith' trade or craft).
#7 Ekhtiari Bazzar: A narrow and low width bazaar which is considered the oldest part of Kerman Bazaar. The importance is in its location, which is placed between Ganjali Khan Bazaar and Vakil Bazaar.
#8 Ebrahim Khan Bazaar
 #9 Mozaffari Bazaar
#10 Zargari Bazaar
#11 Sardar Bazzar
#12 Kaffash-ha Bazaar (shoemakers')
#13 Southern raasteh (corridor)
#14 Ghal-e Mahmoud Bazaar
#15 Meydan-e Ghal-e Bazaar
Etc!
#4 Preserving Kerman Bazaar
Kerman Bazaar's old electricity system and its none-safe structure along with rising the surface of underground water, makes it the center of danger in the city which requires taking necessary measures as building special electrical channels in the bazaar.
Currently some channels had been built but the continuation of the process to repair the ancient monuments is expensive.
Kerman Bazaar Opening Hours
8 AM to 10 PM (Might deffer on Holidays)
Kerman Bazaar Address