Isfahan Handicrafts
Isfahan Handicrafts : For centuries, Isfahan has been a cornerstone of Persian arts and handicrafts, which is not sound so far-fetched when visiting the city and its magnificent monuments. The same mastery is so delicately applied to Isfahan handicrafts, which encompass a wide range of arts such as carpet weaving, metal works, wood works, painting, ceramics and textile. Naghshe-Jahan square of Isfahan is the marketplace of Isfahan Handicrafts.
Read more : Isfahan Attractions
This post is a brief introduction of Isfahan handicrafts, each demanding an elaborate account to truly appreciate the depth of their rigorous work.
#1 Specialty Handicrafts of Isfahan
While offering various high quality crafts, Isfahan has two specialty crafts, unique to her.
 #1 Mina Kari (Metal Enameling)
Minakari is a delicate technique of very fine painting of Persian motifs on hammered metal vessels such as plates, vases, chandeliers, etc.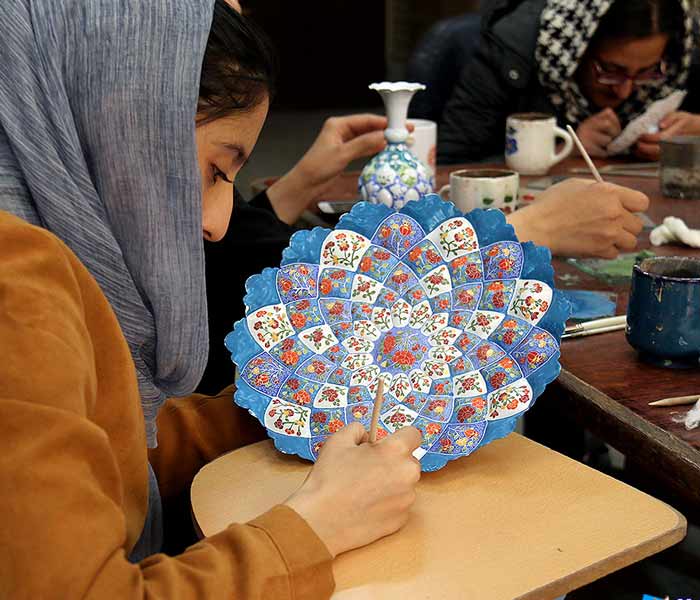 #2 Qalamkar (Persian Calico)
Qalamkar is Persian technique of woodblock printing on canvas using natural dyes and traditional motifs to produce Tablecloths , bed spreads, cushion coverings.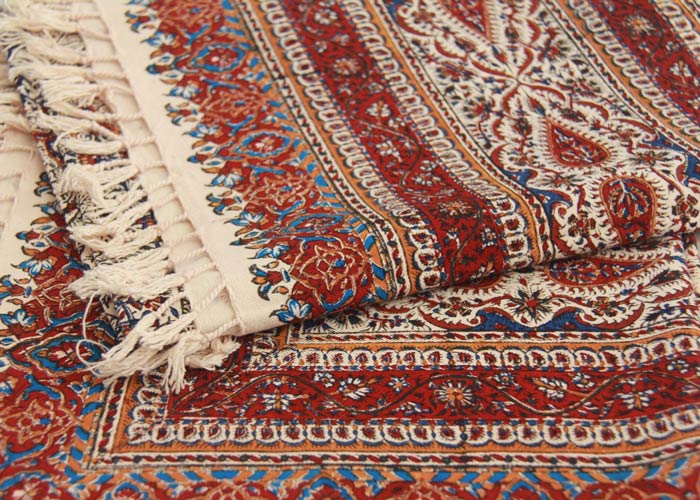 #2 Isfahan Rug
Isfahan Rug : Isfahan Province is one of the major carpet-weaving centers of Iran. Rugs from cities of Isfahan, Naein, Meimeh are world famous for their quality and design. There are famous carpet workshops in Isfahan, such as Seirafian workshop.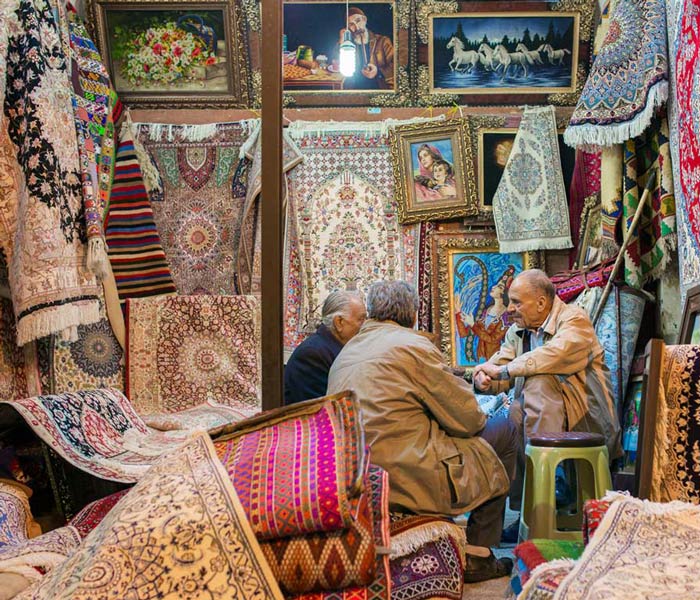 #3 Isfahan Repoussé (Metal works)
Isfahan Repoussé (Metalworking): Aside from Minakari, famous Isfahan handicrafts are metal ware of different crafts:
 #1 Messgari (Copper ware)
Isfahan is known for its various copper ware including utensils and decorative copper items.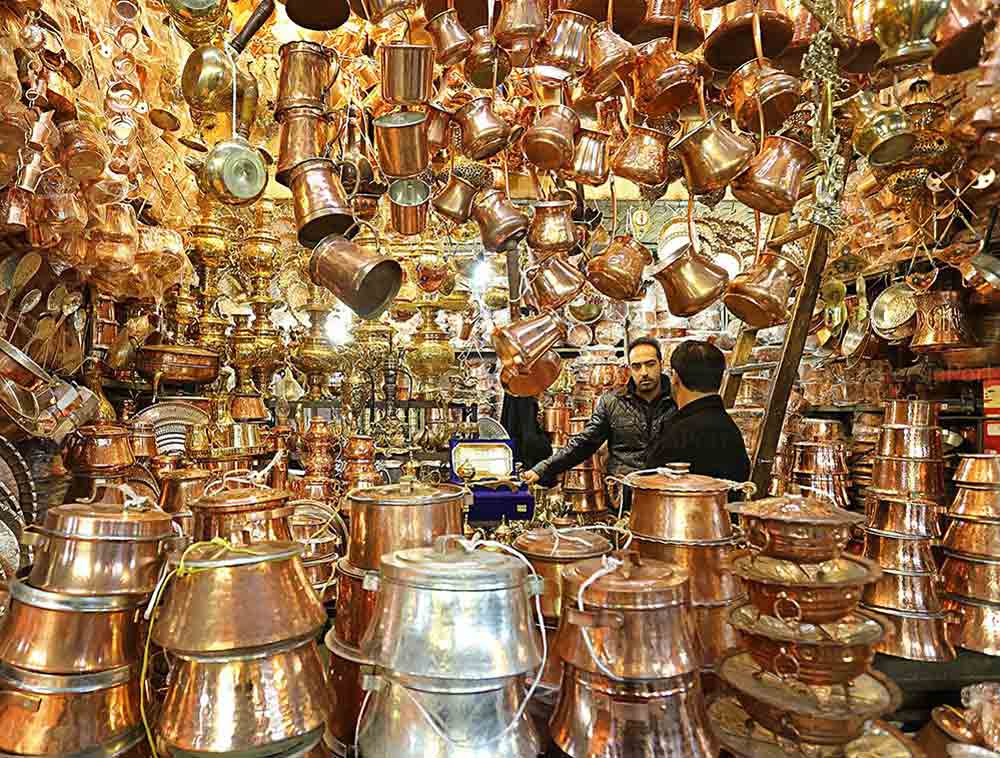 #2 Qalamzani (Teurotics or Metal Engraving)
Ghalamzani is an ancient Persian craft of engraving intricate designs on metal, from gold and silver to bronze and copper vessels.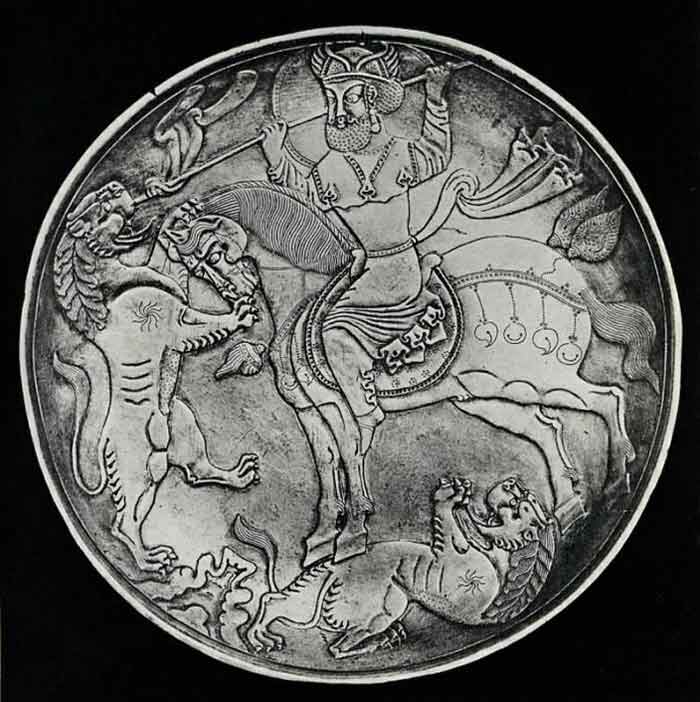 #4 Turquoise Inlay
Turquoise Inlay  on metal (copper, brass, bronze  and silver) is one of the finest handicrafts of Isfahan. The craft involves setting small pieces of the precious stone, Turquoise, one by one on the surface of metal vessels. The more closely fit together, the higher the quality of the craft.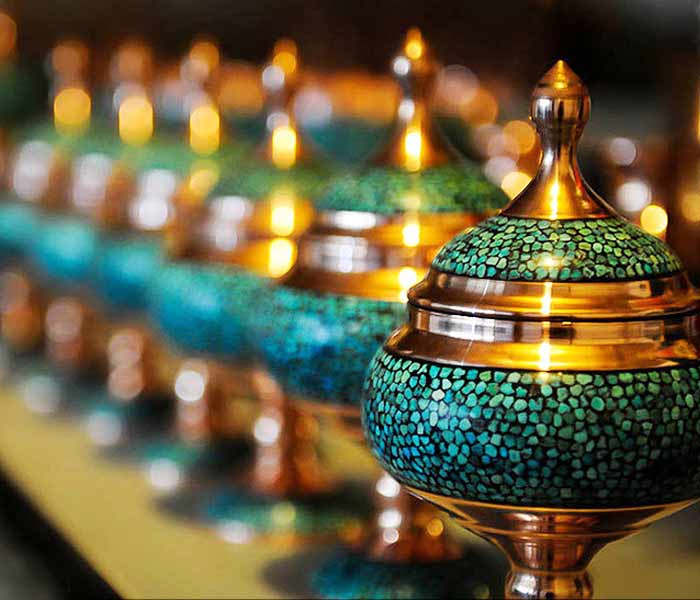 #5 Isfahan Wood Works
Isfahan Wood Works : Isfahan is also a major center of various wood works:
 #1 Khatam (Persian Marquetry)
A delicate form of Persian marquetry, Khatam is the technique of ornamenting the surface of wood products with very fine veneers of  thin wood, metal and bone rods joint together forming geometrical patterns. From decorating wooden doors of palaces and mosques to decorative boxes and vases, Khatam is one of the major Isfahan handicrafts.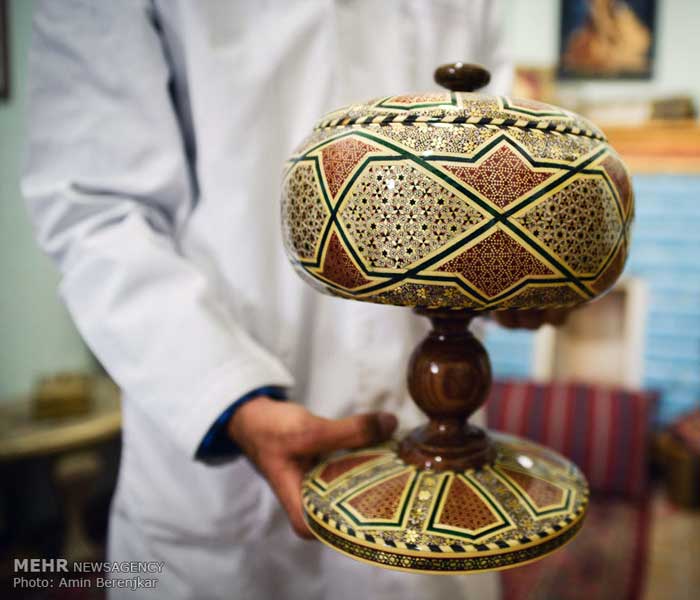 #2 Monabat (Persian Wood Carving)
A form of ancient Persian Wood Carving, where different Iranian motifs and designs are finely carved out of a wood block, ranging from low to high-relief.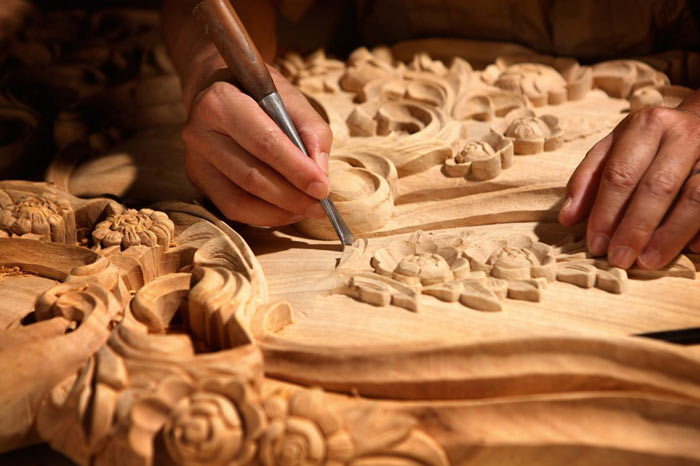 #3 Moarragh (Persian Wood Mosaic)
a form of Persian Wood Inlay or Mosaic, where finely-cut wood veneers of various shapes and colors are fitted together on a wooden surface.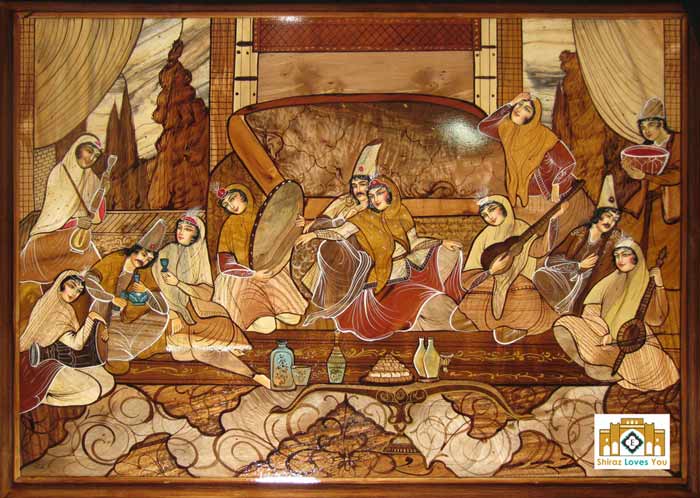 #6 Miniature and Calligraphy
Miniature and Calligraphy : Isfahan also prides herself with fine Persian style of miniature paintings and Persian calligraphy of various styles.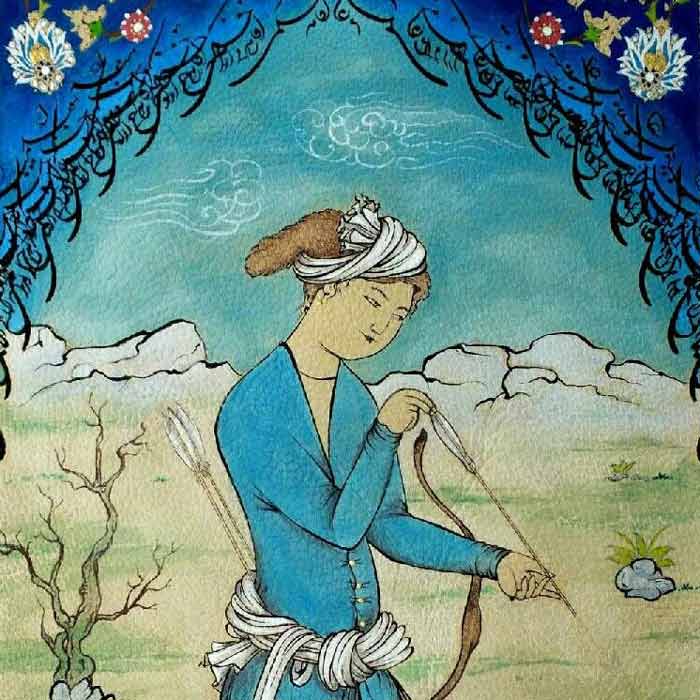 #7 Ceramics
Ceramics and Pottery are also handicrafts of Isfahan Province. Cities of Natanz and Shahreza are among the prominent pottery centers of Iran.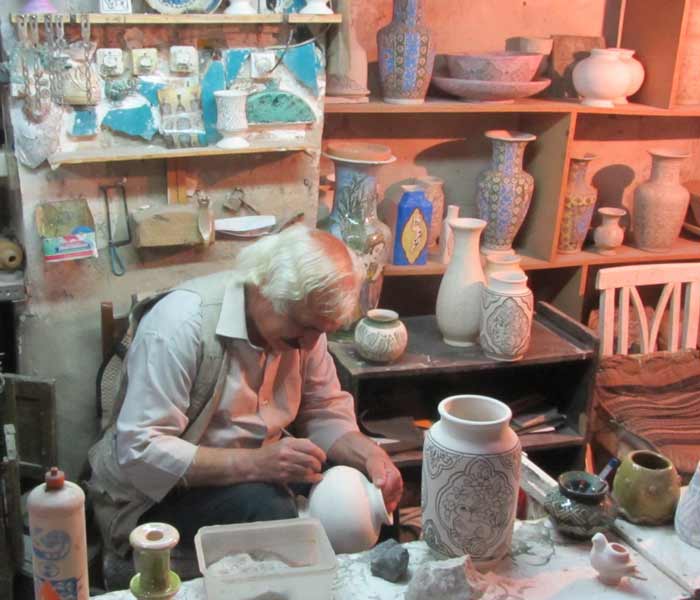 #8 Embroidery
Embroidery : Among Isfahan handicrafts are her textiles. Ghalamkar craft was previously introduced as unique to Isfahan. However, delicate embroidery of Persian motifs on different valuable fabrics are also one of Isfahan handicrafts, although Hormozgan Province of southern Iran is the leading center of this art.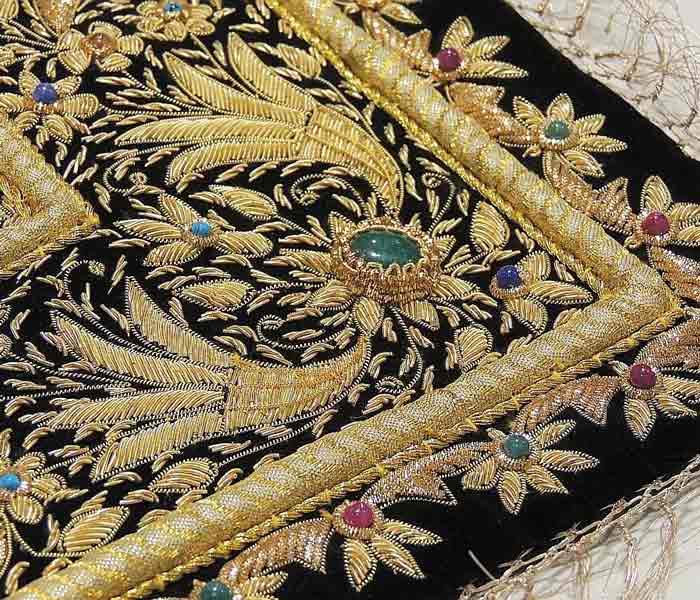 Moreover, Isfahan is also a producer of very fine textiles interwoven with precious yarns of silver, gold and silk.
Read More : Persian Handicrafts