Dangerous Places in Iran; Are There Any!?
Dangerous Places in Iran; Are There Any? Iran is generally a safe country to visit. In fact, Iran has been rated one of the safest countries in the world, both by official statistics and tourist who have traveled in Iran, solo or on organized tours.
Before attending to dangerous places in Iran, you can have a holistic view on safety in Iran, according to the 2019 Travel Risk Map.
#1 Iran Borders with Pakistan, Afghanistan and Iraq
The inland Iran is highly safe and tourists need not to be concerned for their safety in all cities of Iran. Moreover, southern coastlines of Persian Gulf too are totally safe, and in fact quite fascinating to visit!
However, considering Iran shares borders with Iraq and Turkey on the west, and Pakistan and Afghanistan on the east, marginal regions of Iran on these frontiers are generally not recommended for tourists to pass through, especially between Iran and Afghanistan and Pakistan, due to smuggling activities.
This is not to say they should not visit the mesmerizing cities of Zahedan, Chabahar port city, etc. which are steeped in ancient culture and natural beauty!
Stay away from borderlines, and you are set to embark on an amazing experience!
#2 Deserts in Iran
Central plateau of Iran is covered with vast expanses of deserts. 2 of Iran's largest deserts are Dasht-e Kavir and Lut Desert, which as fascinating as their landscapes are, they can impose safety risks for non-professional travelers, if not accompanied by expert desert guides.
Here are a few of Iran's most popular deserts, where comfortable Eco-lodges are available and different kinds of recreational activities are possible such as camel riding, ATV motor and SUV off-road rides, camping, etc.
#1 Shahdad Desert
In the heart of Lut Desert in Kerman, lies the mesmerizing stretch of sand and striking geological formations.
#2 Mesr Desert
Located in Dasht-e Kavir, Mesr desert is picturesque expanse of solitude, sand dunes and salt lakes.
#3 Maranjab Desert
Near Kashan, is Iran's most visited desert, Maranjab, for its epic landscapes of sand dunes and ripples and salt and unique night sky.
Tourists are highly recommended to tour deserts of Iran on escorted tours which mainly visit more frequented areas of deserts. Risks of getting lost, dehydration, etc. need to be taken very seriously in the deserts of Iran.
#3 Caves in Iran
There are various fascinating caves across Iran, which make up one of the major natural attractions of Iran, especially to professional cavers. However, in-depth visiting of some caves in Iran are not at all recommended to inexperienced tourist, as they need safety equipment.
#1 Ali Sadr Cave
Ali Sadr Cave (Hamedan Province) is the world's largest water cave with a network of channels, lakes, and water passageways spreading out over several kilometers, where boating is also possible.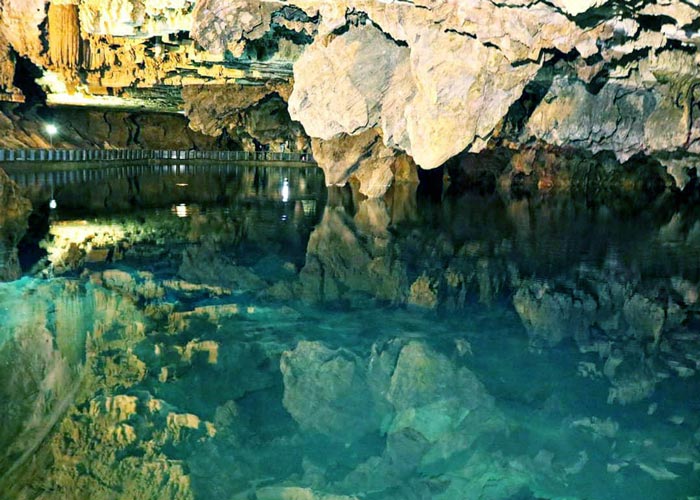 #2 Chama Ice Cave
In Zardkuh Mountain of Zagros, Chaharmal & Bakhtiari Province, lies  the unique ice cave which is also a large source of fresh water. The cold water spring in the cave is one of the tourist attractions of Kuhrang County.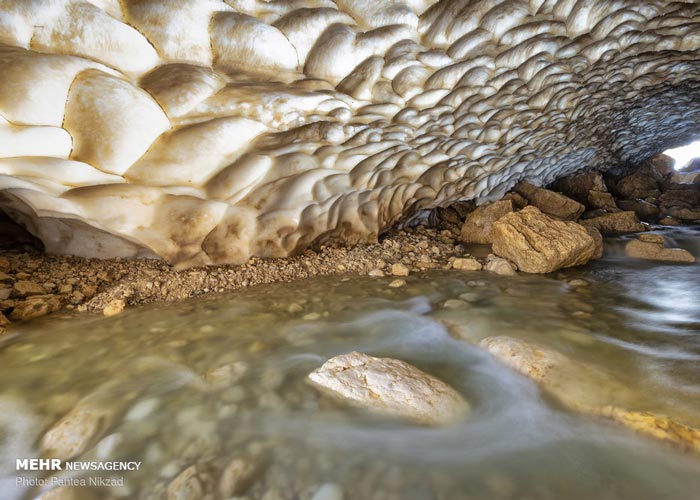 #3 Bats Cave
Bats Cave, in Ilam Province, is famous for its considerable bat population which makes the fascinating spectacle of the grouping of bats from the cave at sunset for many tourists.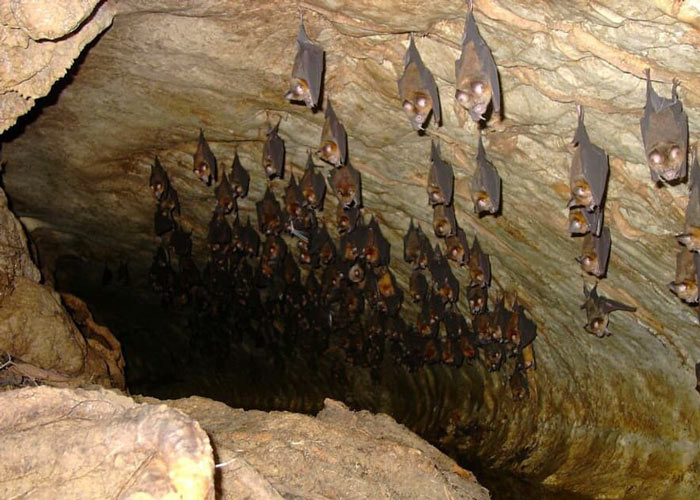 #4 Salt Cave
The Salt cave of Qeshm Island is the longest salt cave of the world, 6 km. The amazing structures of Stalactites and Stalagmites, as well as salt crystals and beautiful ponds have made the cave a top tourist attraction in Qeshm.
#5 Parau Cave!!!
Parau Cave, in Kermanshah Province, is notorious as the "Killer Cave". Parau is situated at an altitude of 3,050 on Zagros Mountains, with a depth of 700 meters. The cave has taken the lives of 5 professional cavers in the past, and is considered an extremely dangerous site.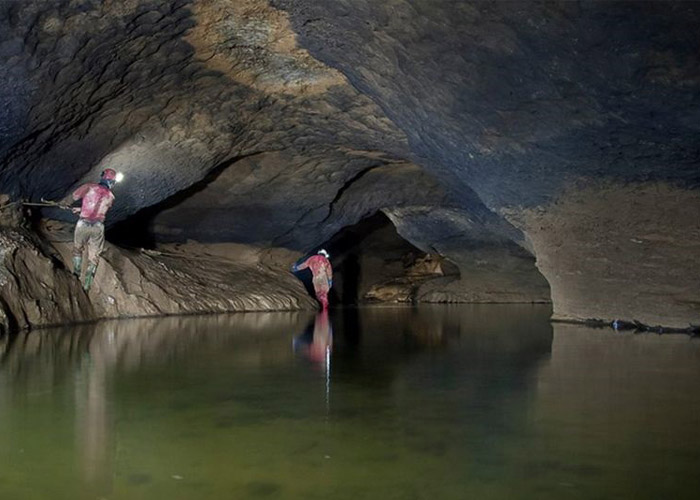 #4 Mountains in Iran
Iran enjoys a varied climate of desert and mountainous and both while delightfully mesmerizing, can be extremely dangerous to the untrained, especially in wintertime.
Iran mountains expand along the north (Alborz Range), the west (Zagros Range), and central Iran, which offer professional mountain and rock climbers an exhilarating experience. There are 45 mountains in Iran with a minimum altitude of 4,000 meters from sea level, highest being the volcanic Mount Damavand with a height of 5,610 meters.
#1 Mount Damavand
The highest peak in Iran and highest volcano in Asia. Besides the picturesque landscapes, Damavand is of great symbolic significance in Iranian mythology and literature.
#2 Mount Sabalan
Situated in northwestern Iran, Mount Sabalan is rich with natural landscapes and hot water therapeutic springs.
#6 Forests in Iran
Forests too count as dangerous places Iran, as Iran is home to different types of forests both in temperate and mountainous regions. Forests in Iran, while luxuriant and picturesque, are home to wild animals such as wolfs and bears. Therefore, camping in the heart of forests can be dangerous due to exposure to possible animal attacks, not to mention getting lost in dense forests.
#1 Caspian Hyrcanian Forests
Caspian Hyrcanian along the Caspian Sea make up the country's lushest forests, and breathtaking landscapes throughout the region.
#2 Mangrove Forests
Mangroves (or Hara Forests) in the south of Iran and especially Qeshm Island are one of the unique landscapes of Persian Gulf strip.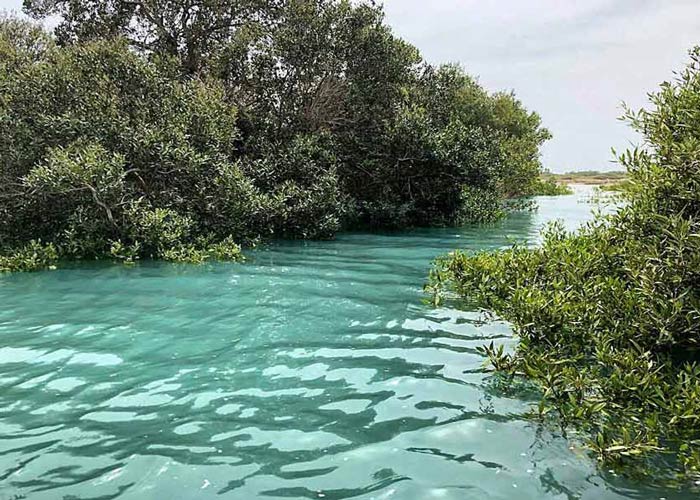 #7 So Is Iran Safe to Visit?
Absolutely Yes! If you have read this post to this point, you already have a general view of the potential dangerous places in Iran!
What is more, what may be deemed as "dangerous" in the literal sense of the word, considering Iran is the largest and most populated country in the currently volatile Middle-East, has had minimal impact on Iran's safety!
If you wish to learn more about safety in Iran, read more : Is Iran Safe for Tourists?
Also Read: A full Guide of travelling in Iran